Lindsey Graham Said Trump Withdrawing From Syria Is 'The Dumbest F***ing Idea I've Ever Heard': Report
During a private meeting on the sidelines of the Munich Security Conference late last week, Republican Senator Lindsey Graham reportedly lashed out at acting Defense Secretary Patrick Shanahan over the Trump administration's decision to pull its troops out of Syria.
"Are you telling our allies that we are going to go to zero by April 30?" Graham asked Shanahan about the number of United States troops stationed in Syria, according to The Washington Post. "That's the dumbest f***ng idea I've ever heard.
"Well, if the policy is going to be that we are leaving by April 30, I am now your adversary, not your friend," Graham added to Shanahan.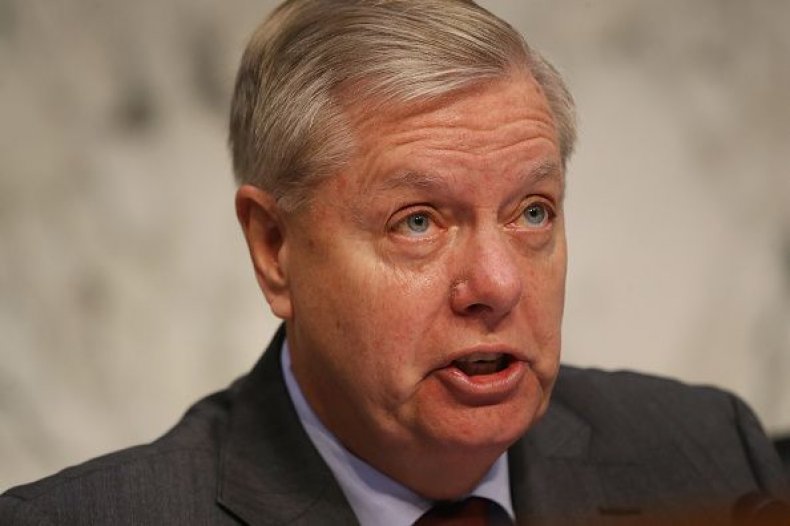 Graham has said that President Donald Trump's decision to pull all U.S. troops out of Syria would be a disaster because it would allow the Islamic State group (ISIS) to re-emerge in the country and would allow Iran to solidify its position as a major player in the Middle East.
President Donald Trump, on the contrary, has claimed that the roughly 2,000 U.S. troops stationed in Syria should leave because ISIS has been defeated. Experts, including members of the U.S. government, have noted that there are still tens of thousands of ISIS-affiliated fighters throughout Iraq and Syria.
Still, the group has lost control of much of the territory it previously held. A U.S.-led coalition has been bombarding the last ISIS strongholds, cornering the group's remaining adherents in the desert and forcing many to surrender. Tens of thousands of civilians have been fleeing from what were previously ISIS-held territories.
Graham, meanwhile, argues that the U.S. decision to leave the country would undo all of the progress that has been made against the terrorist group. Despite being a frequent defender of the president, the senator from South Carolina is a vocal critic of Trump's plans for the Middle East.
"I hope the president would look long and hard about what we're doing in Syria," Graham said during the hearing in mid-January.
"I know people are frustrated, but we're never going to be safe here unless we're willing to help people over there who will stand up against radical ideology. And here's the good news—very few fathers and mothers over there want to turn their daughters over to ISIS, their sons over to ISIS. They just need our help," Graham continued.
He later traveled to Turkey on his own to discuss the creation of a buffer zone between Turkey and Syria, and he has reportedly been pitching the idea to U.S. allies in Europe.