Lindsey Graham Earlier Vowed a President in Their Last Year Shouldn't Fill Supreme Court Vacancy: 'Use My Words Against Me'
Senate Judiciary Committee Chairman Lindsey Graham once dared Americans to "use my words against me" during March 2016 remarks in which he declared the next president—regardless of party—would not fill a Supreme Court vacancy during the final year of their first term.
The South Carolina senator is among several Republicans, including Ted Cruz and Donald Trump, who once vowed to block any Supreme Court nomination even if a Republican took office in November 2016. Graham on at least two occasions—once in March 2016 and again in 2018 during Brett Kavanaugh's hearings—defended Senate Majority Leader Mitch McConnell for blocking then-President Barack Obama's nomination of Judge Merrick Garland. Senate Republicans refused to call a vote or even hear discussion of Garland's nomination after the February 2016 death of Justice Antonin Scalia.
"It has been 80 years since a Supreme Court vacancy was nominated and confirmed in an election year. There is a long tradition that you don't do this in an election year," Cruz said just days after the February 2016 death of Scalia.
Graham made clear he will likely backtrack on this 2016 vow, with the GOP senator saying Friday evening, "after [Brett] Kavanaugh, the rules have changed, as far as I'm concerned."
Congressional Democrats say Senate Republicans flip-flopped on the appropriateness of filling a Supreme Court seat during a presidential election year—something they declined to do in 2016, but appear set to do now with Trump after Justice Ruth Bader Ginsburg's death Friday.
Gorsuch was nominated soon after President Donald Trump was inaugurated, which concluded 11 months of Republicans stone-walling any Democratic nominee.
"I want you to use my words against me. If there's a Republican president in 2016 and a vacancy occurs in the last year of the first term, you can say 'Lindsey Graham said let's let the next president, whoever it might be, make that nomination,' and you can use my words against me and you'd be absolutely right," Graham said amid the 2016 GOP presidential primaries, one month after Scalia's death.
"We're setting a precedent here today, at least Republicans are, that in the last year that you're not going to fill a vacancy of the Supreme Court based on what we're doing here today," Graham said during Gorsuch's confirmation.
Graham noted at the time that both GOP presidential frontrunners, Cruz and Trump, demanded Senate Republicans block or delay any effort to fill Scalia's vacancy before the November 2016 election.
"If Ted Cruz or Donald Trump get to be president, they've all asked us not to confirm, or take up, a selection by President Obama. So if a vacancy occurs in their last year of their first term, guess what? You will use their words against them," Graham told the Senate Judiciary Committee in March 2016. Just one week prior on March 7, 2016, Cruz vowed: "We will not consider any Supreme Court nominee until the people have spoken and a new president is inaugurated."
Graham doubled down on this opinion two years later during the 2018 Atlantic Festival, saying, "If an opening comes in the last year of President Trump's term, and the primary process is started, we'll wait to the next election."
But responding to accusations of hypocrisy in the wake of Ginsburg's death, Graham explained his reasoning for backpedaling on his 2016 vow and blamed Democrats.
"Harry Reid changed the rules to allow a simple majority vote for Circuit Court nominees dealing out the minority. Chuck Schumer and his friends in the liberal media conspired to destroy the life of Brett Kavanaugh and hold that Supreme Court seat open," the South Carolina senator tweeted Saturday. "In light of these two events, I will support President Donald Trump in any effort to move forward regarding the recent vacancy created by the passing of Justice Ginsburg."
Republicans appear poised to flip their position once again after Ginsburg's death Friday. McConnell said in a Friday night statement that Trump's nominee to replace Ginsburg will get a quick vote in the Senate as soon as possible—a complete reversal from his 2016 demand for "the American people to have a voice in their next Supreme Court justice."
Trump shored up the support of many religious conservatives during the 2016 presidential election by vowing to approve an anti-abortion, pro-gun rights judge to the country's highest court.
In the months after Trump defeated Cruz in the 2016 GOP presidential primary, and before he defeated Hillary Clinton in the general election, Trump repeatedly criticized Ginsburg.
In a July 2016 tweet, Trump said Ginsburg should "resign" from her seat on the high court, and declared, "her mind is shot." He vowed to "swamp" Ginsburg with "real judges and "real legal opinions," after she scoffed at fathoming America surviving under a potential Trump presidency.
Ginsburg told the Associated Press in early July 2016 that the billionaire GOP nominee was a "faker," which drew ethical criticism from both The New York Times and Washington Post editorial boards at the time.
Newsweek reached out to both Graham and Cruz's offices for additional remarks Saturday morning.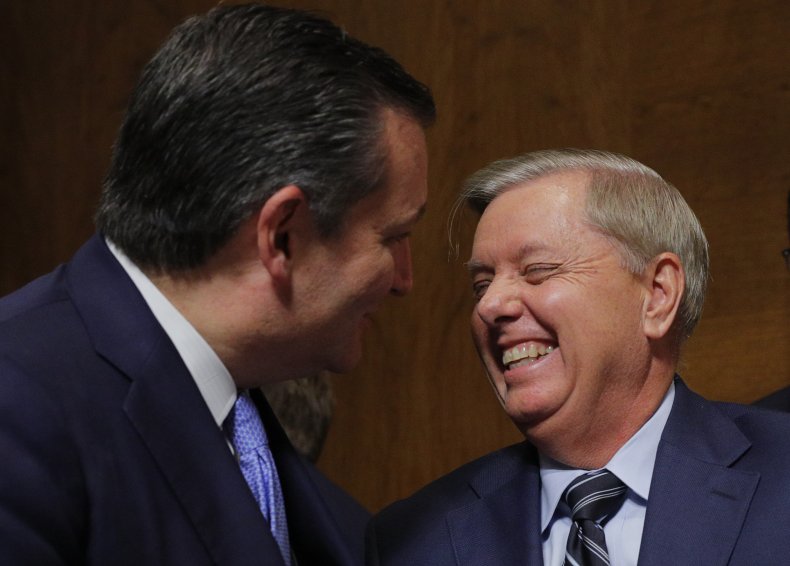 Update 3:12 PM ET: This story was updated to reflect Graham's response to criticism that he has since flip-flopped on his Supreme Court nomination stance in an election year.