Lindsey Graham Encourages Vaccine After Recovering From COVID as Half Of State Unvaxxed
Senator Lindsey Graham, took to the Senate floor on Tuesday to encourage more of his constituents to get vaccinated, crediting his own vaccination status with his relatively mild brush with COVID-19.
The Republican from South Carolina, who announced via Twitter last week that he had tested positive for COVID-19, thanked well-wishers on the Senate floor Tuesday and took the opportunity to push more people in his state toward getting the vaccine.
"If you haven't been vaccinated, regarding the COVID problem, you need to get vaccinated," he said. "I've been vaccinated, and I got COVID anyway. A couple of really bad days but I'm doing better and I feel on the mend and I'm confident if I hadn't had the vaccine, it'd have been a lot worse."
Graham, the first vaccinated senator to report a breakthrough case of COVID-19, spoke directly to his constituents in South Carolina, where vaccination rates lag behind the rest of the nation.
"So in my state, about 50 percent of people still aren't vaccinated. Just for your own good and the good of our state, I would urge you to consider getting vaccinated," he said. "I think the vaccine is safe, it works, and certainly I'm glad I had it. And the sooner we get to herd immunity, through vaccinations and other means, the better off we'll be."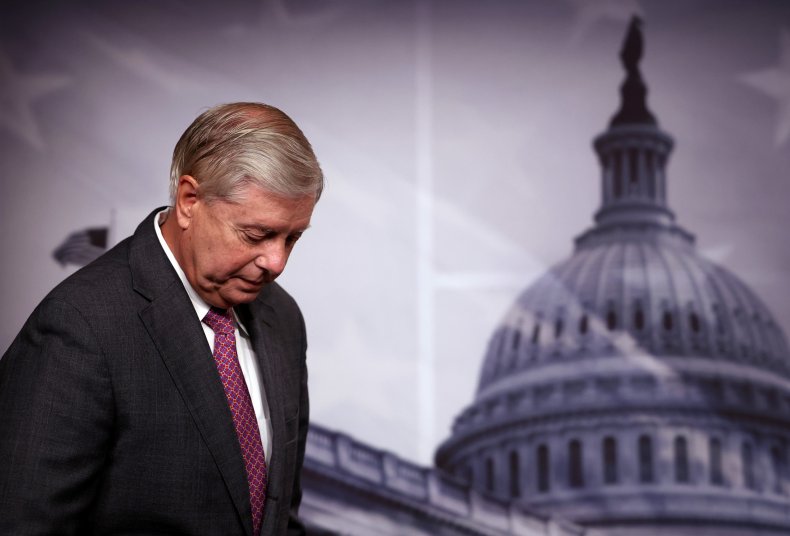 Graham's message regarding his relatively mild symptoms may have been intended to address the high levels of vaccine hesitancy in his constituents who may believe the vaccine doesn't "work" if breakthrough cases are possible.
While Graham was self-quarantining last Thursday, he told the Associated Press that he had previously urged former President Trump "to be aggressive and say, 'Take the vaccine.'"
He compared getting vaccinated favorably to other "sacrifices" Americans have had to make.
"No one's being asked to go off to fight radical Islam or fight a foreign enemy. We're being asked to make responsible medical decisions," Graham said. "Take the vaccine."
Just 45.3 percent of eligible South Carolina residents are fully vaccinated, as of August 8, according to data from the Centers for Disease Control. As of August 10, 58.8 percent of eligible people in the United States have received their full dosage. COVID-19 case rates and hospitalizations are climbing rapidly in South Carolina, where there is a statewide ban on mask mandates.
Graham has also called the vaccine "the antidote to the virus that's wreaking havoc on our hospitals."
Newsweek reached out to Sen. Graham for comment but did not immediately hear back.