Lindsey Graham Faces His Toughest Re-election Fight Ever Against Democrat Jaime Harrison
Lindsey Graham was a clear favorite to win re-election this cycle in deep-red South Carolina, but recent developments in the race beg the question: Is the Republican senator in real trouble?
Last week, election prognosticator Real Clear Politics officially shifted Graham's race against Jaime Harrison, the first African American chair of the South Carolina Democratic Party, to a "toss-up." The move came after two polls were released showing Graham and Harrison virtually tied.
"Graham indeed has a tougher re-election fight than he has had in his career running for either House or Senate," said Josh Putnam, an elections expert at FHQ Strategies.
At this stage in both of his past Senate campaigns (2008 and 2014), Graham was polling ahead of his Democratic opponent by double digits. In each case, he won handily in the general election by 15 percentage points.
That's not the picture in 2020. The most recent surveys show the contest to be even or with Graham slightly ahead by 3 or 4 percentage points. And while South Carolina hasn't elected a Democrat in any statewide election in 14 years, experts say Harrison is the party's best chance to change that.
"Jaime Harrison is exactly the right candidate to win statewide in South Carolina," said Jordan Ragusa, a political scientist at the College of Charleston. "He's a moderate Democrat, he's very well connected in the state, and South Carolina has a large percentage of African American voters."
Harrison quickly drew support from prominent party leaders after announcing his candidacy, including from Joe Biden, the Democrats' presumptive presidential nominee. He's since racked up endorsements from other big names, such as former Indiana Mayor Pete Buttigieg, former Georgia House Democratic leader Stacey Abrams and Representative James Clyburn of South Carolina.
He's also proved to be a strong fundraiser, giving Graham a literal run for his money. The Democrat has outraised Graham in both fundraising quarters this year and has had two dozen former Graham financiers jump ship to back his campaign. By the end of June, Harrison's campaign had raised nearly $29 million, compared with Graham's $30.9 million.
The senator, on the other hand, is one of the most powerful Republicans in Washington and has the backing of President Donald Trump. In July, Trump gave Graham his endorsement ahead of the Republican primary. In a tweet, the president said Graham was "a good friend and a strong voice for the people of South Carolina."
A close relationship with Trump would normally be smooth sailing for a candidate in a state as conservative as South Carolina. But as the president's poll numbers continue to sink, strategists are wondering if he's acting as a buoy or an anchor for Graham in this race.
"[Graham's] traded support from independents and moderate Republicans and conservative Democrats—he's traded support from them for the support of the Trump crowd, with the calculation that there are more of them than there are of the other in South Carolina and that he can weather the storm," said Chip Felkel, a Republican strategist. "It's going to be closer than anybody thought it would be."
The Graham team has pushed back on outside polling that shows a close race.
"We learned long ago not to put much confidence in media polls or outside groups who don't understand South Carolina politics," campaign spokesman T.W. Arrighi told Newsweek. "It's not our goal to generate buzz or clicks but to win a campaign. And our internal polling shows we are on track to accomplish that goal."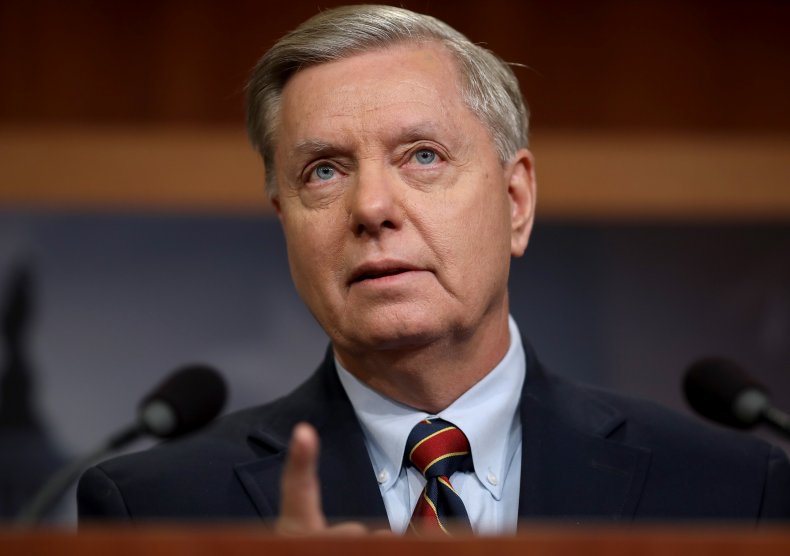 Trump won South Carolina by 14 points in 2016. But amid the coronavirus pandemic and a national recession, he's currently polling just 6 points ahead of Biden. Still, analysts widely predict the president will win the state again.
And not all forecasters have gone so far as to rank the Senate race as toss-up. The Cook Political Report, Sabato's Crystal Ball and Inside Elections still see the South Carolina seat as "likely" going Republican this election.
"There's no question that this is going to be Lindsey Graham's toughest fight," Ragusa said. "But it's still South Carolina, it's still a deeply red state, and I think he's still the odds-on favorite at this point."
As the race heats up, both candidates are going all in on spending before November 3. According to Columbia newspaper The State, Harrison has spent $7.6 million on advertising in South Carolina, while Graham's team has invested $2.2 million.
"Harrison's playbook is simple: appeal to liberals across the country who hate Senator Graham and use their money to run ads in South Carolina that hide his liberal beliefs, all while never leaving his basement," Arrighi said. "The reason he's received money and support from Nancy Pelosi, Hillary Clinton, MoveOn.org and Planned Parenthood is because Jaime Harrison is a radical liberal who shares their agenda."
Harrison has criticized Graham's leadership during the coronavirus outbreak and economic crisis, telling Newsweek in a statement that "we need a senator who will go to Washington to work for all of us; someone who will put solutions ahead of politics in order to bring back hope and build a better future for South Carolina. Since Lindsey Graham is no longer that senator, I will be."
He added, "Lindsey Graham has been in Washington for almost 25 years—and that time has changed him. These days, he seems to be more focused on his own career and the political games of the day than the urgent need to solve South Carolina's most pressing challenges."