Lindsey Graham Fires Back at Progressives Calling for His Resignation, 'I'm Going to Bury Your Agenda'
South Carolina Senator Lindsey Graham fired back at progressives who called for his resignation and said, "I'm going to bury your agenda."
While appearing on Fox News' Fox & Friends on Thursday morning, Graham was asked about progressives such as Minnesota Rep. Ilhan Omar and Michigan Rep. Rashida Tlaib calling for him to resign from his Senate seat following reports that Graham suggested legally cast ballots should be thrown out in Georgia.
"You stay in your lane. I could understand why you want me out of the Senate 'cuz I'm going to bury your agenda," Graham said. "You're the most radical people in the history of American politics. You're anti-Semitic when it comes to Israel, you bunch of socialists."
He continued, "You would transform America to make it Venezuela. I'm gonna stand in your way. I could understand why you don't want me in the Senate, but I'm not going anywhere."
Graham's comments come shortly after both Tlaib and Omar took to Twitter and urged him to resign.
"It's time for Lindsey Graham to submit his resignation," Omar wrote in a tweet which featured an article from MSNBC News about Graham asking Georgia Secretary of State Brad Raffensperger if he had the power to reject certain absentee ballots.
In a similar tweet, Tlaib wrote, "Lindsey Graham attempted to commit voter fraud. He can't get away with it. Actions result in consequences. This unethical and possibly illegal action from a sitting U.S. Senator demands a swift consequence. Thank you @RepJayapal for demanding it."
Washington Rep. Pramila Jayapal also called for Graham to resign, writing, "First, Graham and Republicans fought like hell to suppress the vote. Then, Black, brown, and young voters organized and turned out in record numbers to win the state anyway. Now, he's trying to get their legally cast votes thrown out. He must resign."
Prior to his comments made on Fox & Friends, Graham took to Twitter to respond to the calls for his resignation on Wednesday night.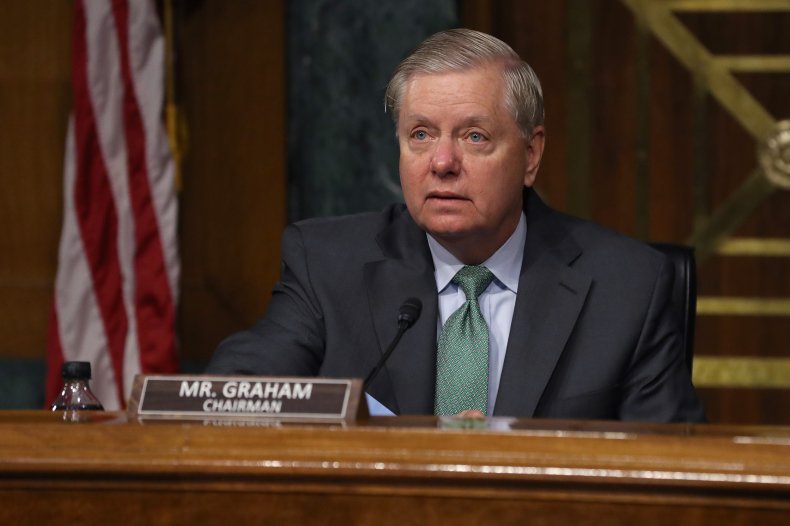 "I must be doing something right when the most radical liberal politicians and media pundits in America are calling for my resignation!" he wrote.
"I will continue to try to find common ground where possible, but will not hesitate to vigorously oppose the radical domestic and foreign policy agenda of The Squad and other liberal critics," Graham wrote in a subsequent tweet. "To those who are trying to silence me—you will fail miserably!"
Newsweek was directed to Graham's tweet after reaching out for comment.
On Monday night, Raffensperger spoke to CNN's Wolf Blitzer on The Situation Room to talk about Graham and his question about throwing out certain ballots in the state's election and said, "He asked if the ballots could be matched back to the voters."
"And then he, I got the sense it implied that then you could throw those out for any, if you look at the counties with the highest frequent error of signatures. So that's the impression that I got," Raffensperger said. "It was just an implication of, 'Look hard and see how many ballots you could throw out.' "
Newsweek reached out to Tlaib and Omar for comment but did not receive a response in time for publication.