Lindsey Graham Says Bolton's Book Will Hurt Him More Than Trump
Sen. Lindsey Graham said President Donald Trump will be judged favorably on his foreign policy record and not by the claims made in a book from his former national security adviser, John Bolton.
The chair of the Senate judiciary committee told Fox News he took a dim view of Bolton's indiscretion in publishing The Room Where It Happened, which is unsparing in its criticism of Trump and his administration.
Graham said that Bolton "has done something most people can't do—unite the Republican and Democratic party."
The South Carolina Republican was referring to Democratic anger that Bolton did not testify about Trump's conduct during the impeachment inquiry, accusing him of saving it for his book, and GOP discontent at his explosive allegations against the administration.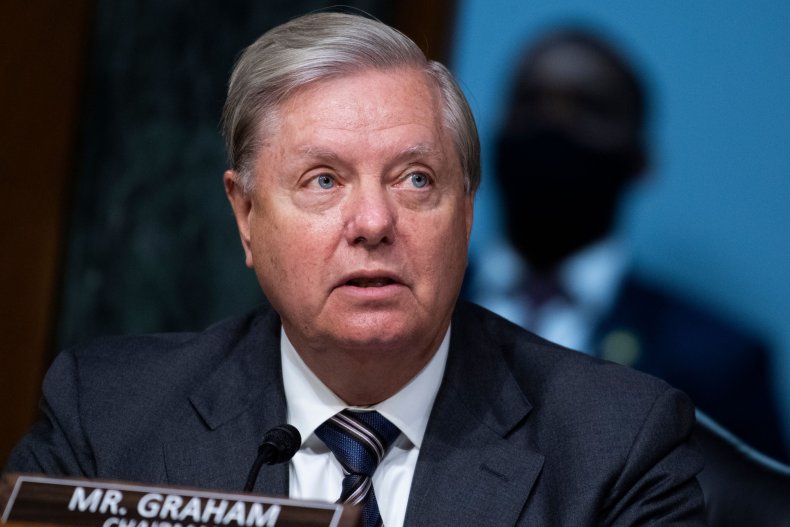 "Republicans like me say 'John, I've known you for 20 years, I generally agree with you, why did you do this? Why did you break the bond of the national security adviser?'" Graham told host Shannon Bream.
"Look at what President Trump has done. He is not going to be judged by what Bolton said.
"President Trump will be judged about what he has done about foreign policy," Graham said, describing how Trump was responsible for the country's "strong military" and the move to "destroy the Caliphate."
"He has done a lot of good things. He has done more to take on China than any president in my lifetime and Bolton was offended by the idea that Trump was upset with NATO.
"What President Trump has got NATO to pay $400 billion more for the common security of the alliance than any president in my lifetime," referring to Trump's demands of alliance members to spend at least two percent of their GDP on defense.
Graham said "name one president in modern history that has done more for Israel" than Trump, adding: "I think the book won't mean anything for the election."
He concluded: "I think it is going to damage what is left of John Bolton's reputation and at the end of the day, it is going to hurt Bolton more than it hurts Trump and that's sad, because I did like John, I respected his intellect but he went out on a very sour note."
The Justice Department is trying to stop the scheduled release of the book on June 23, arguing in a lawsuit that it did not go through the necessary classification review process.
Bolton has called the attempted injunction an effort to stifle free speech, saying in a statement: "It is difficult to conceive of a greater attack on the First Amendment than the suppression of that speech in the service of a reelection campaign," Bloomberg reported.