Lindsey Graham Has COVID-19, Says Symptoms Would Be 'Far Worse' if He Wasn't Vaccinated
Senator Lindsey Graham has tested positive for COVID-19 and said he would likely feel much worse if he had not been vaccinated against the virus.
Breakthrough cases of COVID-19, where a vaccinated person contracts the virus, are rare and even if a person gets sick, they're far less likely to be hospitalized or die. In confirming his diagnosis, Graham expressed gratitude that he had been vaccinated because if he hadn't he believes his symptoms would be "far worse."
"I am very glad I was vaccinated because without vaccination I am certain I would not feel as well as I do now," Graham said in a tweet.
The senator from South Carolina said he started having flu-like symptoms on Saturday night and went to the doctor on Monday morning, where he tested positive. He described his symptoms as "mild" and likened it to how it feels when a person has a sinus infection.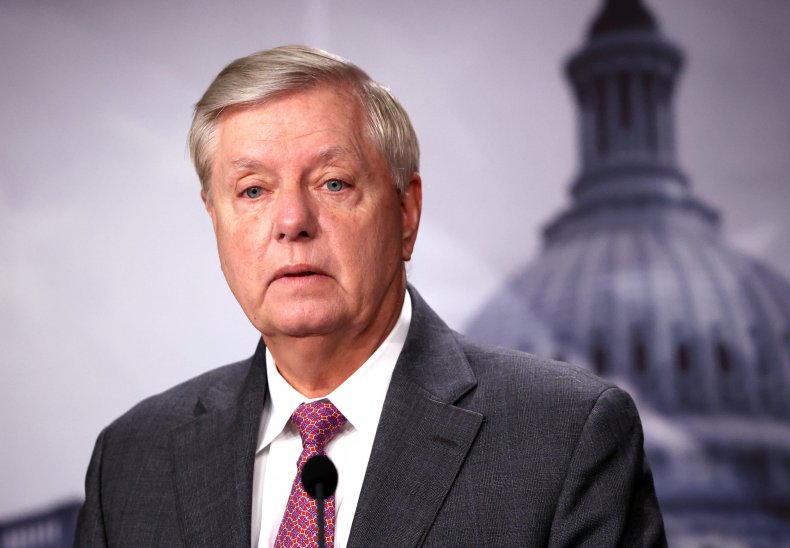 At 66 years old, Graham is considered to be at increased risk of becoming severely ill from COVID-19. More than 80 percent of COVID deaths have involved people who are over the age of 65, according to the Centers for Disease Control and Prevention (CDC), and given the risk the virus poses to older Americans, officials have been imploring those who are above 65 to get vaccinated.
Nearly 90 percent of Americans over 65 years of age have received at least one dose of the vaccine and 80 percent are considered to be fully vaccinated.
Graham was inoculated in December and posted photos of him getting the vaccine on Twitter. At the time, he thanked God for the nurses who knew how to administer the vaccine and the people who were involved in creating it.
"If enough of us take it, we will get back to normal lives," Graham said. "Help is on the way."
In April, Graham broke with his colleague, Senator Rand Paul, when he stressed the need for people to get vaccinated even if they had COVID. Paul pushed back on getting vaccinated because he had COVID-19 in March 2020, the first senator to test positive, and believes natural immunity is enough to protect him.
The rapid development of the COVID-19 vaccine made some people wary of getting inoculated. Officials, including Graham, have reiterated that the vaccine is safe and effective and Dr. Anthony Fauci, director of the National Institute of Allergy and Infectious Diseases (NIAID) attributed the quick roll out to technological advancements and proactive financial investment.
COVID-19 cases are on the rise across the country and some new cases include people who have been vaccinated. Some have weaponized breakthrough cases to push a narrative that vaccines aren't effective but the CDC denied that was the case, saying breakthrough cases are expected because no vaccine is 100 percent effective.
Graham acknowledged people are hesitant about the vaccines but said he trusts the vaccine and as a "big fan of me" said he wouldn't do it if he didn't think it was safe. The senator has plans to quarantine for 10 days now that he has tested positive.
"We do certainly hope that Senator Graham has a speedy recovery and experiences mild symptoms and we wish him the best of health with that," White House press secretary Jen Psaki said on Monday.
This article has been updated with comment from White House press secretary Jen Psaki.