Lindsey Graham Has 'No Regrets' About Trump Support, but Sees Capitol Riot as Blight on Presidency
Senator Lindsey Graham reflected on the past four years of President Donald Trump's presidency with praise for his accomplishments but said the riot that took place on Wednesday will be a tarnishment on Trump's entire record.
On Wednesday, a group of rioters dressed in pro-Trump gear breached police barriers, broke windows and entered the U.S. Capitol as legislators were convened for a joint session to certify the election results. Legislators condemned the violence, with Graham calling it a "national embarrassment" and a blight on what he considers a stellar record for President Donald Trump.
"The reason I've been close to the president is I think he's done tremendous things for the country.… I have absolutely no regrets of helping this president make us safer, more prosperous," Graham said. "As to yesterday: it breaks my heart that my friend, a president of consequence would allow yesterday to happen and it will be a major part of his presidency. It was a self-inflicted wound. It was going too far."
The Senate and House were mid-debate over Arizona's electoral votes when both chambers entered a sudden recess upon learning that rioters broke through security at the Capitol. Vice President Mike Pence, Speaker Nancy Pelosi and other legislators were escorted to a safe location as security and law enforcement worked to control the situation.
One woman, identified as 35-year-old Air Force veteran Ashli Babbitt, was shot and killed. Three others suffered medical emergencies and died during Wednesday's siege, according to Washington, D.C., Police Chief Robert Contee III.
Nearly 20 years after the attacks on September 11, 2001, Graham questioned how "domestic terrorists" were able to overwhelm security systems to enter the Capitol. He echoed Senate Minority Leader Chuck Schumer's call for Sergeant at Arms Michael Stenger to either resign or be fired from his position, as should be the case with anyone who was in charge of defending the Capitol.
"They could have blown the building up. They could have killed us. They could have destroyed the government. They should have been challenged. Warning shots should have been fired and lethal force should have been used," Graham told reporters on Thursday. "Those backpacks could have had bombs, chemical agents, weapons. We dodged a major bullet yesterday. If this is not a wake-up call, I do not know what is. "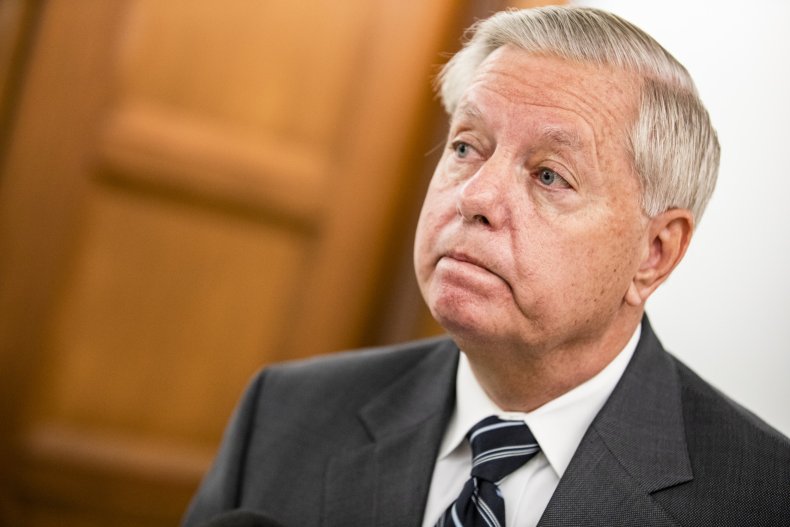 The South Carolina Republican called for every person involved to be prosecuted to the fullest extent of the law, something he criticized for not happening during protests in Portland and Seattle. Without significant consequences, he said there's no message to people that violence won't advance their cause but will only lead to their own prosecution.
Graham, one of Trump's staunchest allies, called for the president to end his pursuit of a second term while speaking on the Senate floor on Wednesday. After numerous courts ruled against the president's claims of fraud, Graham said the fight was "over" and it was time to accept that President-elect Joe Biden and Vice President-elect Kamala Harris were lawfully elected.
He also pushed back against Trump's pressuring of Vice President Mike Pence to insert himself in the proceedings and reject the results, something Pence said he did not believe he had the power to do.
"If you're a conservative, this is the most offensive concept in the world that a single person could disenfranchise 155 million people," Graham said. "To the conservatives who believe in the Constitution, now's your chance to stand up and be counted."
Objections were made to votes in various states, including Arizona and Pennsylvania, but none of them gained the majority vote needed in both chambers to stand. Around 3:45 a.m. Thursday, about eight hours after legislators reconvened, Pence officially declared Biden to be the winner.
"Even though I totally disagree with the outcome of the election, and the facts bear me out, nevertheless there will be an orderly transition on January 20th," Trump said in a statement. "I have always said we would continue our fight to ensure that only legal votes were counted. While this represents the end of the greatest first term in presidential history, it's only the beginning of our fight to Make America Great Again!"
Graham credited Trump with making "outstanding" nominations in the way of judges and putting Bill Barr in the position of attorney general, as well as, working to destroy the caliphate and getting out of the Iran Nuclear Deal. Over time, Graham said Trump's presidency will be viewed in a "fuller context" and hoped that the president would use his last 13 days in office to foster a peaceful transfer of power.