Lindsey Graham 'More Confident than Ever' of Winning South Carolina Election
Sen. Lindsey Graham has issued a final rallying call for voters in South Carolina to help him defeat Democratic Party rival Jaime Harrison after a campaign that has posed the toughest challenge to his Senate seat.
Graham ended a three-day bus tour where he made his final pitch for voters in his state by tweeting: "Thank you, South Carolina!" adding, "I am more confident than ever of victory. Let's finish the job tomorrow!"
Graham shared the message with a video starting with a graphic of his campaign bus, which fades into a clip in which he thanks a crowd "for letting me be their senator," adding, "I'm ready to go back if you're ready to send me."
"There is a place for the government but in their world, the government owes you from the day you are born till the day you die," he says in the clip to voters, taking a swipe at the Democrats and calling for smaller government. He adds that his campaign was about promoting "your destiny, not the government's destiny for you."
Both candidates had criss-crossed the state in the final days before Tuesday's ballot in a last-minute effort to win voters following a campaign which had broken fundraising records.
Graham faces his toughest challenge yet to hold onto his Senate seat he has held since 2003. The race has seen Harrison become the first-ever U.S. Senate candidate to raise more than $100 million, the Associated Press reported.
This has been helped in part by Democrat support from other parts of the U.S. reacting to Graham's unwavering support of President Donald Trump, and his backing of the Supreme Court appointment of Amy Coney Barrett, which was at odds with previous pronouncements. For his part, Graham told the AP that his campaign had also "passed the $100 million" mark.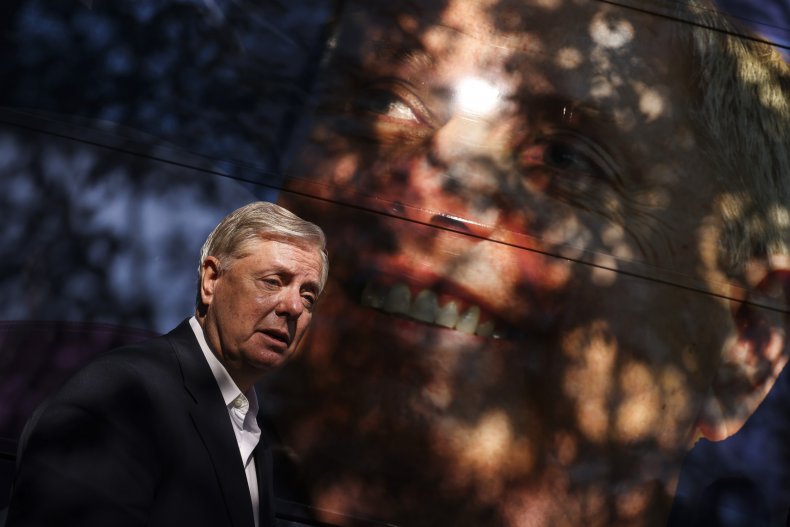 However, Graham's comments that Black people can succeed as long as they are conservative and that young women can excel if they follow a "traditional family structure" have been seized upon by Harrison as outdated, who described him on MSNBC as "a relic of the 1950s."
With Republicans at risk of losing their three-seat majority, GOP eyes are keenly trained on the state where Graham still holds a three-point advantage in the final polls, 49 to 46, according to a survey on October 25 from East Carolina University. However two polls by Quinnipiac University carried out in September had the candidates tied.
The graphic below provided by Statista shows the main concerns of American voters.