Lindsey Graham Predicts $2 Trillion Post-Election Stimulus Package After 'Bipartisan Breakthrough'
Senator Lindsey Graham expects there to be support from both sides of the aisle for a stimulus package after the election, and has also defended his support for the nomination to the Supreme Court of Amy Coney Barrett.
Amid a closely-contested race in South Carolina with Democratic contender Jaime Harrison, Graham told news outlet WCNC that getting an agreement on financial help for Americans reeling from the coronavirus downturn would be his priority—should he retain his seat.
"I think the number-one goal for me is another stimulus package until we get a vaccine," he said, blaming unwillingness of lawmakers to back President Donald Trump for the impasse.
Democrats say disagreements remain with the Republicans on a number of issues, but some senior GOP senators oppose the size of the latest proposal—which includes $1,200 stimulus checks and extending enhanced federal unemployment benefits.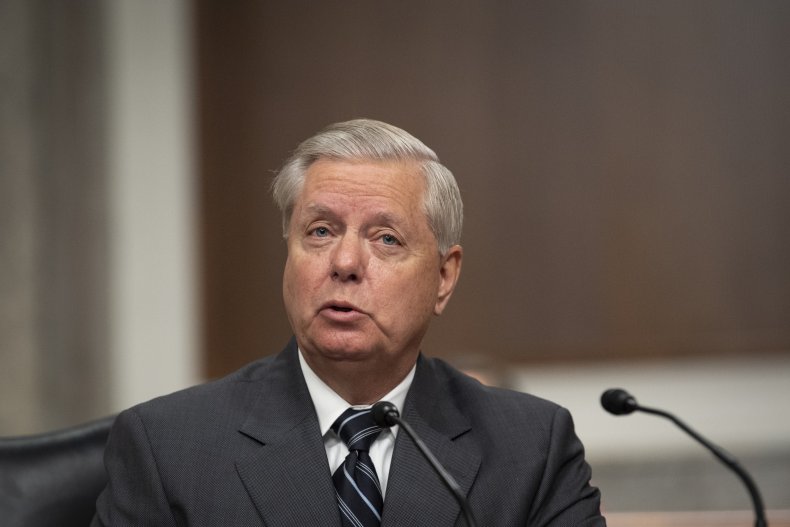 Graham said: "I think as soon as the election is over there's going to be a bipartisan breakthrough on a big package somewhere around $2 trillion that will help the economy....and after that, we have to come together as a nation."
Graham has been under fire for backing Judge Amy Coney Barrett for the Supreme Court, after previously saying that he would never support such an appointment in an election year.
Her swearing-in this week seals a 6-3 conservative majority in the judicial body, which is expected to be a boon for Trump and the GOP. Graham defended his support, saying it was "a blessing for the country to have a judge who will follow the facts and the law not to make up the law to fit their own needs."
"From a young woman's point of view, who happens to be conservative, who is pro-life, who embraces a traditional family structure, this means there's a seat at the table for you," he said. Harrison told The Late Show this week that voters will punish Graham's flip on the issue.
Meanwhile, Graham said he would "not begrudge anybody" challenging the results as long as a court's decision was considered final. "I have confidence in the process, I have no doubt that the results will be fair in South Carolina," he told WCNC.
The latest polls show a fierce fight for the Senate seat Graham has held since 2003. The Republican incumbent is three points ahead, 49 to 46, according to a survey conducted on October 24-25 by East Carolina University, (ECU) within the 4.1 percent margin of error.
The poll also showed Harrison five points clear among those with a four-year college degree and overwhelming support among Black respondents, 95 percent to three. The pair will debate in Columbia on Friday evening.
Peter Francia, director of the ECU Center for Survey Research, said in a statement that this year's race was "extremely competitive."
"Senator Graham won re-election rather easily in 2014. This election is quite different. The campaign that better mobilizes its supporters, particularly in these final remaining days of the election, could well determine the winner."