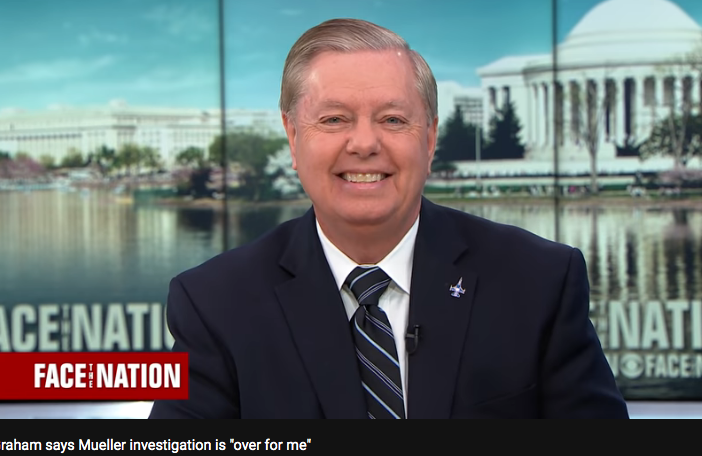 South Carolina Senator Lindsey Graham said Sunday that while President Donald Trump did nothing illegal with regard to the 2016 election, he still believes the Russian hacking and meddling is — contrary to how others have portrayed it — a "big deal" worthy of increased sanctions.
Graham, who chairs the Senate Judiciary Committee, appeared on TV Sunday morning, where responded to White House Senior Adviser Jared Kushner's recent comments to Time Magazine that Russia's 2016 election interference amounted to nothing more than a "couple of Facebook ads."
The Trump ally and South Carolina Republican pushed back on this suggestion, saying Kushner failed to mention how Russians hacked into Democratic Party servers to obtain emails from party nominee Hillary Clinton and her top aide John Podesta.
"I like Jared a lot but he's leaving out a big detail: the Russians hacked into John Podesta's emails," Graham said Sunday morning on CBS News' Face the Nation. "The campaign manager for the Democratic candidate for president. The Russians hacked into Hillary Clinton's emails, the candidate for the Democratic Party."
Graham then took on a rare empathetic, bipartisan view of the 2016 Russian hacking.
"Can you image what we would be saying if the Russians or the Iranians hacked into the presidential team of the Republican Party?" he asked. "So no, it is a big deal. It's not just a few Facebook ads. They were very successful at pitting one American against the other during the 2016 campaign by manipulating social media and they actually got in to the campaign email system of the Democratic Party."
Graham continued, "An attack on one party should be an attack on all. The Russians are up to it again and here's what I tell President Trump: Everything we've done with the Russians is not working. We need more sanctions, not less."
But Graham's claims of straight talk with the president are unlikely to have any effect on Democrats, who have continued to investigate the administration, or Trump himself as Graham has previously said flat-out "the president never obstructed."
Graham has reiterated his belief Trump did nothing wrong and cites Robert Mueller declining to hit him with conspiracy or obstruction of justice charges as his proof.
"I think the idea that this president obstructed justice is absurd," Graham said on Face the Nation. "I can't think of one thing that President Trump did to stop Mueller from doing his job."