Senator Lindsey Graham has an AR-15 assault rifle, and the Trump ally has no intention of giving it up because he said an occasion may arise from a natural disaster in which he or others would need to protect themselves from looters.
"Here's a scenario that I think is real: there's a hurricane, a natural disaster, no power, no cops, no anything," the South Carolina Republican told reporters aboard Air Force One Friday, according to the White House pool report. He was joining Trump on his trips to the Hamptons for re-election fundraisers and then to Trump's New Jersey golf club for vacation.
"People—they're not going to come to the AR-15 home," Graham said. "I think if you show up on the porch with an AR-15, they'll probably go down the street."
Asked if he was referring to looters, he responded in the affirmative. In stating his opposition to reinstating an assault weapons ban, Graham believed it would be "legal" but not "practical."
His remarks came as Congress and Trump are trying to find a path forward on gun control legislation that could muster enough bipartisan and bicameral support to land on the president's desk. Trump claimed earlier in the day there is "tremendous support for common-sense background checks," something congressional Democrats have demanded the Senate end their 5-week recess to vote on House-passed universal background check bills.
Republicans have said the measures go too far by requiring federal background checks for nearly all firearm sales and transfers with few exceptions, whether it's a private transaction or a commercial sale.
A previously failed bipartisan bill by Senators Pat Toomey, a Pennsylvania Republican, and Joe Manchin, a West Virginia Democrat, is receiving renewed attention as Congress weighs its options on how to proceed. The Toomey-Manchin bill, which did not pass in 2013 following the mass shooting at Sandy Hook Elementary School, would expand background check requirements from just licensed gun dealers to include gun shows and internet sales. It would not require background checks for sales or gifts between friends and family.
"We've all voted against the bill before. I'm trying to find some middle ground here," Graham said, adding that he would discuss the topic of background checks with Trump.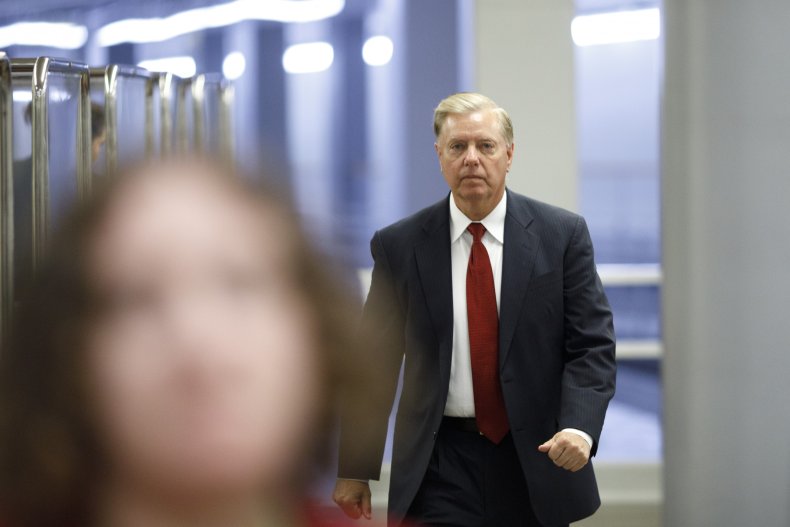 Republicans, including Ohio Governor Mike DeWine, whose state was home to one of two mass shootings last Saturday, have advocated for implementing so-called "red flag" laws that would allow law enforcement officials to temporarily take away firearms from people who are believed by family members to be an immediate threat to themselves or others.
However, Graham said such laws "won't mean anything."
"None of these cases involved somebody that got around a background check. All these guys bought the gun legally," he said. "There's so many—like the guy in Dayton, [Ohio,] if you get kicked out of school for threatening your schoolmates, with a rape list and a kill list, maybe you shouldn't be able to buy a gun. That's the heart of the matter here."
Graham said he purchased his AR-15 when serving in the Air Force Reserve and has only shot it twice, describing it as more of a "memorabilia thing."
Prompted why he, or anyone, would need such a firearm, which has become the weapon of choice for mass shooters due its ability to hold and fire a high capacity of rounds, responded: "Why do you need to read what you read, and why do you need to watch the movie that you watch, and play the video games you [play]? Your rights can't be limited because I don't understand why you want to do something."
Trump expressed confidence to reporters earlier in the day that he could win the support of the National Rifle Association (NRA) over strengthening background checks and convince his Republican colleagues in Congress to support it. Senate Majority Leader Mitch McConnell, a Kentucky Republican, has not allowed any gun control legislation to be voted on but said on Thursday in a local radio interview that background checks would be "front and center" when Congress returns. Thus far, Trump and McConnell have refused to move on Democrats' demands for the chamber to act immediately.
"I think I have a greater influence now over the Senate and over the House. I think we can get something really good done," Trump said. "I think we can have some meaningful background checks."
After speaking with McConnell, Trump claimed the majority leader is "totally on board," a statement that contradicts the hesitance that McConnell has levied. A spokesperson for McConnell did not respond for comment.
On the NRA, the president said that, despite media reports of the gun rights group privately lobbying to Trump against the increased background checks, they would ultimately side with him.
"I think in the end, [NRA Executive Vice President Wayne LaPierre] and the NRA will either be there or will maybe be more neutral," he said. "The NRA over the years has taken a very tough stance on everything and I understand it. It's a slippery slope—they think you approve one thing and that leads to a lot of bad things. I don't agree with that."