Lindsey Graham 'Not Buying' Claim Mueller Is Trying to Frame Donald Trump
Senator Lindsey Graham distanced himself from Rudy Giuliani, President Donald Trump's attorney, Thursday, when he told reporters he's "not buying" Giuliani's unfounded claim that special counsel Robert Mueller is trying to frame Trump for crimes he didn't commit.
"Mueller's not above being scrutinized," Graham told reporters Thursday. "He's not above being challenged. But I'm not going down the road of saying this is some kind of exercise to frame the president."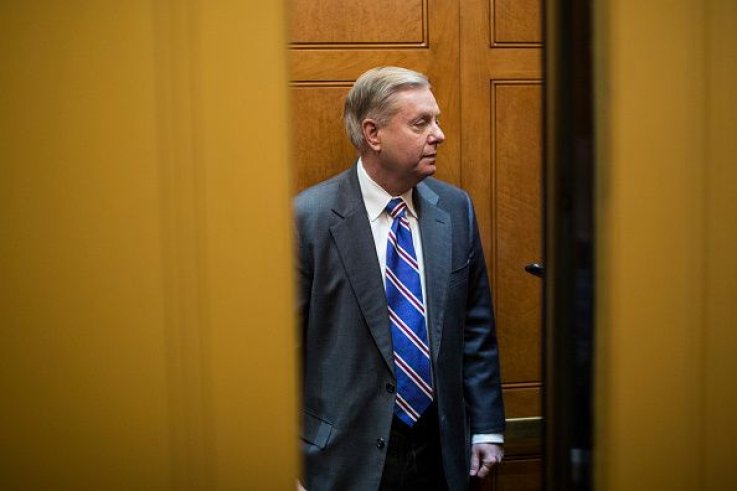 "His job is to represent the president," he said. "[But] I'm not buying this."
The comments come in response to Giuliani's claim that Mueller's team is "trying very, very hard to frame" Trump. He added that Mueller's goal was to get the president "in trouble when he hasn't done anything wrong."
Trump has ramped up his criticism of Mueller and his team in recent days. "When and where will all of the many conflicts of interest be listed by the 13 Angry Democrats (plus) working on the Witch Hunt Hoax. There has never been a group of people on a case so biased or conflicted. It is all a Democrat Excuse for LOSING the Election. Where is the server?" he tweeted Thursday.
Earlier this week, Trump noted his ability to potentially pardon himself should Mueller bring charges, but also said he has done "nothing wrong."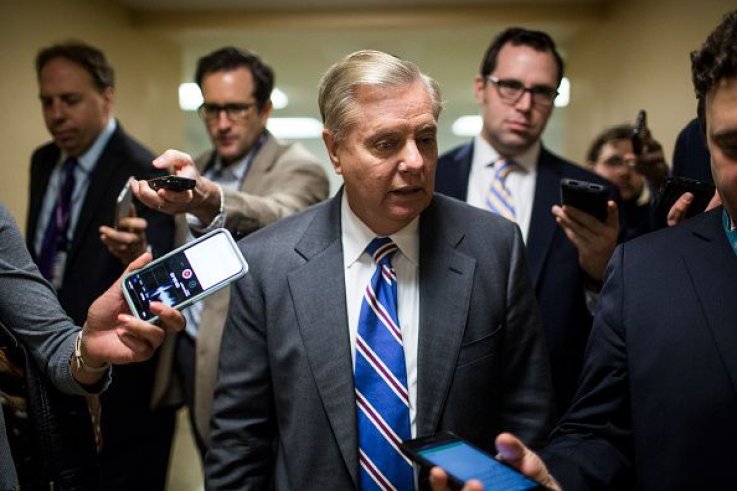 "As has been stated by numerous legal scholars, I have the absolute right to PARDON myself, but why would I do that when I have done nothing wrong?" he said. "In the meantime, the never ending Witch Hunt, led by 13 very Angry and Conflicted Democrats (& others) continues into the mid-terms!"
Mueller, who is leading the special counsel investigation, is a registered Republican.
Giuliani added that Mueller's team "can't emotionally come to grips with the fact that this whole thing of Russian collusion didn't happen," he said. "They are trying to invent theories of obstruction of justice."
Giuliani has gained attention for contradicting Trump since joining his legal team in April. Earlier this month, he told Sean Hannity that Trump knew about a $130,000 payment made to adult actress Stormy Daniels weeks after Trump denied any knowledge of the arrangement.
Trump told reporters Giuliani "didn't have his facts straight" and that he "just started" his job.
In the same interview, Giuliani also muddled Trump's assertions over his firing of FBI Director James Comey. He told Fox News that Trump fired Comey because he "would not, among other things, say that he wasn't a target of the investigation."
Trump cited Comey's handling of the investigation into Hillary Clinton's use of a private email server when she was secretary of state as the reason he was fired. But in a later interview, Trump told NBC's Lester Holt he was thinking of "this Russia thing" when he decided to fire Comey
Trump tweeted in April that Comey was not fired because of "the phony Russia investigation."
Mueller, like Comey, is a former FBI director. He was praised by both parties when the special counsel appointed him to run the investigation into Russian interference in May 2017.
Lindsey Graham 'Not Buying' Claim Mueller Is Trying to Frame Donald Trump | U.S.