Lindsey Graham Says Republicans Will Try to "Repeal and Replace" Obamacare—Again
Republican Senator Lindsey Graham outlined Republican priorities in 2020 if they win back the House this week. High up on that list? Another attempt to "repeal and replace" the Affordable Care Act.
"This is what 2020 is about. If we can get the House back and keep our majority in the Senate, and President Trump wins re-election, I can promise you not only are we going to repeal Obamacare, we're going to do it in a smart way where South Carolina will be the biggest winner," Graham told conservative radio host Joey Hudson on Monday. "We've got to remind people that we're not for Obamacare."
"If we could get the money back to the states, Democratic policies would be tested against our policies," Graham said. "This scares the hell out of the Democrats. This is what 2020 is about."
Graham has his own version of a repeal and replace bill that would end subsidies that help people buy insurance and also end optional state Medicaid expansion programs. But Graham's bill was not voted on in the Senate in 2017 because it didn't have the support it would need to pass, despite the chamber being controlled by Republicans.
The comments come as a crowded 2020 Democratic presidential field debates the merits of continuing to expand Obamacare or establish a system of Medicare for All. There is some confusion, however about what Democratic candidates do support. A Monmouth University poll released Thursday found that a quarter of Iowan voters say they have no idea who comes close to matching their ideas on healthcare.
Senators Bernie Sanders and Elizabeth Warren support Medicare for All and former Vice President Joe Biden supports expanding Obamacare. The rest of the candidates mainly fall somewhere in-between.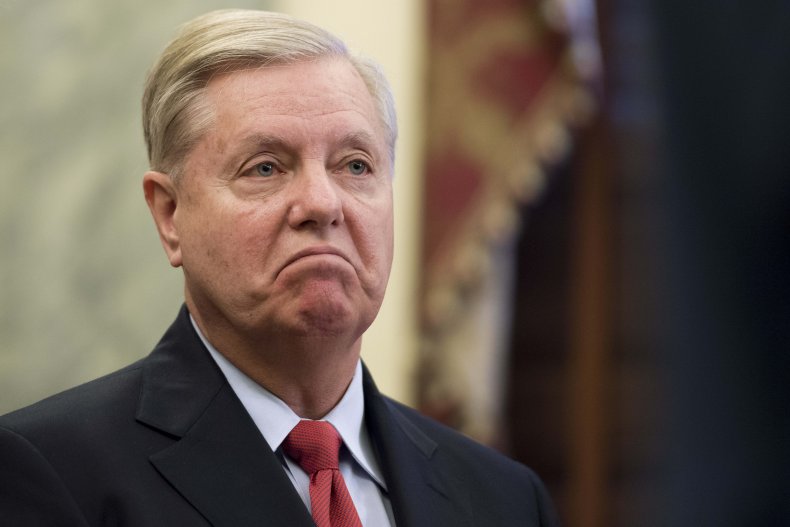 "The Trump-Republican agenda: Keep trying to throw millions of people off of their health insurance," Vermont Senator and presidential candidate Bernie Sanders tweeted in response to Graham. "Our agenda: Guarantee health care to all and save the average family thousands of dollars a year."
A recent poll by the Kaiser Family Foundation found that nearly 90 percent of voters think it's very important for 2020 candidates to discuss health care, and nearly half are happy with the Obamacare status quo.
Republicans made a failed attempt to repeal Obamacare early in President Donald Trump's presidency when they controlled both the House and the Senate. Following the attempt, Republicans lost control of the House majority to Democrats after the 2018 midterm elections. Some Republicans, like Senate Majority Leader Mitch McConnell have since attempted to stay away from the overarching issue of healthcare policy.

When asked about healthcare in March, McConnell put the onus on the president and said, "I am focusing on stopping the 'Democrats' Medicare for none' scheme."