Lindsey Graham Praises Trump's Oval Office Meeting: 'It's not a Manhood Thing, It's a National Security Thing'
Senator Lindsey Graham threw his weight behind President Donald Trump and said the president should stand his ground in his bid for more funding for his border wall.
It followed a heated exchange in the Oval Office on Tuesday between Trump, Senate Minority Leader Chuck Schumer and House Minority Leader Nancy Pelosi, as Trump threatened a government shutdown over money for border security.
Read more: CNN brings out popcorn during panel on Trump-Democrats meeting
The South Carolina senator told Fox News that the Democrats were guilty of "liberal ignorance" and they only sought to thwart Trump because of their hatred of the president. He recounted how the Democrats voted for a bill earlier in the year that allocated $25 billion for border security that included fencing and other physical barriers, and a path to citizenship for the millions of immigrants brought to the U.S. without documentation.Trump seeks $5 billion.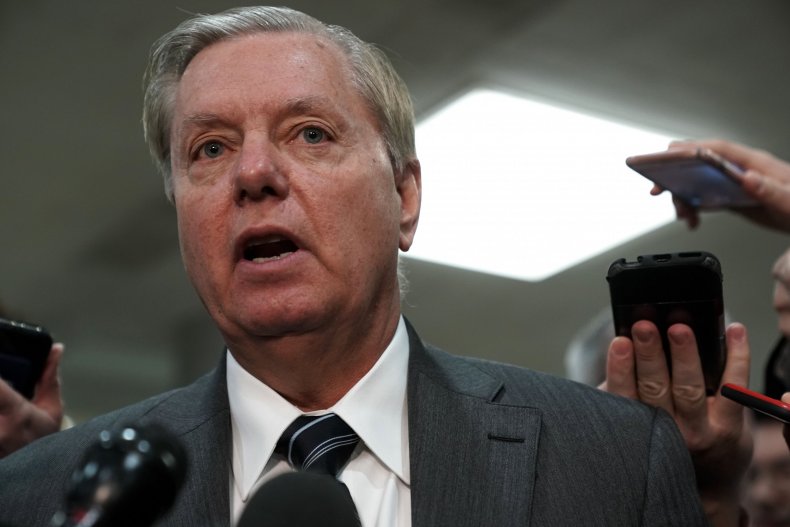 Graham said security "is not a man thing, it is a security thing," referring to cooments Pelosi made after the meeting, as reported by Politico. Pelosi also reportedly said the wall was like "a manhood thing with him—as if manhood can be associated with him."
Graham insists the Democrats were "wrong to say no. They want Trump to lose more than they want the country to win," he said, adding that their spat showed "their desire to have Trump fail."
"She has a political problem, the country has a security problem… What signal are we sending the world if we reduce security in light of an increased threat, we are inviting more caravans, so the president is right.
"This liberal arrogance has to come to an end. Nancy Pelosi said, 'I would never put DACA associated with the wall.' Well, we did that in February, so this idea that the president needs to back down, doesn't make sense to me," said Graham.
"He needs to dig in, and get the very Democrats that voted for $25 billion, to give him $5 [billion] because we need the money more than ever."
Pelosi told reporters after Tuesday's meeting that the "Trump shutdown is something that can be avoided and that the American people do not need at this time of economic uncertainty, and people losing jobs and the market in a mood and the rest. It is a luxury. The Trump shutdown is a luxury that the American people cannot afford."
Lindsey Graham Praises Trump's Oval Office Meeting: 'It's not a Manhood Thing, It's a National Security Thing' | U.S.