Trump Ally Lindsey Graham Demands to Know Whether DOJ Officials Plotted 'A Coup Against the President'
Republican Senator Lindsey Graham, in his official capacity as chairman of the Senate Judiciary Committee, is seeking evidence to corroborate allegations that Department of Justice officials considered secretly wearing a wire around President Donald Trump and discussed removing him from office.
In a letter to Attorney General William Barr sent Friday, Graham requested "all documents and communications" associated with former acting FBI Director Andrew McCabe, Deputy Attorney General Rod Rosenstein, the 25th Amendment and recording conversations with Trump. The inquiry comes after McCabe confirmed reports that he discussed invoking the 25th Amendment with other top law enforcement officials at DOJ to remove the president from office in 2017 following Trump's firing of former FBI Director James Comey.
"The Committee is deeply concerned with these discussions and whether they essentially indicate that two of the highest-ranking law enforcement officials in the United States were discussing what amounts to a coup against the President," Graham told Barr.
The South Carolina Republican is a staunch Trump loyalist who said last month it was "imperative that [McCabe], and others, come before the Senate Judiciary Committee" to testify about "bias against President Trump."
Get your unlimited Newsweek trial >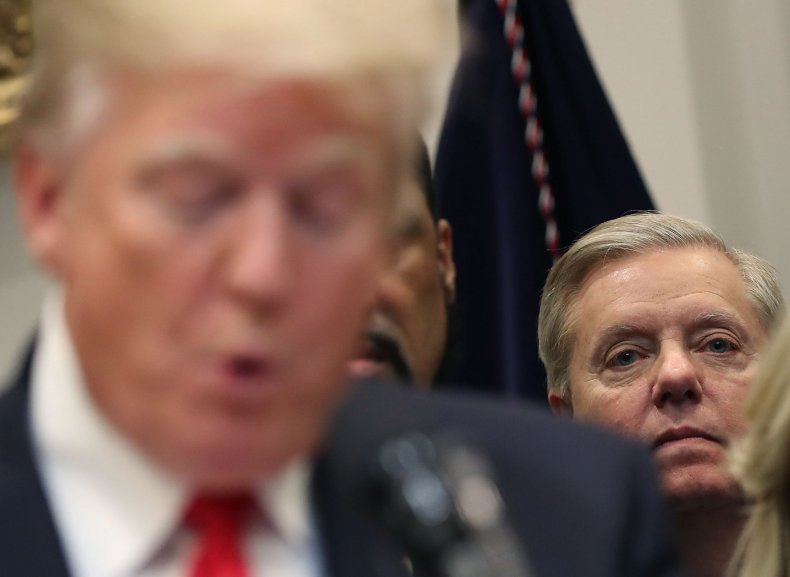 The committee did not immediately respond to Newsweek's inquiry about what, if any, contact Graham has had with McCabe and whether he will testify. Democrats and Republicans on the committee told Newsweek last month that they, too, wish to hear from McCabe. Republicans reiterated Graham's concerns about "bias against President Trump," while Democrats were concerned about what evidence could have compelled McCabe and others to consider removing Trump from office.
"What specific facts led him to that terrifying conclusion?" Democratic Senator Richard Blumenthal told Newsweek. "To think about wearing a wire or invoke the 25th Amendment is not normal, not customary, not precedented. It's terrifying."
Republican Senator Chuck Grassley, a former chairman of the Judiciary Committee who still holds a seat, said, "There's too much mystery. We need to know exactly what happened."
Get your unlimited Newsweek trial >
McCabe also revealed he initiated the FBI's obstruction of justice and counterintelligence investigations into whether the president was compromised by Russia, and he confirmed a New York Times report that Rosenstein discussed with other DOJ officials the matter of secretly wearing a wire in meetings with Trump.
"I was very concerned that I was able to put the Russia case on absolutely solid ground, in an indelible fashion," McCabe told CBS's 60 Minutes last month ahead of a book release. "That were I removed quickly, or reassigned or fired, that the case could not be closed or vanish in the night without a trace.... If somebody came in behind me and closed it and tried to walk away from it, they would not be able to do that without creating a record of why they made that decision."
McCabe later said that the "Gang of Eight," a bipartisan group of congressional leaders, did not object when he informed them in May 2017 of the FBI's counterintelligence probe of Trump. The group was comprised of GOP Senators Mitch McConnell and Richard Burr, Democratic Senators Chuck Schumer and Mark Warner, GOP Representatives Paul Ryan and Devin Nunes, and Democratic Representatives Nancy Pelosi and Adam Schiff.
"No one objected," McCabe told NBC News. "Not on legal grounds, not on constitutional grounds, and not based on the facts."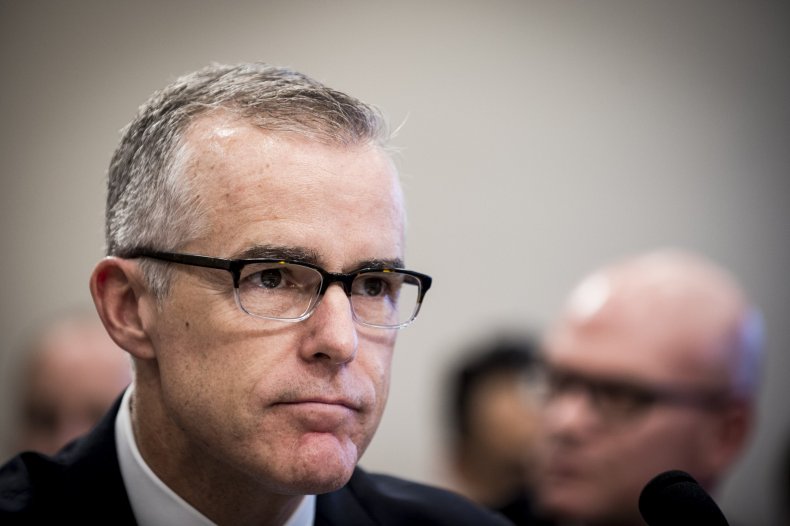 The DOJ denied McCabe's allegations, saying Rosenstein "never authorized any recording that Mr. McCabe references" and that Rosenstein "again rejects Mr. McCabe's recitation of events as inaccurate and factually incorrect." Rosenstein believed there was "no basis to invoke the 25th Amendment, nor was [he] in a position to consider invoking the 25th Amendment," the statement added.
Trump lashed out on Twitter, labeling McCabe as a "disgraced" acting director and that he was a "puppet" for former FBI Director Comey.
Graham also requested "all documents and communications" related to McCabe's firing, including information from the FBI's Office of Professional Responsibility (OPR).
Former Attorney General Jeff Sessions fired McCabe last year, just two days before his retirement, no longer allowing him to receive retirement benefits. OPR's recommended dismissal of McCabe, Sessions said, cited a DOJ Inspector General report that alleged McCabe inappropriately approved information be given to a news organization.
"I believe I was fired because I opened a case against the president of the United States," McCabe told 60 Minutes.
Graham requested that the DOJ provide all of the documents it requested by no later than March 29.
Trump Ally Lindsey Graham Demands to Know Whether DOJ Officials Plotted 'A Coup Against the President' | U.S.