Lindsey Graham Raises $28 Million in Q3, More Than Any Republican Senate Candidate in Any State
Senator Lindsey Graham's campaign announced on Wednesday that he has raised $28 million in the Third Quarter of 2020, the final fundraising period before the November 3 election. The Graham campaign said this is the most money raised by any Republican Senate candidate in a single quarter in any state.
"Senator Graham is deeply honored that donors across South Carolina, often contributing as little as $5 or $10, have supported his campaign with their hard-earned money," read the statement from his campaign.
Democratic candidate Jaime Harrison, Graham's opponent in the South Carolina Senate race, raised a record-breaking $57 million in the third quarter alone. That figure is the most raised in one quarter by any U.S. Senate candidate at any time.
To date, Graham's fundraising total for 2020 comes out to approximately $58 million, while Harrison has raised roughly $86 million, according to the Associated Press.
Last month, Graham appeared on Fox News Channel twice and pleaded with viewers to donate to his campaign.
"I'm getting overwhelmed," he told talk-show host Sean Hannity. "Lindsey Graham dot com. Help me. They're killing me, money-wise. Help me. You helped me last week—help me again."
Earlier that morning, Graham asked for financial help from viewers during his appearance on Fox and Friends. He said that Harrison will raise "almost $100 million" and that he's "being killed financially."
Referring to Democrats, Graham added: "This money is because they hate my guts."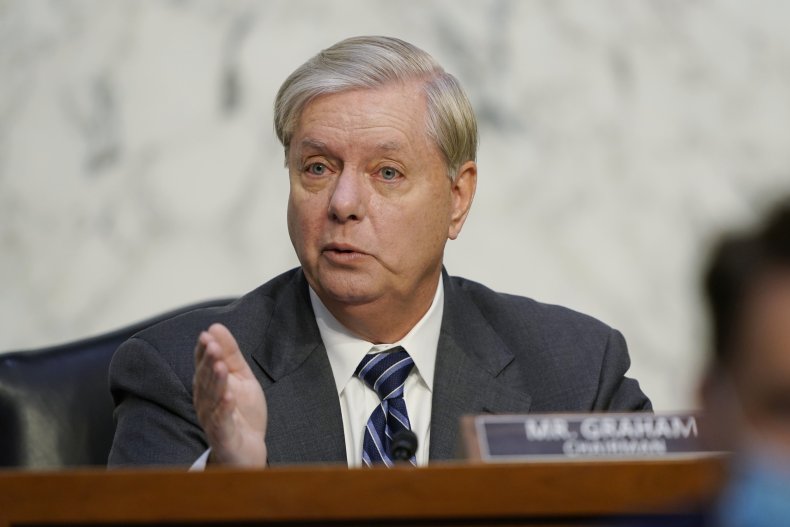 His campaign has consistently claimed that over 90 percent of the money Harrison raised has come from out-of-state.
"Senator Graham is incredibly grateful for the tremendous support he has received," T.W. Arrighi, Communications Director for Team Graham, told Newsweek in an email. "Our campaign will have the resources we need to get our message out to voters, which is especially important now that unions and radical groups that support 'Defunding the Police' are running millions of dollars in false ads attacking Senator Graham."
"National Democrats will invest more than $100 million of out-of-state money to buy the race, but the voters of South Carolina know a liberal Democrat when they see one," he added.
The Senate Judiciary Committee chairman was quick to address the topic of his opponent's fundraising during the Supreme Court hearing for Judge Amy Coney Barrett on Tuesday.
"I don't know what's going on out there but I can tell you there's a lot of money being raised in this campaign," Graham said during the hearing. "I'd like to know where the hell some of it's coming from."
The quarterly report for all receipts and disbursements from July 1 through September 30 for the Graham campaign will be filed tomorrow with the Federal Election Commission.
Newsweek reached out to the Harrison campaign for comment but did not receive a response in time for publication.