Lindsey Graham Rejects GOP Senator's 'Affirmative Action' Claim on Supreme Court Pick
Senator Lindsey Graham on Sunday pushed back against a fellow GOP lawmaker's claim that President Joe Biden's vow to nominate a Black woman to the Supreme Court is a case of "affirmative action."
Speaking on Face the Nation, Graham said nominating a Black woman to replace outgoing Supreme Court Justice Stephen Breyer would help the judicial system "look like America."
"Put me in the camp of making sure the court and other institutions look like America. You know, we make a real effort as Republicans to recruit women and people of color to make the party look more like America. Affirmative action is picking somebody not as well qualified for past wrongs," Graham said.
"In the history of our country we've only had five women serve and two African American men," he added. "So let's make the court more like America, but qualifications have to be the biggest consideration."
Graham's comments come after Mississippi Senator Roger Wicker said Friday that Biden's pick would be a "beneficiary" of affirmative action. Wicker also claimed that Biden's choice to replace Breyer will likely "misinterpret the law" and receive no support from Republicans.
"The irony is that the Supreme Court is at the very time hearing cases about this sort of affirmative racial discrimination while adding someone who is the beneficiary of this sort of quota," Wicker said during an interview with a Mississippi radio show.
Biden said he would uphold a commitment to nominate a Black woman to the court when Breyer announced his retirement on Thursday.
The president has not yet chosen a candidate, but some names under consideration include U.S. District Court Judge J. Michelle Childs of South Carolina, Judge Ketanji Brown Jackson of the U.S. Court of Appeals for the D.C. Circuit and Justice Leondra Kruger of the Supreme Court of California.
On Sunday, Graham, from South Carolina, said he couldn't think of a "better person" for Biden to consider than Childs.
"She has wide support in our state. She's considered to be a fair-minded and highly gifted jurist. She's one of the most decent people I've ever met," Graham said. "Michelle Childs is incredibly qualified. There's no affirmative action component if you pick her, she is highly qualified."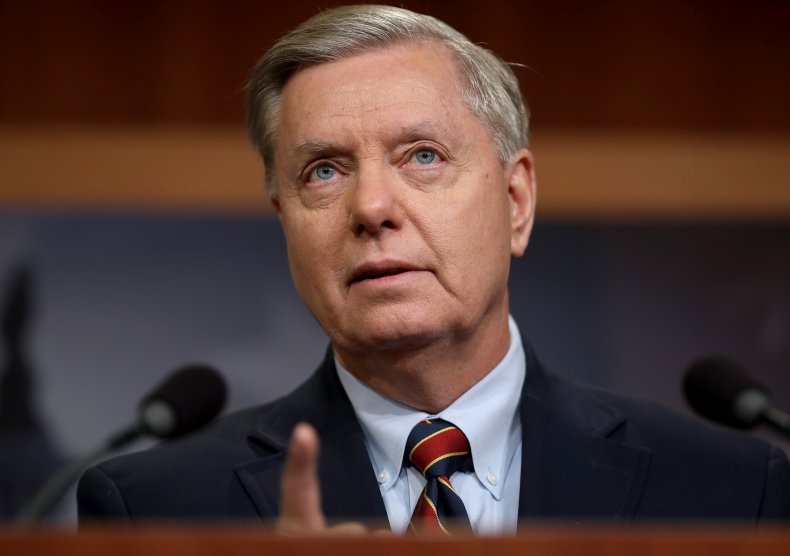 However, not all Republican lawmakers have signaled as much enthusiasm for a potential Biden nominee as Graham. Elsewhere on Sunday, Senator Susan Collins of Maine told ABC News that Biden's quick turnaround to get a candidate nominated is "clumsy at best" and makes the court appear like a "political institution."
A new poll released Sunday also found that a vast majority of Republican voters said they want Biden to consider "all possible nominees" to the high court, while just 23 percent overall support his decision to prioritize a Black woman.
Biden said he will announce a nomination by the end of February, and will likely begin meeting with potential candidates in the coming week. On Thursday, he said nominating a Black woman is "long overdue" and noted that choosing a Supreme Court Justice is one of "the most serious Constitutional responsibilities a president has."
Breyer has served as a liberal justice on the Supreme Court for nearly three decades, after being nominated by President Bill Clinton in 1994. He is set to retire at the end of the current term this summer.