#LindseyGrahamResign Demands Flood Twitter Amid Bipartisan Backlash Against Donald Trump Jr. Subpoena Advice
The social media campaign to see #LindseyGrahamResign was sparked by a deluge of Democratic Coalition demands and the South Carolina Republican's own hard turn toward what many see as his defense of the Trump family over the rule of law.
Tens of thousands of tweets and Facebook posts created the trending hashtag calling for Graham's resignation Tuesday, focusing criticism on the increasingly ardent Trump supporter with accusations he's tied to Russian oil money. In addition to his impassioned defenses of President Donald Trump each week on cable news programs, it was Graham's Sunday advice to Donald Trump Jr. that he should break the law and ignore a Senate subpoena that pushed his critics into demands for his resignation.
Following Graham's latest embrace of the president, a pair of his friends appeared on cable news shows Monday in an almost intervention-like tone to express concern for the South Carolina senator. Moderate Democratic Senator Joe Manchin pondered if the recent loss of his Senate friend John McCain could be clouding Graham's judgment.
"If I were Donald Trump Jr.'s lawyer, I would tell him you don't need to go back into this environment anymore," said Graham, who is a frequent guest on CBS News, Fox News and the other morning news shows, as he appeared on Sunday Morning Futures. His comments sought to dismiss the Republican-led Senate Intelligence Committee's attempts to subpoena Trump Jr. for additional testimony over efforts to build a Trump Tower in Russia.
"You've been there for hours and hours, and nothing being alleged here changes the outcome of the Mueller investigation. I would call it a day," Graham added, appearing to advise Trump Jr. personally on the law.
The panel hoped to clarify apparent discrepancies with his 2017 testimony that he was "peripherally aware" of the Moscow Trump Tower project.
Graham, who is the Senate Judiciary Committee chairman, was immediately blasted by Republicans and Democrats alike, causing him to walk back his advice that Trump Jr. break the law. The Washington Post reported Graham clarified his words Monday, saying the son of the president should show up to the Senate physically but not provide any information by pleading the Fifth Amendment.
"You just show up and plead the Fifth, and it's over with," Graham told reporters Monday.
Democratic Senator Richard Blumenthal said Graham's comments were the final straw, accusing him of "suggesting that Donald Trump Jr. is above the law."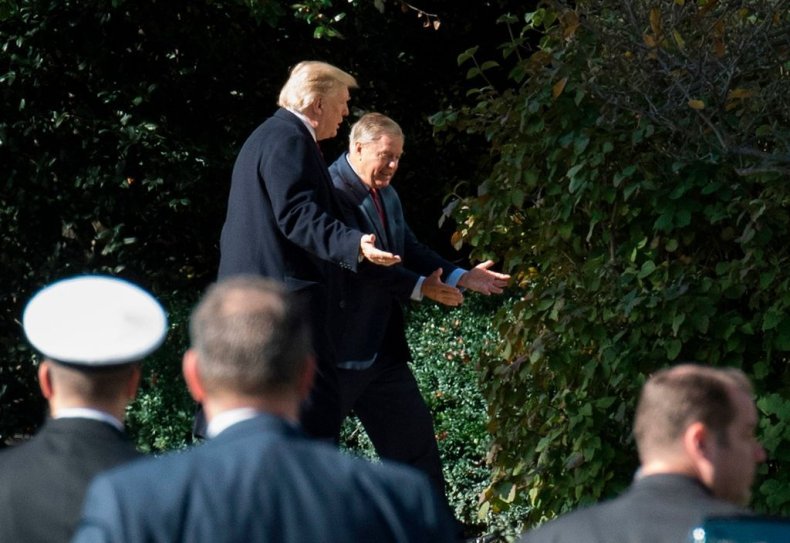 But accusations that Graham and his Trump family allies think they are "above the law" were already inundating social media and cable news shows. On CNN, an intervention-like set of former and current friends of the South Carolina senator expressed shock and sadness at his Trump Jr. advice.
"This is not the Lindsey I know," said Manchin, of West Virginia, in an interview Monday with CNN's Chris Cuomo. "I can't explain what's going on right now and his thought process. He lost his dear, dear friend John McCain and our ally. That might have had some effect but I can't speak to that. I just know that the facts of what we're seeing unfold and what has happened has been because it was clear and evident."
Ana Navarro, a former Republican strategist under McCain, echoed Manchin's comments.
"I was hearing your interview with Senator Manchin about Lindsey Graham," Navarro said. "Lindsey has been a friend of mine for so many years. I used to be able to pick up the phone and talk to Lindsey any time I wanted. He hasn't picked up the phone in a long time. So, I'm going to use your show to talk to him.
"I loved this man. He was a truth speaker," Navarro continued. "He was a straight talker. He was John McCain's best friend. When I see what has become of Lindsey Graham right now, it hurts my heart. Like Senator Manchin, I don't recognize him."
The Democratic Coalition group pounced on Graham's continued defenses of Trump in the face of the law, posting a litany of videos from Graham during 1999 impeachment hearings of former President Bill Clinton. Appearing to prove his career-long partisan divide, Graham hisses at the former Democratic president and offers a scathing case for his impeachment.
The Democratic Coalition also resurfaced their March call for eight GOP senators to be ousted in 2020: Graham Cory Gardner (Colo.) Martha McSally (Ariz.) Thom Tillis (N.C.) Susan Collins (Maine) David Perdue (Ga.) Cindy Hyde-Smith (Miss.) Mitch McConnell (Ky.). Additionally, the group re-linked to an October 2018 report linking Graham to Russian oil money and a campaign finance scandal involving several right-wing PACs.
Last week, the top Democrat on the Senate Intelligence Committee, Mark Warner, said the panel reserved the right "to bring witnesses back if we have additional questions or there's inconsistencies."