Lindsey Graham Offers Robert Mueller Chance to Provide Very Specific Testimony About William Barr
Senate Judiciary Committee Chairman Lindsey Graham extended an offer to special counsel Robert Mueller Friday to provide testimony about claims made by Attorney General William Barr during testimony earlier this week, according to a letter sent to Mueller.
But the move may not satiate Democrats' wishes for Mueller to take part in a full hearing about the two-year investigation he led into Russian election interference and alleged coordination with the Trump campaign.
Barr told the Committee Wednesday that after Mueller expressed frustration in letters to him about the accuracy of Barr's four-page conclusion that was released in the days after Mueller's report, the two talked by phone. The attorney general said the special counsel's concerns stemmed around the media's portrayal of Barr's conclusion—not the accuracy of the substance—and that the redacted report and Mueller's executive summaries should be released immediately.
Such an explanation was contradictory to what Mueller stated in his letter, which was that Barr's four-page conclusion "did not fully capture the context, nature, and substance of this Office's work and conclusions."
"My understanding was his concern was not the accuracy of the statement of the findings in my letter, but that he wanted more out there to provide additional context to explain his reasoning and why he didn't reach a decision on obstruction," Barr said of his phone call with Mueller. Barr testified to senators April 10 that he did "not know whether Bob Mueller supported my conclusions," despite receiving Mueller's concerned letters weeks prior.
As a result of the discrepancies between Barr's explanation and Mueller's concerns, Graham is now offering the special counsel the chance to provide a narrowly-focused testimony.
"Attorney General Barr testified that you believed media coverage of your investigation was unfair without the public release of those summaries," Graham said. "Please inform the Committee if you would like to provide testimony regarding any misrepresentation by the Attorney General of the substance of that phone call."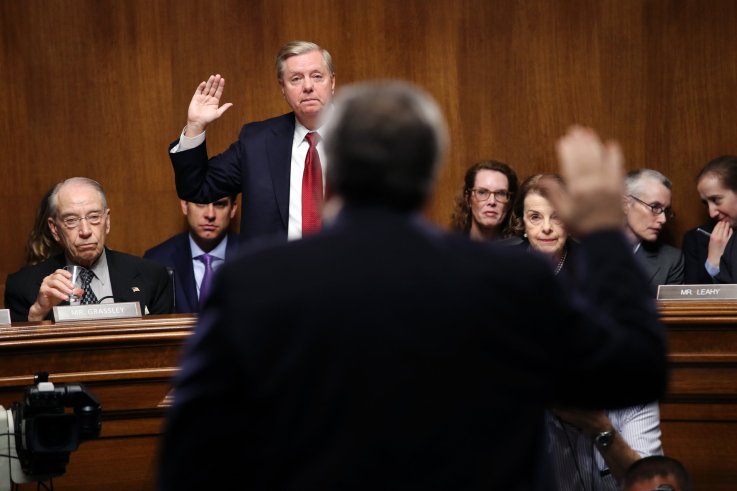 The offer comes as questions and allegations have swirled around the integrity of the nation's top law enforcement official and whether he may have committed perjury to Congress, leading to increasing calls from Democrats for his resignation or impeachment. Top Democrats say he may have committed a "crime," while others prepare to hold him in contempt for failing to comply with a congressional subpoena for the unredacted Mueller report and its underlying evidence. Democrats on the House Judiciary Committee are also seeking Mueller's testimony, which Chairman Jerrold Nadler has said he hopes comes to fruition by mid-May. A specific testimony date has not yet been set.
Following Barr's Wednesday testimony, Graham shut down his Democratic colleagues' demands to hear from Mueller.
"I'm not going to do anymore. Enough already," the chairman told reporters. "It's over."
However, Graham added if there was "any dispute about a conversation, then he'll come, but I'm not going to retry the case."
Asked whether Graham's offer to Mueller to provide "testimony" referred to a written statement or an in-person hearing, the Republican spokesperson for the Senate Judiciary Committee, Taylor Reidy, told Newsweek, "Generally speaking, individuals can provide testimony to a committee in a number of different ways."
A request for clarification went unanswered.
Lindsey Graham Offers Robert Mueller Chance to Provide Very Specific Testimony About William Barr | U.S.