Did Saudi Arabia Kill Khashoggi? Lindsey Graham Says 'You Don't Have to Be Sherlock Holmes' to Figure it Out
South Carolina Republican Senator Lindsey Graham didn't hesitate to express his thoughts on the apparent death of Washington Post contributing writer Jamal Khashoggi.
Appearing on Fox News @ Night on Tuesday, Graham said it didn't take Sherlock Holmes to figure out that the Saudis had killed him.
Graham called Crown Prince Mohammed bin Salman a "wrecking ball" in the interview with Fox News.
"The man [Khashoggi] killed in the consulate in Turkey was a critic of the crown prince," Graham said, via a clip posted by Mediaite.
In response, host Shannon Bream asked, "Are you convinced now that he is gone? That he's been murdered?"
Graham responded: "Oh, absolutely. You don't have to be Sherlock Holmes...to figure this out. He goes in the consulate. He never comes out. We have intel that Saudi Arabia, the crown prince, was annoyed with this guy. They lure him. Where did this 15 people come from that landed in Turkey, went to the consulate and left. Somebody who's an autopsy expert [was there]—what's that got to do with interrogation? I will not have my intelligence insulted or my support disrespected. I was the leading advocate for Saudi Arabia because they're a strategic ally."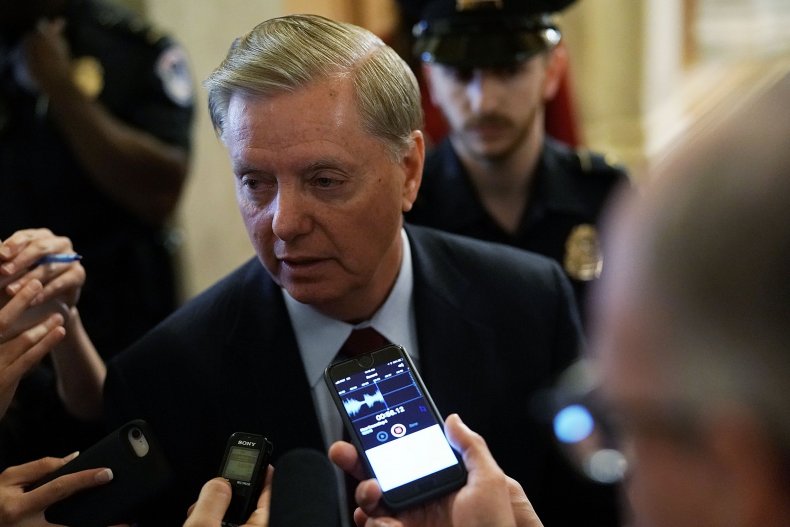 Saudi leaders have denied any involvement in the Khashoggi incident. But Turkish officials alleged that Saudi operatives "beat, drugged, killed and dismembered" the journalist in the office of the Saudi consul general in Istanbul, The Wall Street Journal reported. The paper reported that Turkish officials had a disturbing audio recording of the murder, including a moment in which Saudi forensic specialist Salah Al Tabiqi recommended others listen to music while he dismembered Khashoggi.
President Donald Trump, meanwhile, has defended Saudi Arabia, relating accusations of Saudi involvement in Khashoggi's disappearance to the treatment of Supreme Court Justice Brett Kavanaugh, who was accused of sexual assault during his confirmation process.
"Here we go again with, you know, you're guilty until proven innocent," Trump said to reporters. "We just went through that with Justice Kavanaugh, and he was innocent all the way as far as I'm concerned."
Graham, however, had previously criticized Saudi Arabia on Fox on Tuesday morning, saying he wanted to sanction the country heavily and that the crown prince had to go.