Lindsey Graham Says Biden Created 'Instability' Amid Afghanistan Withdrawal, Border Issue
Senator Lindsey Graham, a South Carolina Republican, said that President Joe Biden is creating "instability" by his decision to withdraw U.S. troops from Afghanistan by September 11 and his administration's response to the influx in migrants at the southern border with Mexico.
Biden has received backlash from many Republicans for his announcement that he would bring an end to America's longest ever war later this year. Meanwhile, GOP lawmakers continue to take aim at the administration over the adjustments it has made to dealing with the large number of largely Central American migrants crossing the southern border.
"I've never been more worried than I am now about the world at large," Graham told Fox News opinion host Jeanine Pirro during a Saturday interview.
"We're going to withdraw completely from Afghanistan, make sure the Taliban take care of Al Qaeda and ISIS, that's insane," the GOP senator complained.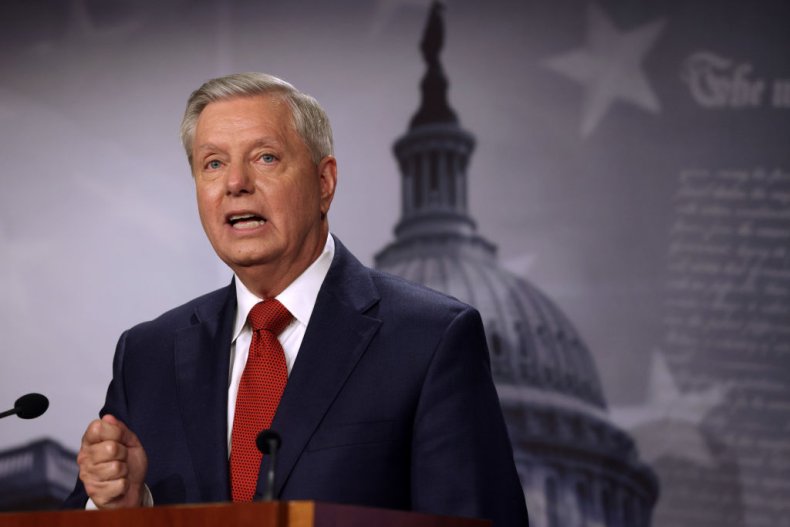 "So, Joe Biden has created a lot of instability in a very short period of time, and if he doesn't change his policies on the border, the worst is yet to come... I'm really worried about the world under the Biden administration. They're clueless, in my view, in terms of the threats we face at the border and abroad," he said.
Biden announced last Wednesday that his administration would bring the War in Afghanistan—which has continued for nearly 20 years and now has lasted longer than the Vietnam War—to an end by September 11, marking the 20th anniversary of the 2001 terrorist attacks targeting New York City and Washington, D.C.
His administration has also been scrambling to deal with tens of thousands of migrants crossing the southern border, including an unprecedented number of migrant minors.
Although Republican leaders are criticizing Biden for withdrawing U.S. troops from Afghanistan, the president is actually extending the war by several months. Under a peace plan with the Taliban signed under former President Donald Trump, troops would have been withdrawn by the beginning of May. The Biden administration has argued that the extension was necessary to ensure the withdrawal was done in a responsible and organized manner.
While many GOP lawmakers have criticized Biden's withdrawal plans, other Republicans have praised the president's decision.
"The commitment to a full withdrawal by September puts the U.S. in a position of strength while ensuring regional actors and internal stakeholders alike share the burden of advancing peace stability in Afghanistan," freshman Representative Peter Meijer, a Michigan Republican, said in a statement last week. Meijer is a veteran of the Iraq War.
Progressives cheered the decision as well.
"20 years of war is enough. 2,500 brave men and women losing their lives is enough. The expenditure of $2 trillion is enough. I applaud what President Biden has done in ending our nation's longest war," Senator Bernie Sanders, a Vermont independent, wrote on Twitter.
Newsweek reached out to the White House for comment.