Lindsey Graham Says Biden Should Be Impeached if He Leaves Americans, Allies in Afghanistan
Senator Lindsey Graham, a South Carolina Republican, said Friday that if President Joe Biden leaves any Americans or Afghan allies in Afghanistan, he should be impeached.
"We're duty-bound to get every American citizen out, we're honor-bound to get those Afghans who fought along our side out," Graham told Fox and Friends.
"If we leave one American behind, if we don't get all those Afghans who stepped up to the plate to help us out, then Joe Biden, in my view, has committed a high crime and misdemeanor under the Constitution and should be impeached," Graham added.
Biden has faced sharp criticism for his administration's evacuation of Afghanistan after the Afghan government fell to the Taliban last weekend.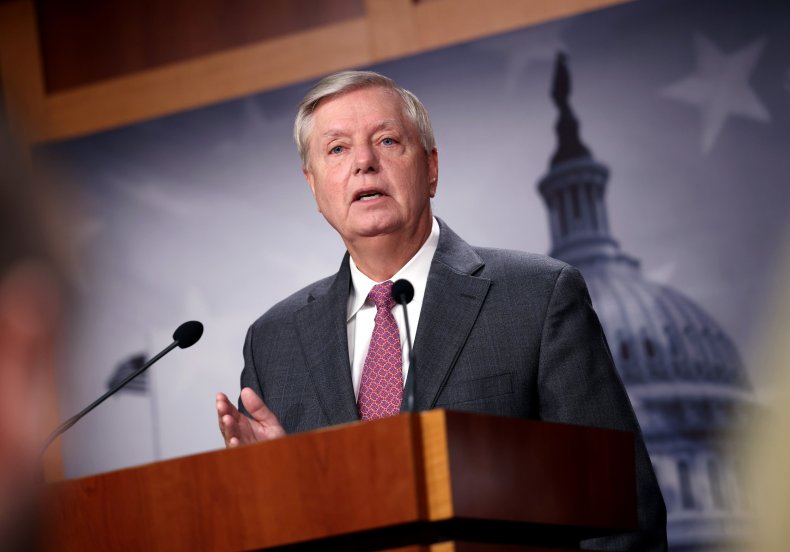 During a press briefing on Friday, Biden vowed to evacuate the Americans left in the country.
"Any American who wants to come home, we will get you home," Biden said.
Biden has said his administration is aiming to complete the evacuation of Americans by August 31.
The president also pledged Friday to evacuate Afghan allies from the country.
"We're going to do everything, everything that we can, to provide safe evacuation for our Afghan allies, partners and Afghans who might be targeted because of their association with the United States," Biden said.
During his remarks on Friday, Biden noted that the U.S. has evacuated 13,000 people from Afghanistan since August 14, and 18,000 since July. The Biden administration has said that it isn't sure about exactly how many Americans are still in the country.
The White House did not immediately respond to a request for comment from Newsweek Friday afternoon.
In his comments on Fox News, Graham said that Biden's handling of the situation in Afghanistan has made it harder to for America to make allies "because we're going to abandon those Afghans who helped us.
"And quite frankly, he's made another 9/11 tenfold more likely by withdrawing everybody. President Trump left troops on the ground as an insurance policy against another 9/11," Graham said.
While Biden has faced backlash for his withdrawal of Afghanistan, he has also received some plaudits. In a letter on Friday, more than 4,300 veterans praised Biden's decision to end the war in Afghanistan.
"President Biden made a very tough call, knowing that this withdrawal would not be pretty, or flawless. He is cleaning up the terrible situation that the aforementioned people created, and he is dealing with a terrible agreement struck by the previous administration and the Taliban," the letter states.