Lindsey Graham Says Donald Trump Didn't Collude With Russia Because 'He Doesn't Collude With His Own Government'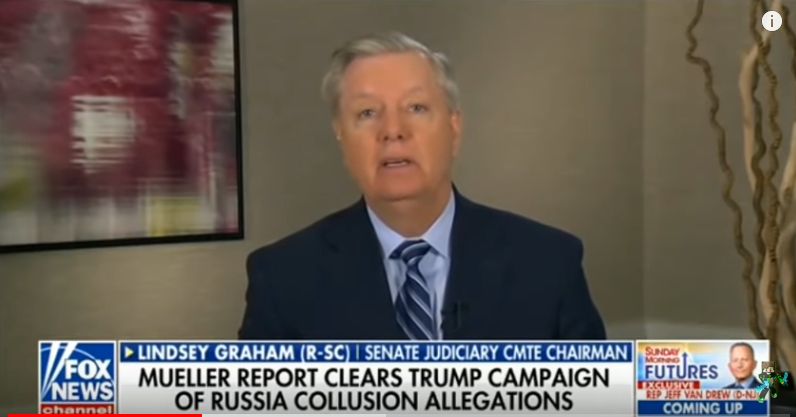 As the debate continues regarding special counsel Robert Mueller's report on Russian collusion with President Donald Trump and his 2016 presidential campaign, South Carolina Senator Lindsey Graham appeared on television Sunday to discuss the findings listed in Attorney General William Barr's four-page report summary.
Speaking to Fox News' Maria Bartiromo on the network's Sunday Morning Futures, Graham called the investigation "a cloud over President Trump" that has been removed following the release of the Mueller's report and Barr's summary.
"[Trump] was very pleased that everything he'd been saying for two years proved to be right," Graham said when Bartiromo asked about the president's reaction to the report. Graham went on to add that he didn't believe Trump could collude with Russia as the president wouldn't have been able to come up with a plan and follow it.
"If you know President Trump, and I've gotten to know him pretty well, there is no way he sat down with the Russians and came up with a plan and followed it," Graham said. "He doesn't come up with, you know, he doesn't collude with his own government. So this whole thing was ridiculous, if you know the president, and it's proven to be ridiculous."
Both on the campaign trail and as president, Trump has often made public statements at odds with the policies of his administration or the Republican party, surprising aides and members of the GOP. In December 2018, the president announced the removal of U.S. forces in Syria, and in March he tweeted about ending "large scale sanctions" against North Korea as well as the United States' recognizing Golan Heights as belonging to Israel, though no one in the U.S. Treasury or the State Department was expecting such announcements.
"I told him about a thousand times; there's one person that can clear you of this and it's Mueller," Graham continued during the Fox News segment. "I want people to understand that Mr. Mueller for two years looked at this very hard and he came out with the conclusion that there was no collusion." The senator added that Rep. Jim Clyburn (D-S.C.) had encouraged Democrats to move on from the Mueller investigation while Rep. Adam Schiff (D-Cali.) represents a portion of the party that "will never let this go."
"They can't accept Trump being president," Graham said. "This whole investigation has been pushed by people who believe that the election really never happened when it did."
Graham also outlined his plans, as chairman of the Senate Judiciary Committee, to examine the investigation into Hillary Clinton's emails by former FBI Director James Comey and former Attorney General Loretta Lynch. The senator said he also plans to look into why no one informed Trump that members of his campaign could have been working with Russia and the laws surrounding the FISA warrant connected to Christopher Steele's dossier.
"How could this document, this dossier, be used to get a warrant against an American citizen four times, and it is still unverified to this day... I hope there's a special counsel appointed to look at DOJ corruption and political bias because Mueller did his job against Trump. Nobody's really looked at the Clinton campaign, the FISA warrant abuse or the counterintelligence investigation for criminality, yet somebody should," he said.
The senator later said he felt those involved in the Clinton investigation had a "political bias" and "wanted Clinton to win."
"I just want the American public to know that the standard used against Clinton is an outlier, it's not the way business is done. And why did they choose that path? I think they had a political bias — they wanted Clinton to win, Trump to lose, and here's the point: How could she win if the Department of Justice indicted her? I think that's what drove the decision not to indict. They wanted her to win," he said.