Lindsey Graham Says Republicans Lose Elections Because Democrats 'Cheat'
Republican South Carolina Senator Lindsey Graham told Fox News host Sean Hannity on Monday that Democrats win elections because they cheat.
Graham's comments came during a discussion of allegations of political interference leveled by President Donald Trump's re-election campaign at Democrats in some swing states. In a Thursday news conference, Trump alleged that many polls published by news outlets and social media sources about the election contained false information that discouraged Americans from voting. Graham claimed Monday that conservatives were censored by social media platforms, making it difficult for them to explain their political stances.
"The state of play in America in 2020 for Republicans is not good," Graham said. "We need to fight back. We win because of our ideas and we lose elections because [Democrats] cheat us."
Graham also said that Democrats "don't care how Trump lost as long as he lost" and implied that reporters were glossing over the alleged election interference.
"They're not gonna ask any questions in the media," Graham said. "I've had a microphone in my face all day. 'When is Trump gonna concede?' I said, 'When are you gonna ask a question about the 2020 election? When you are you gonna take the idea seriously that every vote counts?' You want an outcome."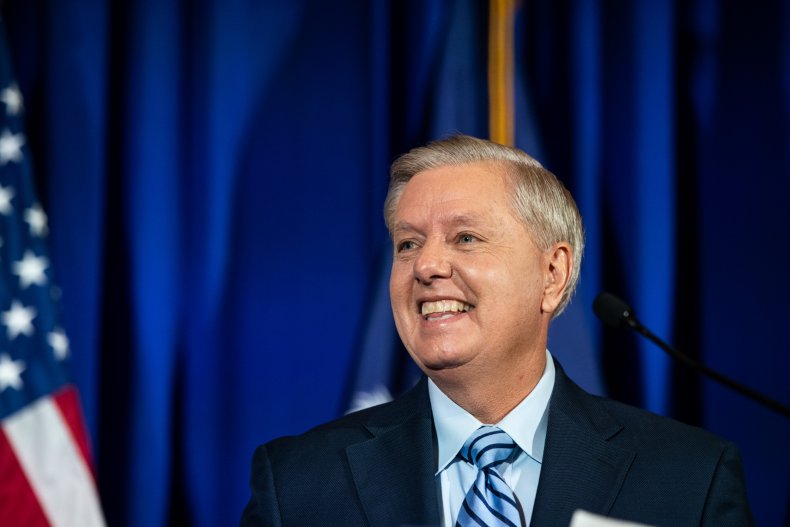 "You know, they can all go to hell as far as I'm concerned," Graham added. "I've had it with these people."
"Republicans have tried for years to strip people of their health care, and that is why they lost the White House, the House and seats across the country in the last four years," Democratic National Committee National Press Secretary Brandon Gassaway said in a statement emailed to Newsweek on Tuesday. "I wouldn't call their idea of stripping health care a winning strategy."
Graham has come out in support of Trump's allegations of widespread election manipulation by Democrats. Trump's re-election campaign has filed federal lawsuits in five battleground states in an effort to halt the counting of mail-in ballots. On Saturday, the Associated Press projected that President-elect Joe Biden would win the U.S. election although ballot tabulation was still occurring in some states. Although Biden has formed a presidential transition team to ease his administration's assumption of power, Trump has yet to concede the presidency.
The General Services Administration (GSA) showed reticence in allowing Biden's team into federal buildings in order to begin the transition process. In a Sunday email, the GSA said it would not authorize the movement by Biden's team because "an ascertainment has not yet been made" regarding the winner of the election.
According to the Associated Press, Biden currently holds 290 electoral votes to Trump's 214 electoral votes. A candidate must receive 270 electoral votes to be declared the U.S. president. However, Trump's campaign hopes that recounting the ballots in some states will narrow the gap between Trump and Biden.
On Sunday, Trump's campaign said it intended to ask for a recount in Wisconsin, where Biden was projected to win by less than one full percentage point. Biden's lead is smaller in Georgia, where he is projected to be ahead of Trump by two-tenths of a percentage point. Republican Georgia Secretary of State Brad Raffensperger said on Friday that Georgia would conduct a recount due to the slim margin between Biden and Trump.
Update (11/10/2020, 7:00 p.m. EST): This story was updated with a comment by Democratic National Committee National Press Secretary Brandon Gassaway.