Lindsey Graham Says Young Women Can 'Go Anywhere' If They're Pro-Life and Embrace Religion, Points to Barrett
Republican South Carolina Senator Lindsey Graham believes women in America can achieve anything if they are pro-life, embrace religion and follow a traditional family structure—like Judge Amy Coney Barrett.
Speaking at a campaign event in Conway, South Carolina, the Republican incumbent praised Barrett, who was recently confirmed to the Supreme Court, and offered some advice to young women.
"You know what I like about Judge Barrett? She's got everything," the senator said. "She's not just wicked smart, she's incredibly good. She embraces her faith."
"I want every young woman to know there's a place for you in America if you are pro-life, if you embrace your religion, and you follow traditional family structure. That you can go anywhere, young lady," he added.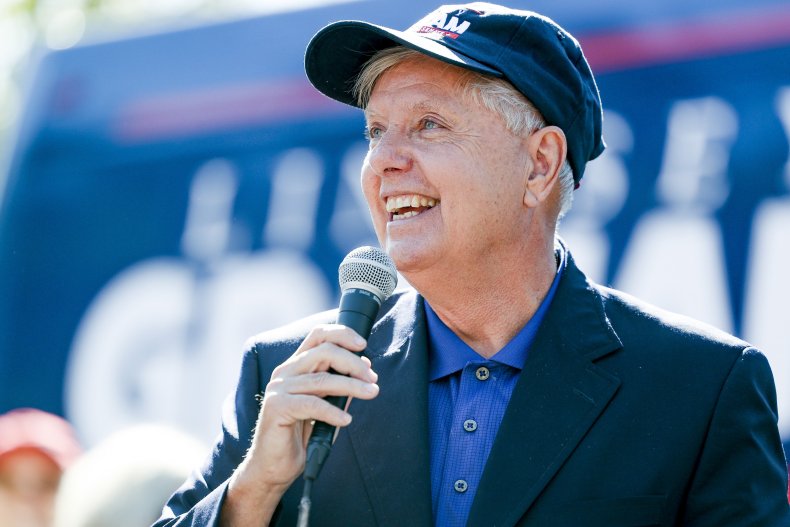 Graham's remarks came just weeks after he faced criticism earlier this month for saying that African Americans and immigrants can "go anywhere" in South Carolina but they "need to be conservative." The Republican made the comment during a chat with his Democratic opponent Jaime Harrison, the first African American to serve as chair for the South Carolina Democratic Party.
"Do I believe our cops are systemically racist? No. Do I believe South Carolina is a racist state? No. Let me tell you why," Graham said at the time. "To young people out there, young people of color, young immigrants, this is a great state. But one thing I can say without any doubt, you can be an African American and go to the Senate but you just have to share our values."
He added: "If you're a young, African American or an immigrant, you can go anywhere in this state, you just need to be conservative, not liberal."
In recent months, Graham and Harrison have been tied in a highly publicized and highly competitive race. A poll by Data for Progress, released Tuesday, showed the two neck and neck, with both candidates drawing 46 percent of support among likely voters in South Carolina.
The survey polled 1,196 likely voters using text messaging and web panel respondents. Among the 31 percent of respondents who had voted, 57 percent backed Harrison and 40 percent supported Graham. Of the 69 percent who haven't voted yet, 48 percent chose Graham and 39 percent preferred Harrison.
Harrison gained national recognition for his battle to unseat Graham, who has served in the Senate since 2003. Harrison has raised record amounts of money during the Senate race, and Graham has made numerous public pleas for both donations and votes.
Newsweek reached out to Graham's representatives for comment.