Lindsey Graham Tells Joe Biden To Revive Remain in Mexico Policy or 'Worst Is Yet To Come'
With the Biden administration under fire from conservatives over an increase in migrant families and unaccompanied children at the southern U.S. border, South Carolina Senator Lindsey Graham has said that the "worst is yet to come" unless a controversial Trump-era policy is reinstated.
Texas Governor Greg Abbott has deployed state military force the Texas Guard after saying an "overwhelming number of people" had arrived at the state border with Mexico, describing the situation as a "crisis."
Meanwhile, images of migrants at the San Ysidro crossing port in Tijuana, Baja California, add to the stresses for President Joe Biden, who has pledged to reverse the immigration policies of his predecessor Donald Trump.
Graham told Fox News he anticipated the numbers of people traveling up through Central America would grow in the coming months.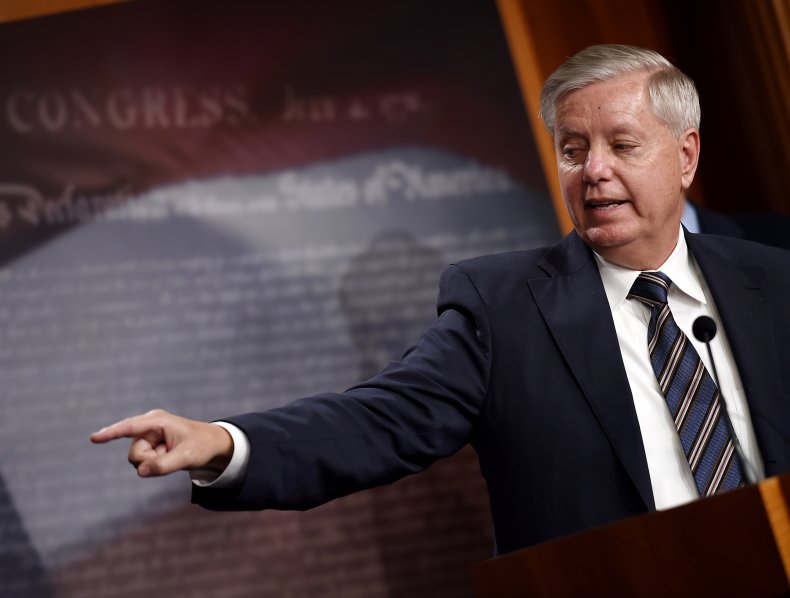 "Until they go back to the 'Remain in Mexico' policy, the worst is yet to come," he told Hannity, referring to the Migrant Protection Protocols (MPP) program that forced migrants to wait in the U.S.'s neighboring country while their asylum claims are processed.
The policy introduced by Trump, which Biden has rolled back, had been the target of rights groups, who said it contravened U.S. asylum laws and forced migrants to wait for months or years in squalid, and often dangerous, conditions.
But Graham said he was concerned at the number of "unaccompanied minors" coming into the U.S., telling the Hannity anchor "when Trump was president, the minors would be sent back to either Mexico or their home country, they are all staying in America."
A record 3,200 children are being held in U.S. immigration facilities as of March 8.
Graham continued: "By the late spring, early summer, you are going to have families coming in caravans because the word is out in Central America, they are changing the policy that Trump put in place.
"That if you get to the border, you turn yourself in, you are going to stay in America, not Mexico," he said.
Graham went on to say that the number of migrants is a "humanitarian crisis" that could turn into "a national security crisis."
"Al Qaeda and ISIS would love nothing more than to hit us again... to show that they are still alive and well.
"This border insecurity is a great way for terrorists to come into our country," he added.
Newsweek has contacted the White House for comment.
On Tuesday, White House spokesperson Jen Psaki denied that there was a crisis at the border, telling a press conference: "I don't think we need to sit here and put new labels on what we have already conveyed is challenging."
She said that her administration would continue to discourage people to come to the border and that "the majority" who do "will be turned away."
Regarding unaccompanied children being allowed in, Psaki said "that is a policy decision which we made because we felt it was the most humane approach to addressing what are very difficult circumstances in the region.
"And that means there are more children—kids under the age of 18, of course— coming across the border," she added.
The graphic below provided by Statista shows the number of people granted asylum in the U.S.