Lindsey Graham Holds Slim Lead in Senate Race as South Carolinians Favor Pre-Election SCOTUS Vote
Senator Lindsey Graham holds a small 1-point lead over his Democratic challenger Jaime Harrison as a majority of South Carolina voters support the replacement of Ruth Bader Ginsburg before election day, a new poll has revealed.
The latest battleground survey from CBS News and YouGov found that the South Carolina Republican was practically tied with Harrison, with 45 percent of likely voters in the state backing the incumbent as 44 percent opted for his challenger.
Graham's lead is well within the poll's margin of error, and could still be overturned by a sizeable chunk of undecided voters.
Nine percent of South Carolinian voters told pollsters that they were still undecided about how they would cast their ballots on November 3.
YouGov also found that 10 percent of Republican voters and 13 percent of independents were still unsure about how they would vote, compared to just 3 percent of Democrats.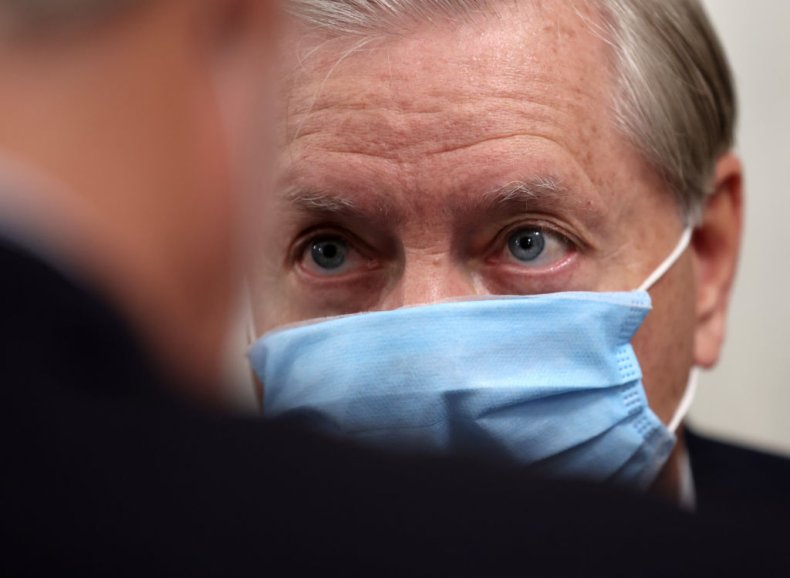 The numbers may be a cause for concern in the Graham camp as his popularity trails President Donald Trump's among South Carolina voters. A little more than half (52 percent) said they would be voting for Trump in the presidential election, putting his rating 7 points above Graham's among likely voters in the state.
But the coming battle to replace the late Supreme Court Justice Ruth Bader Ginsburg ahead of election day could present an opportunity for the Republican senator to bolster his support.
Asked whether the Senate should vote on a new Supreme Court nominee before the election or after, 54 percent of South Carolinians backed a vote ahead of polling day. The remaining 46 percent said they would oppose the move.
Broken down along partisan lines, a large majority of GOP voters (86 percent) backed the Supreme Court vote going ahead before November 3, along with 53 percent of independents. A little more than 90 percent of Democrats were against the idea.
YouGov surveyed more than 1,061 registered voters in South Carolina between September 22 and September 25 for its latest poll. Its margin of error stands at 3.8 percentage points.
The pollster released its latest data from South Carolina a day after Senate Judiciary Chairman Graham said the panel would approve Judge Amy Coney Barrett's Supreme Court nomination on October 22, enabling a full vote in the upper chamber before election day.
"We'll start on October 12, we'll have a day of introduction, we'll have two days of questioning," Graham told Fox News on Sunday. "And on October 15 we'll begin to mark up, we'll hold it over for a week and we'll report her nomination out of the committee on October 22."
President Trump nominated Judge Barrett outside the White House on Saturday, calling her one of the "most gifted" legal minds in the country and praising her as "brilliant."
"She is a woman of unparalleled achievement, towering intellect, sterling credentials, and unyielding loyalty to the Constitution," Trump added in the White House Rose Garden.