Who Is Jaime Harrison? Democrat Running for Senate in South Carolina Calls Out Lindsey Graham's 'Just Comical' Support for Donald Trump
South Carolina Senator Lindsey Graham's flip-flop from condemnation to support of President Donald Trump is called out in a new campaign ad by Jaime Harrison, the Democrat running against him in the 2020 Senate elections.
Graham was at one time an avowed Never Trumper who accused the president of not being a genuine Republican and predicted he would be an electoral disaster. These days Graham sings Trump's praises and defends the president against critics in regular media appearances.
Harrison, 43, an associate chairman of the Democratic National Committee, says in his video released Wednesday that comic books helped teach him to read, and that he learned the values of the superhero characters come from their origin stories.
The Senate hopeful talks about his own origin story. He was born to a single teenage mom in Orangeburg, South Carolina, and raised by his grandparents in financial hardship before becoming a lawyer via a Yale scholarship after a con artist stole their life savings.
"My story is my story. Lindsey Graham's story is just comical," says Harrison, and then shows clips of the Republican's contradictory comments about Trump from before and after the presidential election.
In clips from 2016 appearances on Fox News, Graham describes Trump as a "kook" and "crazy" who is "not fit to be president of the United States." Another clip from CBS This Morning shows Graham saying Trump's policies would be "really bad for the country."
A further clip, which comes from a 2015 interview on CNN, features Graham calling Trump a "race-baiting, xenophobic, religious bigot."
Harrison's campaign video then switches to Graham's subsequent supportive comments about Trump, saying he likes the president, that he does not think he is a race-baiting, xenophobic, religious bigot as he had previously stated, and that he deserves the Nobel Peace Prize.
"Here's a guy who will say anything to stay in office," Harrison says in the video. "Lindsey Graham can't lead us in any direction because he traded his moral compass for petty political gain."
Graham did not respond immediately to Newsweek's request for comment.
Recently, Graham has defended President Trump's refusal to comply with multiple congressional investigations into his campaign, administration, and business dealings.
But on Sunday, Fox News host Chris Wallace confronted Graham with a 1998 clip of himself, then a member of the House of Representatives, arguing that defiance by a president of congressional subpoenas was potentially an impeachable offense.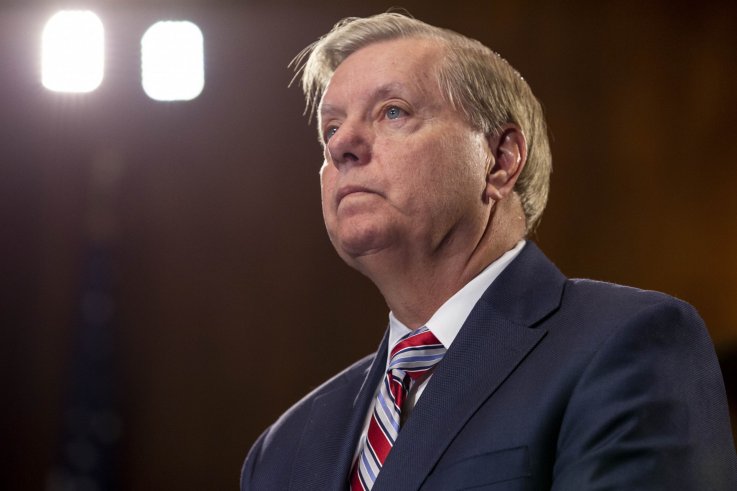 Who Is Jaime Harrison? Democrat Running for Senate in South Carolina Calls Out Lindsey Graham's 'Just Comical' Support for Donald Trump | U.S.