Lindsey Graham Tells Fox News Adam Schiff Hates 'Trump's Guts,' Says His Impeachment Findings Summary Is 'Full of Crap'
Republican Senator Lindsey Graham told Fox News on Wednesday evening that House Intelligence Committee Chairman Adam Schiff's summary of the findings from the official impeachment inquiry into Donald Trump is "full of crap" and accused the top Democrat and his peers of hating the president's guts.
Earlier on Wednesday, Schiff announced the first public hearings of the impeachment inquiry will take place next week and that three current and past State Department officials have been chosen to appear before the cameras.
"You will see throughout the course of the testimony... the most important facts are largely not contested," Schiff said during the announcement. "We are getting an increasing appreciation for just what took place during the course of the last year and the degree to which the president enlisted whole departments of government in the illicit aim of trying to get the Ukraine to dig up dirt on a political opponent, as well as further a conspiracy theory about the 2016 election."
Graham called Schiff's statement "full of crap," despite declaring he will not be reading the impeachment transcripts on Tuesday because he believes the "whole process" is "a bunch of B.S."
Get your unlimited Newsweek trial >
"I don't trust Adam Schiff to be fair," Graham continued during an appearance on Fox News on Wednesday night. "I don't trust the House Nadler-Schiff team to be fair to the president. This whole process in the House is driven by partisan politicians that hate Trump's guts."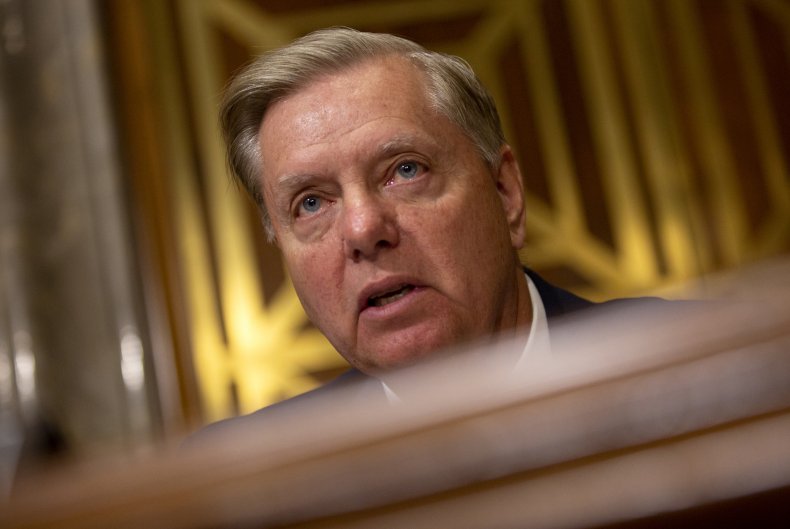 Despite his remarks, Graham confirmed he won't attempt to call Schiff before the Senate Judiciary Committee to grill him about the impeachment process. "I'm not going to subpoena a member of the House," said Graham, who has recently faced Republican pressure to bring Schiff in for a testimony. "If they subpoenaed me, I wouldn't go. We have separate branches of government."
Get your unlimited Newsweek trial >
The three witnesses set to testify publicly next week are William Taylor, a top Ukraine diplomat, ex-ambassador to Ukraine Marie Yovanovitch, and George Kent, deputy assistant secretary of State for European and Eurasian Affairs. These foreign service officials have served for Democratic and Republican administrations.
House Democrats conducting the impeachment investigation on Wednesday released a 324-page transcript of Taylor's closed-door deposition, during which he corroborated allegations that Trump withheld millions of dollars in aid to pressure his Ukrainian counterpart Volodymyr Zelenskiy to probe the family of former Vice President Joe Biden.
In the transcript, Taylor said he was "embarrassed" when he was asked by Ukraine to explain why the foreign aid to fend off Russia was not being released. Trump has repeatedly claimed there was no quid pro quo.
Lindsey Graham Tells Fox News Adam Schiff Hates 'Trump's Guts,' Says His Impeachment Findings Summary Is 'Full of Crap' | Politics