Lindsey Graham Tells Fox News He's 'Getting Killed Financially' in Senate Race Against Jaime Harrison
Senator Lindsey Graham told Fox News' Ainsley Earhardt that he's "getting killed financially" in his South Carolina race against Democrat Jamie Harrison, who has raised considerably more money than him.
Graham said his opponent's fundraising efforts have skyrocketed since the death of Supreme Court Justice Ruth Bader Ginsburg last week. "He raised $6 million from the time Justice Ginsburg passed away, within 72 hours," he said.
"I am getting killed financially. This money is 'cause they hate my guts," Graham added.
Ginsburg's death led to a flood of donations to Democratic campaigns. ActBlue, the platform Democrats use to raise funds online, shattered contribution records last Friday night. Over $30 million was donated through the site between 9 that evening and 9 on Saturday morning.
Many of these funds have been directed to candidates running in a dozen of competitive Senate races, including Harrison in South Carolina.
Harrison's fundraising efforts have been steadily and considerably greater than Graham's this election year. Last week, the Democrat's campaign raised over $1 million in 24 hours. The former state legislator also raised more in August alone than Graham's campaign did from March through July.
"This campaign is fueled by grass-roots donations from all 46 counties of the state—from average, hardworking South Carolinians who want a senator who will once again put them first," Harrison's campaign manager, Zack Carroll, said in a press release.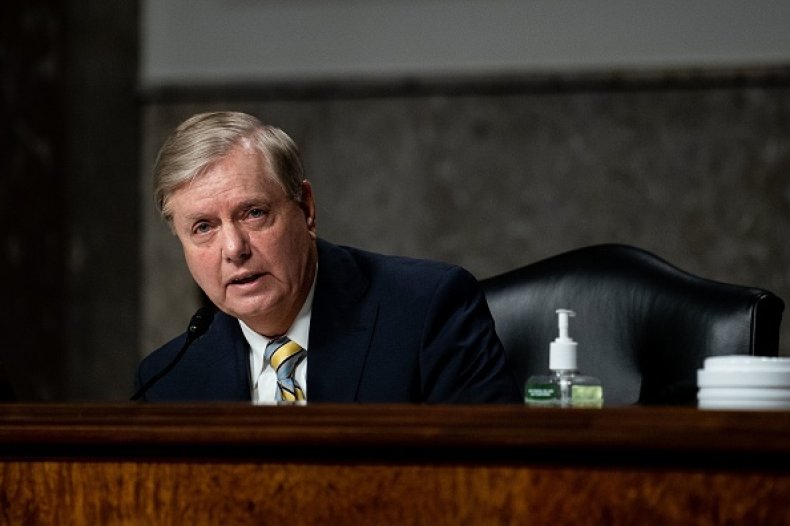 The South Carolina race has been largely fueled by out-of-state contributions, and Graham worries he will be outraised by Harrison.
"My opponent will raise almost $100 million, Ainsley, in the state of South Carolina," the senator said. "The most money ever spent in the history of the state on a Senate race was by me in 2014, when I spent $13 million."
Graham, who has held his seat since 2003, is facing a tight race this fall. The two candidates have been polling neck and neck. As of Tuesday, Graham was roughly tied with Harrison, 46 percent to 45 percent, but Harrison holds a 70-point lead among Black South Carolina voters, according to a Morning Consult poll.
However, Graham's commitment to help President Donald Trump quickly fill Ginsburg's seat and reshape the Supreme Court could shore up more support for the senator.
Graham's stance has brought criticism after comments from 2016 surfaced. Following Justice Antonin Scalia's death, the senator blocked confirmation of President Barack Obama's Supreme Court nominee, arguing that a vacancy on the court should never be filled in an election year.
"I want you to use my words against me," Graham said at the time.
Harrison called out Graham for this, tweeting a video of the remarks and saying, "My grandpa always said that a man is only as good as his word. Senator Graham, you have proven your word is worthless."
South Carolina has historically voted Republican. The last time the Deep South state went blue was in 1976, when Jimmy Carter defeated President Gerald Ford. Whether fundraising efforts will be enough to swing the state blue this year is up for debate.
"Yes, it is a tight race. Yes, a lot of money has been spent. But at the end of the day, it's South Carolina and it probably goes Republican," former South Carolina Governor Mark Sanford, a Republican, told NBC News on Tuesday.
Newsweek reached out to Harrison for comment but did not hear back in time for publication.