Lindsey Graham Says Iran, Syria Terrorists Can 'Easily' Cross U.S. Border with Central American Migrants
South Carolina Republican Senator Lindsey Graham claimed it was "so easy" for terrorists from the Middle East to join up with Central American migrants and cross through Mexico and into the U.S. through the southern border.
Graham said every person detained at the Texas border facility visited by Vice President Mike Pence earlier this week had been captured and that many of those several hundred arrests included criminals. The senator, who has often been an ardent supporter of President Donald Trump, told Fox News' Sunday Morning Futures that congressional Democrats "should do as much as Mexico" in funding the president's border security plans.
Graham went a step further and claimed it would be "so easy" for "terrorists" from Middle Eastern countries, including Iran and Syria, to blend into a group of undocumented migrants from Central America and sneak into the U.S. alongside a caravan. He highlighted that 770 adult males with criminal backgrounds were captured at the facility.
"Our Democratic colleagues are perpetuating a system that's dangerous to children, it's going to result in a national security nightmare for America because the terrorists can easily get in this group," Graham said.
"Wow," replied host Maria Bartiromo.
"It would be so easy for a terrorist from Syria, Iran or someplace else to go to Central America, get in the middle of this group and come to the United States. It would be so easy to do," Graham said, citing no record of past apprehensions of potential terrorists.
"And we're already seeing it, some people coming from Syria," Bartiromo concurred, again without citing any data, before cutting to a commercial break.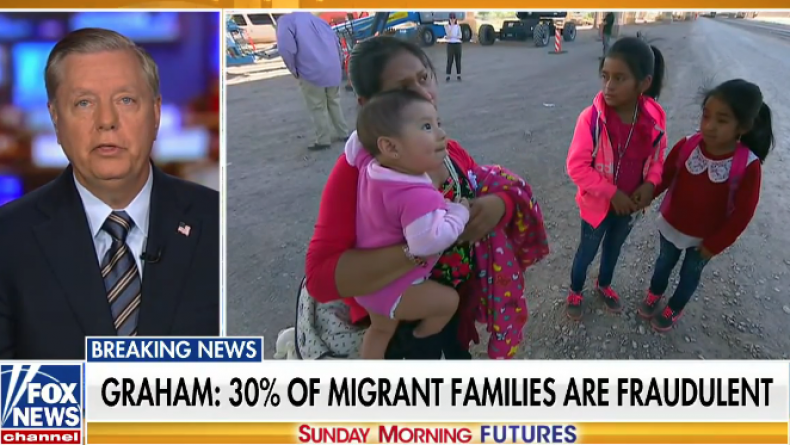 Graham applauded the Mexican government for working with Trump in attempting to curb border crossings and for stepping up security at their own southern border with the Central America nations.
"The Democratic Party should do as much as Mexico is doing to help the president," Graham told Bartiromo Sunday. "Mexico has upped its game," he said, noting a 28 percent reduction in border crossings.
"I don't care if we have to build tents from Texas to Oklahoma, we're not going to let these people go, they're going to have their day in court and we're going to send them back," Graham said.
Graham then touted his coming legislation he plans to introduce in the Senate which would bar any migrant from Central American countries to apply for asylum in the United States. He warned that 280,000 people have been apprehended at the border in 2019 alone and there were 120,000 recorded last year.
The GOP senator said about 30 percent of "families" at the border are not related at all and that the U.S. is testing a "pilot program" of DNA testing "checking to see if these are real families." He said many of the children who come alongside migrants entering the country illegally are actually "recycled" from previous crossings.