Lindsey Graham Travels to Turkey After Criticizing Donald Trump's Decision to Leave Fight Against ISIS to Erdogan
Republican Senator Lindsey Graham traveled to Turkey via a commercial airline during the government shutdown as lawmakers in Washington debated Turkey's role in the ongoing war in Syria. Graham met with Turkish President Recep Tayyip Erdoğan on Friday, reportedly to discuss the war in Syria and the proposal to create a "safe zone" in northeastern Syria.
Graham has been critical of President Donald Trump's decision to pull U.S. troops out of Syria and allow Turkey to take the reigns in the fight against the Islamic State. On Wednesday, Graham used the hearing for attorney general nominee William Barr to criticize Trump's plan for Syria.
"I hope the president would look long and hard about what we're doing in Syria," Graham said shortly after it was revealed that three U.S. soldiers were killed in a suicide bomb in Syria, for which the Islamic State militant group (ISIS) claimed responsibility.
"I know people are frustrated, but we're never going to be safe here unless we're willing to help people over there who will stand up against radical ideology. And here's the good news—very few fathers and mothers over there want to turn their daughters over to ISIS, their sons over to ISIS. They just need our help. So to those who lost their lives today in Syria, you were defending America, in my view," Graham continued.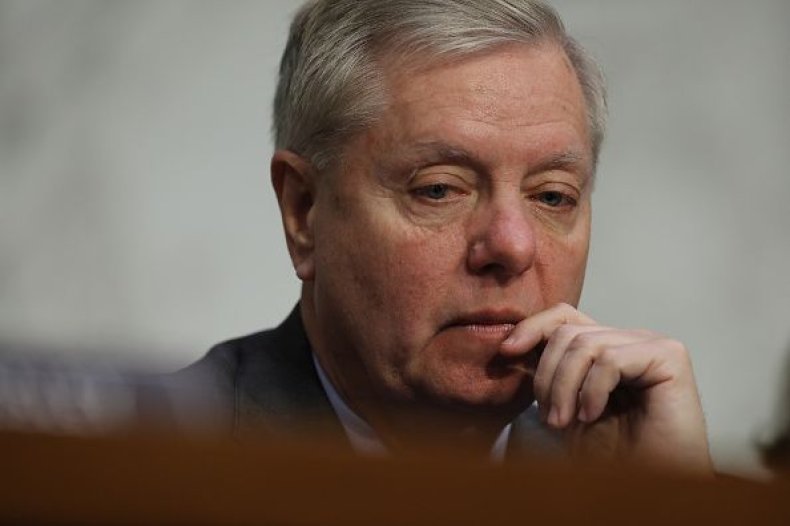 It is unclear whether Graham, who is typically an ally and defender of the president, was speaking to Turkey's leader on Friday on behalf of Trump.
Erdoğan has been critical of the Washington establishment's reluctance to pull out of Syria. Last week he canceled a meeting with national security adviser John Bolton after Bolton suggested that the U.S. would continue to protect its Kurdish allies in Syria who have been fighting the Islamic State.
Turkey later intimated it would strike the Kurds no matter what the U.S. decided to do.
Bolton and Graham are not the only officials who have vocally disagreed with Trump's decision to withdraw troops. Secretary of Defense James Mattis and Brett McGurk, the special presidential envoy for the global coalition to counter ISIS, both resigned shortly after the decision was made.
In an op-ed published in The Washington Post on Friday, McGurk described the impact of some of Trump's decisions, especially related to Turkey.
"The strategic consequences of Trump's decision are already playing out: The more Turkey expands its reach in Syria, the faster our Arab partners in the region move toward Damascus. It's not a coincidence that Bahrain and the United Arab Emirates reopened embassies there shortly after Trump said we were leaving," he wrote.
"These countries, as well as Saudi Arabia, Egypt and Jordan, believe that engaging Damascus can help dilute Russian, Iranian and Turkish influence in Syria, and they are discounting contrary views from Washington," McGurk continued.
On Thursday, President Trump postponed House speaker Nancy Pelosi's planned visit to troops in Afghanistan at the last minute, citing the government shutdown. In a letter to Pelosi, Trump suggested she take a commercial flight instead. Pelosi's team then began planning for a commercial flight to take her on the scheduled trip, but later canceled it after plans for the journey leaked, creating a security risk. Pelosi accused the White House of having leaked her flight plans, a claim the White House denied.
Representatives for Senator Graham confirmed to Newsweek that the senator had used a commercial flight to travel to Turkey.