Lindsey Graham Says Donald Trump Is More 'Dominant' in GOP Than Mitch McConnell
Senator Lindsey Graham has said Donald Trump is the "most dominant" voice in the GOP, calling on the former president to unveil new policy ideas and rebuking Senate Minority Leader Mitch McConnell for condemning the ex-commander-in-chief.
The South Carolina Republican told Newsmax on Wednesday that he didn't think McConnell's denouncement of Trump after his second Senate impeachment trial was "reflective" of the GOP caucus, but conceded that he could "have his say" as an individual senator.
After McConnell (R-KY) voted to acquit Trump on one charge of incitement of insurrection, he said the former president was "practically and morally responsible" for the Capitol riots on January 6.
The minority leader also said the people who stormed the building believed they were acting on Trump's wishes, after he spent months peddling "reckless hyperbole" and conspiracy theories about the election.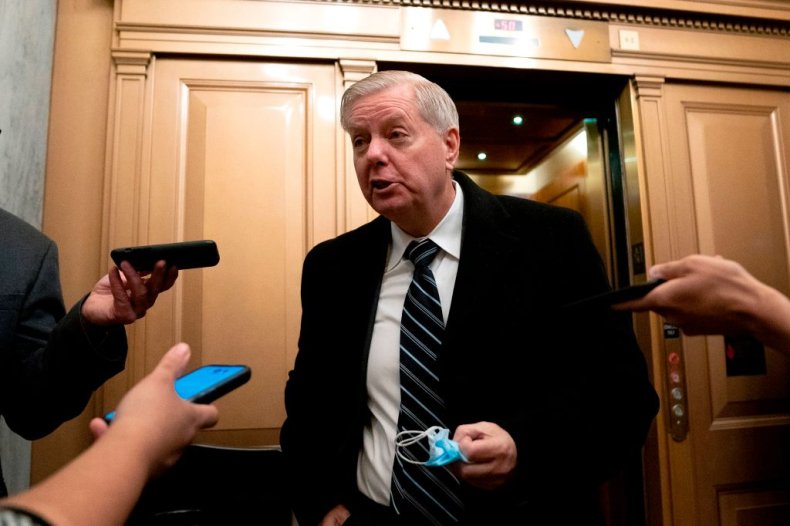 Speaking to Newsmax, Graham said: "That's his opinion. I don't think it's reflective of the Republican conference, but he's an individual senator, he can have his say."
The senator added: "I spent the weekend with President Trump. He's more determined than ever to grow this party, not shrink it. He is the most dominant voice in the Republican Party—not Mitch McConnell, not Lindsey Graham. His ideas will stand the test of time."
The South Carolina senator later said he hoped Trump would "come out with policy positions" that the entire GOP caucus could get behind—including the Senate minority leader.
Newsweek has contacted McConnell's office for comment.
After McConnell criticized Trump, the former president released a scathing statement warning that the Republican Party would "never again be respected" if the Kentucky senator remained at the helm.
"Mitch is a dour, sullen and unsmiling political hack, and if Republican senators are going to stay with him, they will not win again," Trump said. "He will never do what needs to be done or what is right for our country."
The former president added that he would back primary rivals who supported the "Make America Great Again" agenda if they sought to challenge the Senate minority leader. "This is a big moment for our country and we cannot let it pass by using third-rate 'leaders' to dictate our future!"
According to polling, McConnell's condemnation of Trump was at odds with the Republican base. In a YouGov/Economist poll released earlier this month, 76 percent of GOP voters said Trump had done nothing wrong in the lead-up to the January 6 riots.
A further 59 percent of Republicans said the former president had no responsibility at all for the fatal storming of the Capitol building, compared to 55 percent of all voters who felt he bore at least some responsibility for the clash.