Lindsey Graham Says Donald Trump's Not Racist, But Called Him a 'Race-Baiting Bigot' in 2015
Republican Senator Lindsey Graham on Thursday said he didn't think President Donald Trump's tweets directed at four progressive Democratic Congresswomen of color were racist—an about-face from previous comments he'd made about the president, including the time in 2015 when Graham called Trump "a race-bating" bigot.
Graham defended Trump's tweets from Sunday stating that "'Progressive' Democrat Congresswomen'" — referring to Reps. Alexandria Ocasio-Cortez, Rashida Tlaib, Ilhan Omar and Ayanna Pressley — should "go back and help fix the totally broken and crime infested places from which they came" and that they "can't leave fast enough."
The South Carolina senator's reasoning for claiming that the president's tweet wasn't racist was that Trump only wanted his opponents to go away, not all people of color.
"I don't think it's racist to say," Graham told reporters. "I don't think a Somali refugee embracing Trump would be asked to go back. If you're racist, you want everybody to go back because they are black or Muslim. That's not what this is about. What this is about to me is that these four congresswoman, in their own way, have been incredibly provocative."
Graham concluded: "If you think he's a racist, that's up to you—I don't."
The senator's flip led historian and author Kevin Kruse to share a video compilation posted by writer Dusty Giebel highlighting Graham's change of heart.
Graham's "If you think he's a racist, that's up to you—I don't" remark from today is followed by a clip of him from 2015 saying "he's a race-baiting, xenophobic religious bigot."
"He doesn't represent my party," Graham continues about Trump the year before he won the presidency. "He doesn't represent the values that the men and women who are wearing the uniform are fighting for."
The video, which Giebel titled "Lindsey Graham vs Lindsey Graham," includes more contradicting statements overtime by the senator.
"I'm not gonna try to get into the mind of Donald Trump because I don't think there's a whole lot of space there. I think he's a kook. I think he's crazy. I think he's unfit for office," Graham says in a clip from the past.
That remark is followed by a more recent comment from Graham: "You know what concerns me about the American press is this endless, endless attempt to label the guy as some kind of kook, not fit to be president."
Graham has denounced Trump's seemingly racist views in more instances than the ones featured in the video.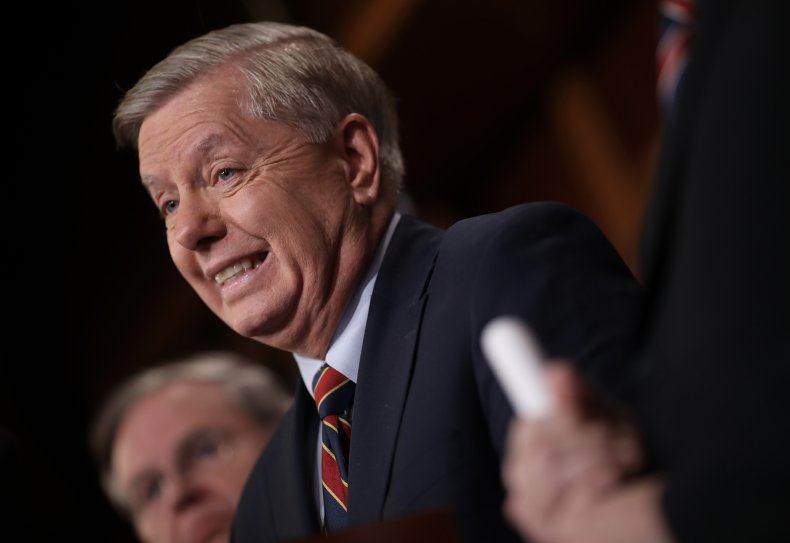 In 2016 when Trump was running for president, Graham denounced the candidate for calling a federal judge born in the U.S. "a Mexican" and accusing the judge of being biased against him and his plan to build a wall along the border with Mexico.
"The most un-American thing from a politician since Joe McCarthy," Graham said at the time, adding that if any supporters were "looking for an off ramp, this is probably it."
Graham, who turned from harsh Trump critic to frequent supporter of the president, on Monday went on Trump's favorite show Fox & Friends to bash "The Squad" of four women lawmakers.
"We all know that [Ocasio-Cortez] and this crowd are a bunch of communists," Graham said. "They hate Israel, they hate our own country, they're calling the guards along our border—the Border Patrol agents—concentration camp guards."