Lindsey Graham Urges Donald Trump to 'Make Sure Science Is Behind What He Says' About Coronavirus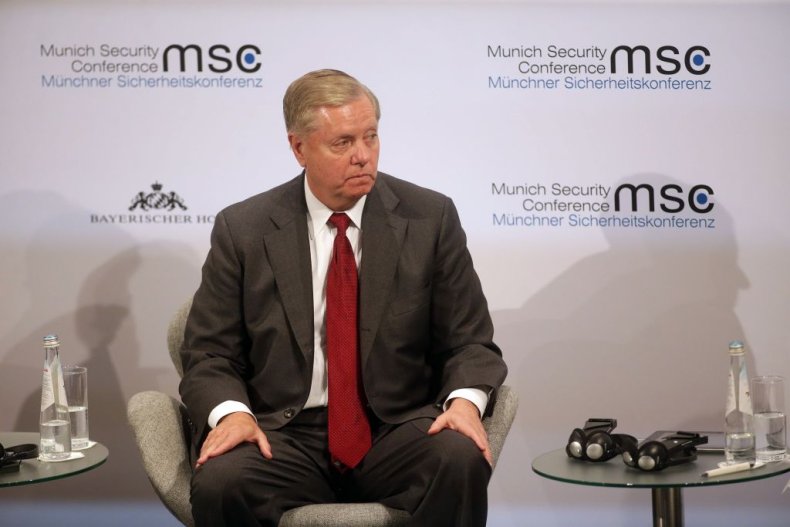 Senator Lindsey Graham urged President Donald Trump Thursday to "make sure the science is behind what he says" with regards to the new coronavirus.
"I would encourage the president if he's going to report things to make sure the science is behind what he says," Graham told CNN's senior congressional correspondent Manu Raju when asked about Trump saying he had a "hunch" that the death rate for the new disease, officially known as COVID-19, is under one percent. "I don't know what he was talking about, but I listen to the scientists when it comes to the numbers."
World Health Organization director Tedros Adhanom Ghebreyesus told the press Tuesday that the mortality rate for the novel coronavirus is at 3.4 percent. When asked about the mortality rate in a phone interview on Hannity Wednesday night, the president said he had a "hunch" that 3.4 percent is "a false number."
"I think the 3.4% percent is really a false number. This is just my hunch, but based on a lot of conversations with a lot of people that do this. A lot of people will have [COVID-19] and it is very mild...they don't even call a doctor. You never hear about those people so you can't put them down in the category, the overall population in terms of this corona flu, or virus." the president told show host Sean Hannity.
"We have thousands or hundreds of thousands of people that get better just by sitting around and even going to work...The easy cases don't go to the hospital," Trump continued. "They don't report to doctors or the hospital in many cases. So I think that number is very high. Personally, I would say the number is way under 1 percent."
Newsweek reached out to U.S. health officials to ask if they concur with the president's comments. Dr. Brett P. Giroir, Assistant Secretary for Health and admiral in the U.S. Public Health Service Commissioned Corps, responded in an email Saturday.
"The best estimates from the CDC, with which I concur, are that the overall mortality rate is between 0.1% and 1%. That is the range based on data we have, and consistent with data from countries like Korea that have instituted widespread testing. The mortality in elderly or those with chronic health conditions is substantially higher and needs to be taken with the utmost seriousness."
"Testing capacity is ramping up substantially, with 1.5 million tests produced last week. 1.1 million have been shipped, and 400,000 are ready to ship – likely on Monday – to fill incoming orders. We expect approximately 4 million additional tests to be produced next week."
The Centers for Disease Control and Prevention website says there have been a total of 149 confirmed cases of COVID-19 in the U.S.. That total includes 49 cases among Americans repatriated to the United States from Wuhan, China, the epicenter of the novel coronavirus, and the Diamond Princess Cruise ship, which was quarantined of the coast of Japan for two weeks. Eleven people have died thus far in the U.S. as a result of the coronavirus.
WHO reports that there are now 95,270 confirmed cases in 79 countries and 3,280 deaths. China has the most confirmed cases with over 80,500, which resulted in the deaths of 3,015 people.
03/07/2020 , 11:20 a.m. : This story has been updated with a statement from Assistant Secretary for Health Dr. Brett P. Giroir.