Lindsey Graham Warns Not to Allow 'QAnon Shaman' Impeachment Testimony, Says Trial Could 'Go For Months'
Sen. Lindsey Graham (R-S.C.) has warned against allowing "QAnon Shaman" Jacob Chansley to testify at former President Donald Trump's unprecedented second impeachment trial.
Chansley, also known as Jake Angeli, is facing multiple charges for his participation in the insurrection that the article of impeachment alleges the former president incited on January 6. Although Graham denounced the House for impeaching Trump on January 13 without calling any witnesses, on Friday the senator said that allowing witnesses at the Senate trial could lead to a lengthy "circus" featuring testimony from the likes of Chansley.
"I cannot think of a better way to turn the upcoming impeachment trial into a complete circus than to call the QAnon Shaman as a witness on anything," Graham tweeted. "The House impeached President Trump without a witness. If we open the witness door in the Senate there will be lots of witnesses requested on a variety of topics. And the trial will go for months, not days."
Chansley was the subject of photos that quickly went viral after the Capitol was violently breached by pro-Trump rioters. The shirtless "shaman" was pictured wearing a memorable outfit that included a furry horned hat and patriotic face paint.
Although Chansley had been a devoted follower of Trump and is closely associated with the elaborate and false pro-Trump QAnon conspiracy theory, he has reversed course since being arrested and now says he is willing to testify against the former president.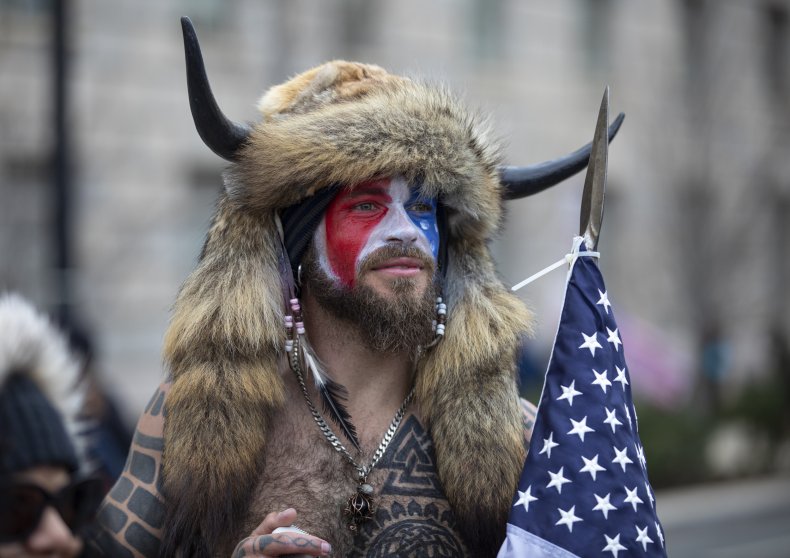 Albert Watkins, Chansley's defense attorney, said that his client has come to believe that he was "made the fool" by Trump during a Friday phone interview with Newsweek, while insisting that an impeachment trial without Chansley would be more like a "circus" than one with him.
"He has come to the conclusion and been made acutely aware of the fact that what has happened is instead of being the patriot who's trying to help his president save his country, he was made the fool," said Watkins. "If there's going to be something more than a circus proceeding with clowns doing backflips during the impeachment proceedings, you have to have someone who was incited testify."
Prior to Trump's exit from the White House on January 20, Watkins urged the former president to issue a full pardon to Chansley and others who had been "peaceful and compliant" during the riots, which he said happened at the "invitation of a president."
The violent breach, featuring rioters who indicated that they believed Trump's false claims of massive election fraud as Congress met to certify President Joe Biden's Electoral College win, resulted in the deaths of five people. Chansley is not accused of being directly responsible for any of the deaths.
Newsweek reached out to Graham's office for comment.