Lindsey Graham, Who Stands With Trump, Once Teared Up Over Biden's Decency
Republican Senator Lindsey Graham has vowed to stand with President Donald Trump, who declined to concede the presidential race to his Democratic opponent Joe Biden. Yet, Graham's staunch support for Trump over Biden comes five years after he once choked up talking about Biden's decency after the passing of his son Beau Biden.
Top Republicans in Congress have remained silent after media outlets declared Biden victorious in a tight race against Trump on Saturday morning. Currently, Biden holds 290 Electoral College votes compared to Trump's 214, according to the Associated Press. The president has indicated that he will not concede the election to Biden. He has threatened "unspecified legal challenges," the AP reported.
Graham personally donated $500,000 to the Trump campaign's legal fund on Thursday night after the president filed a series of lawsuits in several key states.
"I stand with President Donald Trump" because "he stood with me," the South Carolina senator told Fox News' Sean Hannity. "He's the reason we're going to have a Senate majority. My race was overwhelming. He helped Senate Republicans, we're going to pick up House seats."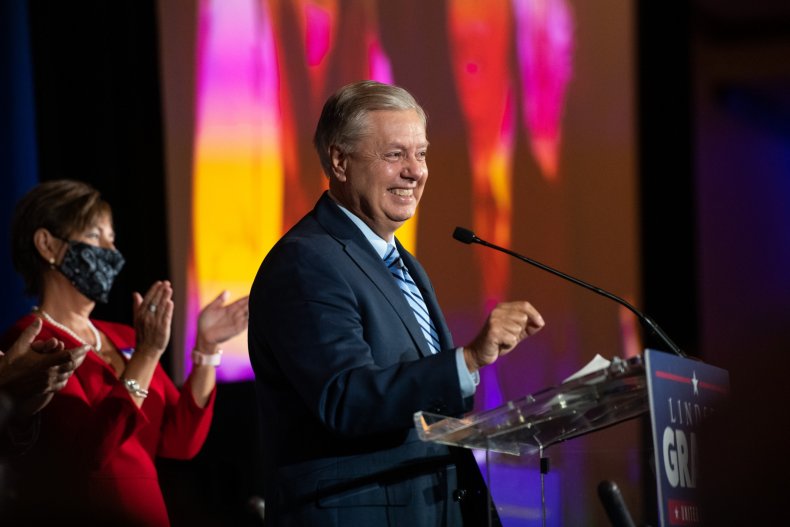 Republican leaders have refrained from releasing statements congratulating Biden after Trump declined to concede, a standard practice among senior lawmakers when an election has been declared. A handful of Republicans—including Senator Mitt Romney and Maryland Governor Larry Hogan—have offered their well-wishes to Biden.
But Graham stayed quiet, despite having choked up in 2015 while talking about the former vice president's decency amid the then-recent death of Biden's son Beau.
"The bottom line is if you can't admire Joe Biden as a person, you got a problem. You need to do some self evaluation, cause what's not to like," Graham said at the time. "Here's what I can tell you. Life can change just like that. Don't take it for granted. Don't take relationships for granted."
The Republican revealed that he had called Biden after Beau died. "He basically said, 'well, Beau was my soul,'" Graham recounted in a video. "We talked for a long time. He came to my ceremony and said some of the most incredibly heartfelt things that anybody could ever say to me and he's the nicest person I think I've ever met in politics."
Graham called Biden "as good a man as God ever created" as he began to tear up. "We don't agree on much but I think he's been dealt a very good blow," he continued. "I think he focuses on what he's gotta do, not what he's lost. His heart's been ripped out but he's gonna make sure that the other members of his family are well taken care of."
"He's started talking about his grandkids. I'm more worried about them than anything. He just talked about the future. He started talking about the future and his family."
Graham and Biden share a long friendship dating back to their years together serving in the Senate.
Newsweek reached out to Graham's representatives for comment.