Lindsey Graham, Who Urged Trump Not to Concede, Wants President to Run Again in 2024
Republican Senator Lindsey Graham continued to discourage Donald Trump's concession on Monday, after making similar remarks Sunday, when he said on Fox News, "Do not concede, Mr. President. Fight hard."
But he also said early Monday morning, in a Fox News Radio interview, that Trump should launch another campaign in 2024 should current legal proceedings prove unsuccessful in showing voter fraud. Speaking to radio host Brian Kilmeade, Graham said Trump should "consider running again" during the next election cycle, adding that he spoke to the president directly on Sunday.
"Grover Cleveland came back," Graham said, referencing the 19th-century politician's unconventional return to the White House following a four-year gap during Benjamin Harris' presidency. Cleveland was the 22nd and 24th president, and the only one in U.S. history to serve two non-consecutive terms in office.
Continuing, Graham proposed that Trump should "think about" doing the same if his campaign's present attempts to invalidate votes "fall short" of the desired outcome.
"I would encourage President Trump if, after all this, he does fall short...We just can't quite get there, to not let this movement die, to consider running again, to create an organization, platforms over the next four years," Graham said. "To keep this movement alive, growing the Republican representation in minority communities."
During the Fox News interview on Sunday, Graham explicitly urged Trump not to concede the election and called the results "contested" in his conversation with host Maria Bartiromo.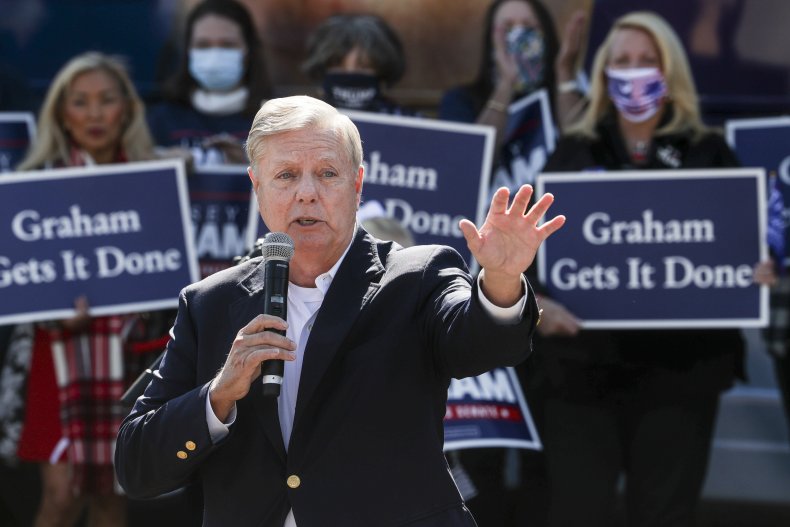 The South Carolina senator, a vocal Trump supporter who defended his congressional seat during last week's general election, will resume his role in Washington for a fourth term. Graham was first elected to the U.S. Senate almost two decades ago, in 2002. A former Trump critic, he became one of the president's closest allies in the Senate over the past several years.
On Saturday the Associated Press and various other news outlets projected Joe Biden and Kamala Harris would win the election. Graham has publicly backed the Republican incumbent's unsubstantiated claims about misconducted election procedures and voter fraud.
The congressman openly praised Biden during an emotional 2015 interview, saying, "The bottom line is if you can't admire Joe Biden as a person, you got a problem." But Graham declined to congratulate his former Senate colleague after the AP announced its projection.
Newsweek reached out to the Trump and Graham campaigns for further comment but did not receive replies in time for publication.