Lindsey Graham's Already Troubled Re-election Race Plagued by His Performance Hosting Amy Coney Barrett Hearing
Senator Lindsey Graham's final major accomplishment as a member of Congress could be helping Amy Coney Barrett get confirmed to the nation's highest court before Election Day.
That's because the South Carolina Republican is facing his first formidable challenger since he was first elected to the upper chamber in 2002, with Democrat Jaime Harrison raising more than twice as much as Graham in the third quarter—$57 million to $28 million.
As head of the Senate Judiciary Committee, Graham has been center stage at the confirmation hearing for President Donald Trump's Supreme Court nominee this week.
But the powerful limelight that comes just weeks before the Nov. 3 election can hurt as often as it helps.
The upside: The Trump confidant gets free and uninterrupted airtime. The downside: Some of that attention has provided his Democratic opponent with ammunition to use against him.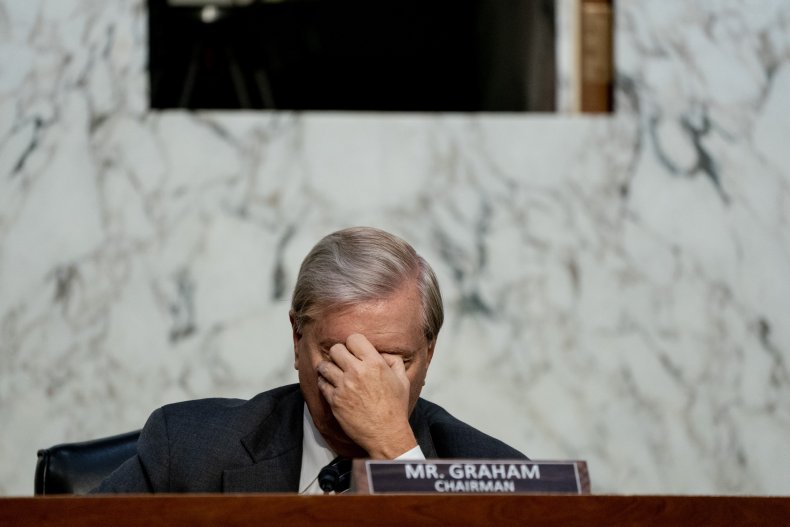 "Good ole days of segregation"
The worst public relations moment for Graham came from a single question, a prime opportunity for Democrats to chop into a seconds-long clip and throw it into a new ad.
"You're not aware of any effort to go back to the good ole days of segregation by a legislative body, is that correct?" Graham asked Barrett on Wednesday.
Those five words—"good ole days of segregation"—had Democrats and critics on Twitter crying foul. Graham later told reporters his question was "made with dripping sarcasm."
"The point that I'm trying to make is there is nobody in America in the legislative arena wanting to take us back to that dark period in American history," Graham said.
Harrison, who is Black, felt otherwise.
"Lindsey can't help but refer fondly to a time of violent oppression and segregation against African Americans," he said in a statement. On Twitter, Harrison later added that Graham's remarks were "beyond the pale, even if he was being sarcastic."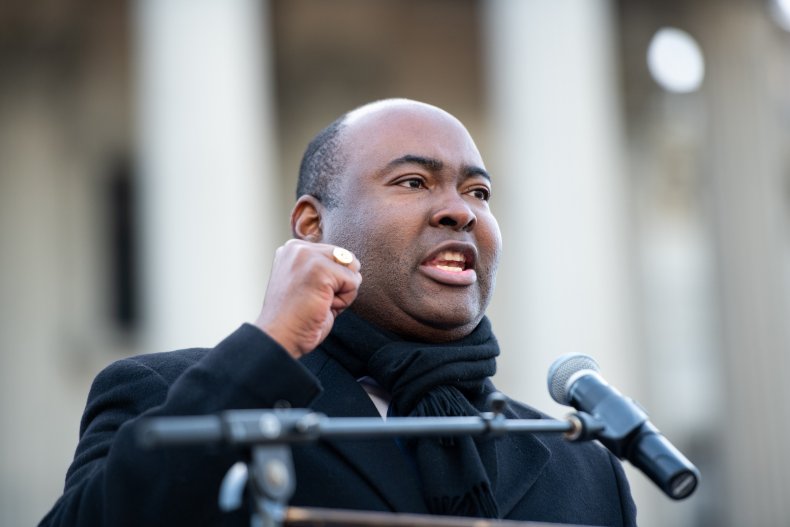 South Carolina Democratic Strategist Laurin Manning Gandy likened Graham's comments—though inappropriate—to a calculated fundraising tactic. (None of the South Carolina Republican strategists Newsweek reached out to responded.)
"He wanted to bait the angry liberal crowd into calling him a racist... If you really want to piss off a conservative, call them a racist. That accusation makes them go bananas," Gandy told Newsweek. "It's probably a smart fundraising move... But it's problematic to be cute about segregation."
That was Graham's only major blunder. The rest of his time presiding over the multi-day hearing and asking questions has so far been largely uneventful. In his line of questioning to the conservative judge, Graham has sought to bolster Barrett's qualifications and decry Democrats' assertions that a Justice Barrett would bring an end to American life as we know it.
Some of Graham's most notable moments in the past three days featured his comment on segregation, decrying the vast amounts of money pouring in for Harrison—coupled with an awkward plea for donations—and inaccurate claims about state funding for the Affordable Care Act.
But will any of it make a difference at the ballot box?
"Certainly, I think super hardcore, pro-life people may be galvanized by this," Gandy said. "But people here have an opinion of him one way or another."
Graham's fundraising pitch
Graham has notably used the hearings to highlight the money flowing in for his opponent. Harrison has now raised $86 million this election cycle, eclipsing Graham's $58 million. Graham has blamed his prior support for Justice Brett Kavanaugh and Trump for why Democrats are so fired up to oust him from office.
"I don't know what's going on out there, but I can tell you there is a lot of money being raised in this campaign," Graham said during Tuesday's proceedings as he brought up the Citizens United Supreme Court case that opened the flood gates for massive corporate donations to candidates. "I'd like to know where the hell some of it's coming from. But that's not your problem."
He even made a direct pitch to voters after the hearing, a method he's increasingly deployed when making appearances on Fox News in recent weeks.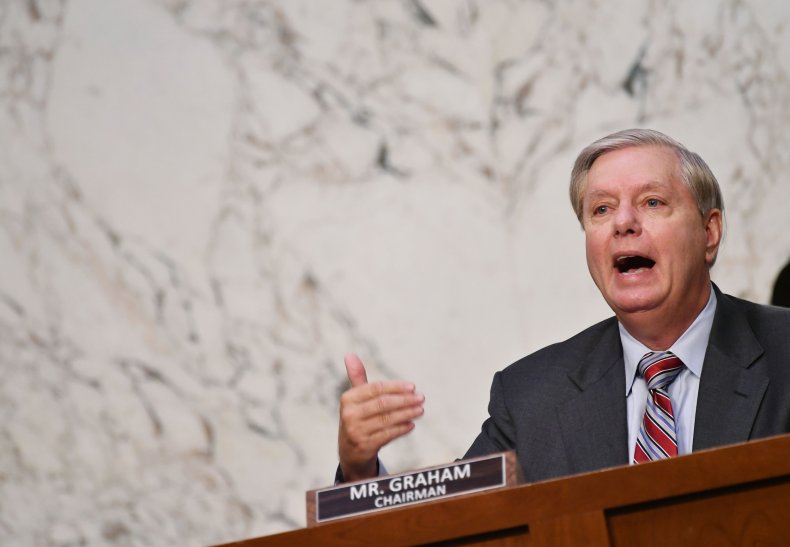 "I think people in South Carolina are excited about Judge Barrett," Graham told reporters Wednesday. "I don't know how much it affected fundraising today, but if you want to help me close the gap—Lindseygraham.com—a little bit goes a long way."
Harrison has accused Graham of inappropriate campaign tactics while running the judicial proceedings.
"Opening up each day, it seems like these hearings are a way for Lindsey Graham to campaign during the midst of government work," Harrison said in a Twitter video posted Wednesday.
Is it really about red vs. blue states?
From his chairman's seat, Graham has also parroted inaccuracies about the Affordable Care Act (ACA).
The Obama-era health care law has been at the epicenter of Barrett's confirmation over fears from Democrats that the conservative judge will vote to dismantle the law. The Supreme Court will hear oral arguments one week after Election Day concerning a lawsuit from state Republican attorneys general that's backed by the Trump administration to strike down the entirety of the law.
Graham asserted that Democratic states receive special treatment under the ACA because they get more federal money per capita for the program.
"Under the Affordable Care Act, three states get 35% of the money, folks. Can you name them? I'll help you: California, New York and Massachusetts. They're 22% of the population," Graham said Tuesday. "Now, why did they get 35% of the money when they are only 22% of the population? That's the way they designed the law; the more you spend, the more you get."
His claim was misleading for several reasons: South Carolina, like many Republican-led states, refused to adopt the Medicaid expansion that would have provided more subsidies; higher cost of living regions receive more federal help because of more expensive insurance; and the more enrollees each state has, the more funding they are awarded.