Lindsey Graham's Dem Challenger Jamie Harrison Accuses Senator Of Taking Away Health Care As South Carolina Reports Over 1,000 New COVID Cases
Senator Lindsey Graham's Democratic challenger Jamie Harrison attacked the senator's stance on health care as South Carolina reported over 1,000 new coronavirus cases on Thursday.
"Over 1000 new COVID cases were reported in South Carolina yesterday. And @LindseyGrahamSC is still trying to take your healthcare away," Harrison tweeted on Friday.
On Thursday, October 15, the South Carolina Department of Health and Environmental Control announced 1,072 new confirmed cases—the first time the state has reported more than 1,000 cases in over a month. The last time was on September 4 when South Carolina saw 1,511 new COVID-19 cases.
Graham has railed against the Affordable Care Act since its introduction in 2010 and has been a critical player in Republican efforts to repeal the ACA, also known as Obamacare, and replace it with a different health care plan.
Although uninsured rates have risen steadily since President Donald Trump was elected in 2016, a report from the Centers for Medicare and Medicaid Services report found the Obama-era health care law was embraced by many Americans this year due to the coronavirus pandemic.
During the Supreme Court confirmation hearings on Tuesday, the senator argued that Obamacare was designed to benefit Democratic states like New York and California while states, like South Carolina, get the short end of the stick.
However, this could be attributed to the fact that the conservative state is among 12 that have not adopted the ACA's Medicaid expansion.
Uninsured rates in South Carolina fell from nearly 20 percent in 2008 to about 12 percent in 2018, with 191,000 South Carolinians buying insurance from the ACA exchange, according to data from the U.S. Census Bureau.
According to the Center on Budget and Policy Priorities, 297,000 uninsured adults in South Carolina would be newly eligible for Medicaid if the state expanded its program.
"This is what we're fighting for," Harrison tweeted on Wednesday.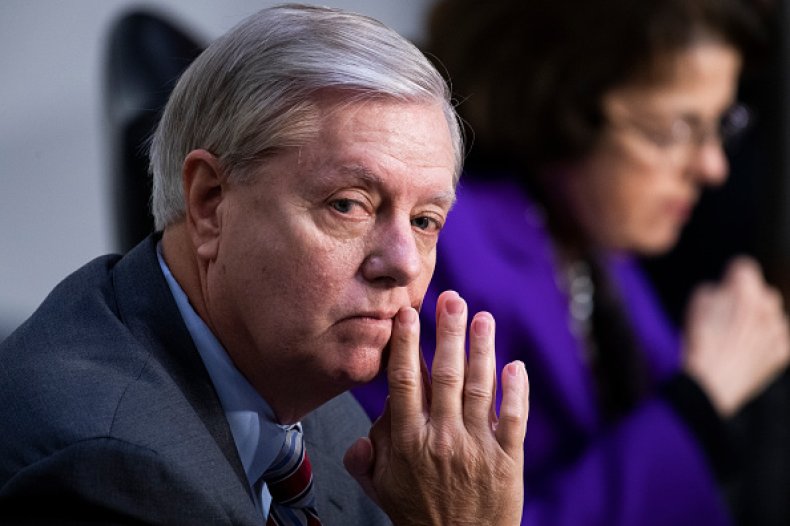 Throughout the hearings, in which Democrats on the Senate Judiciary Committee have framed Judge Amy Coney Barrett's nomination as an attack on Obamacare, Harrison was quick to come after his opponent's stance on health care.
Harrison shared a video of Graham calling the law "a disaster" and saying South Carolina does not want the ACA.
"Let's be clear about what's going on here: @LindseyGrahamSC is telling a Supreme Court nominee that she should end healthcare reform," Harrison wrote on Twitter. "He's using his power to rip away people's healthcare during a pandemic. It's shameful and embarrassing that SC is represented by this man."
Harrison has recently been able to open up a one-point lead over Graham in the race for the Republican incumbent's Senate seat.
New state polling data from Data for Progress shows that the Democrat has the support of 47 percent of South Carolina voters, while Graham is backed by 46 percent.
The tight race between the two candidates has also been reflected in both campaign's fundraising efforts.
On Wednesday, Graham's campaign announced it raised the most money any Republican Senate candidate has in a single quarter in any state.
The senator has pleaded with Fox News viewers twice in the last month to donate to his campaign, which he said was being crushed by the amount of support his opponent received following the death of Justice Ruth Bader Ginsburg.
"He raised $6 million from the time Justice Ginsburg passed away, within 72 hours," Graham told Fox News on September 24.
According to the Associated Press, Graham has raised approximately $58 million this year to date, while Harrison's fundraising total comes to roughly $86 million.