Lindsey Vonn's Question About Interracial Relationships Sparks Some Beautiful Answers
Olympic skier Lindsey Vonn asked her Twitter followers: "I have a question; how do you feel about interracial relationships? Be honest."
Vonn, who is engaged to New Jersey Devils hockey player P.K. Subban, explained why she asked the question in a follow-up tweet: "So to give you some context to my question; I am in a relationship, which is the proper term [by the way]. Some call it an interracial relationship.
"I am extremely happy and don't care who disapproves. However, I'm interested in having a conversation about it. Have times truly changed?!"
Twitter user Hawaii Delilah said: "My family is made up of interracial, interreligious, interlinguistic, interethnic, and international relationships. I am the descendant of interracial relationships. I am so glad I was raised on an island where the only thing that matters is who you are as a person. Love is love."
Twitter user Bella Faith said sarcastically: "They're disgusting. We as a family are VERY against race mixing" and attached a photo of herself with her white mother and Black father at her graduation.
Vonn retweeted Esther Fairow who said: "I understand your question because I've been in an interracial marriage for over 32 years. People will be people. Don't let other's ignorance affect your happiness," and attached a photo of her family.
Jacqueline Carter said: "Well Lindsey, I too am in a relationship. We don't remember the 'type' of relationship we are in until we are out, and then some people choose to 'remind' us with their stares and whispered comments. We also don't care. Here's to your happiness!"
Vonn retweeted and responded to Carter and said: "Here's to our happiness!!"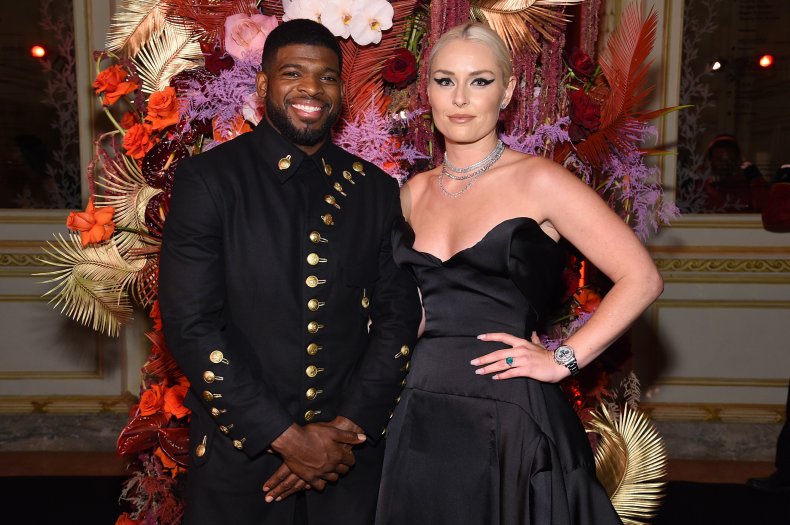 Other Twitter users suggested that the word interracial should not be used, as Twitter user Amy La Nook said: "I like to call them 'relationships'," and Mike Stauffer said: "Should not be referred to as 'interracial'. It's a relationship. End of discussion."
Another Twitter user took offense to the term interracial, telling Vonn she was part of the problem for using it. But Vonn responded: "Lol I'm definitely not the problem. I'm engaged to an amazing man who happens to be black. I have gotten a lot of hate in my life because of it and I'm asking people to see if their opinions have changed."
In response to another Twitter user who asked Vonn why she needed to ask the question, Vonn said: "Because learning and understanding are the key to our future. We can't move forward without learning and acknowledging the past. I still have a lot to learn!"
Vonn and Subban have been in a relationship since 2018 and got engaged last year and are planning on getting married this year. During the lockdown, the couple have been updating their fans on social media and hosted live vlogs from the bathtub called "Tub Time" on their Instagram pages.