Todd Chrisley's Tax Evasion Scandal Has 'Wrecked My Life' Daughter Lindsie Chrisley Says
Lindsie Chrisley opened up on the many ways her father Todd Chrisley's tax evasion scandal has impacted her own life. Speaking on her podcast Coffee Convos, which she co-hosts with Teen Mom 2's Kailyn Lowry, Chrisley said the drama surrounding her parents' indictment and relatives' comments about her to the press have "wrecked" her life.
Lindsie was an original cast member on her family's reality TV show, Chrisley Knows Best, which debuted on the USA Network in 2014. The show follows the lavish lives of Atlanta real estate mogul Todd Chrisley and his family. Lindsie Chrisley left from the show in 2017 following a dispute with her father that resulted in the family's strained relationships.
Todd Chrisley and wife Julie Chrisley entered not guilty pleas to federal charges of tax evasion and various other financial crimes in August. Todd Chrisley initially claimed his family was sabotaged by an ex-employee who delivered false tax documents to the United States Attorney's office. Days later though, his son Kyle Chrisley accused Lindsie Chrisley and her mother Teresa Terry of giving information regarding her father's taxes and finances to the government.
Lindsie Chrisley has long denied any involvement in her father's legal woes. In a preview of the podcast's next episode, which airs Wednesday night at 9 p.m. ET on Wave Podcast Network, she explains that she was estranged from her family during the period when Todd and Julie Chrisley supposedly falsified their taxes.
"To be perfectly honest, the years that were covered in the indictment, most of those years I was not in communication with my parents. So a lot of the years from, like, early on that they covered, I was in college so I wasn't even, like, living at home," Lindsie Chrisley said in the clip, originally shared by EOnline.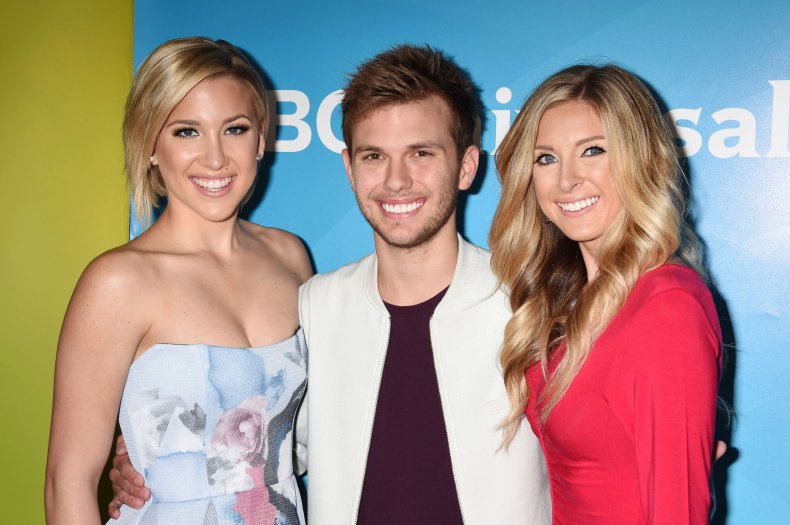 "And through college, I don't know if I've shared my whole story or not, but through college, I didn't talk to my parents. So I definitely, like, would've had no knowledge of anything. And then in the later years that were covered, I believe that I was like already leaving the show. So I also wouldn't have had any knowledge of, like, some of that stuff either," she continued, adding, "I just find it a little ironic that there is some blame game things going on and I had no involvement in that."
Only intensifying the family drama, Todd Chrisley also accused his daughter of having affairs with two former contestants on The Bachelorette. Lindsie Chrisley, who married William Campbell in 2012, said the rumors were incredibly hurtful.
"I just really don't appreciate it. I personally don't think that the statements that were made were in good taste and people have to understand like what led me to this point," the 29-year-old explained. "I also was sent screenshots of comments and photos from [brother] Chase's Instagram page where he had intentionally cropped me out of photos and then the caption was like 'family' or you know, something like that, which is good and great. That's fine if that's how you feel, but also be mature enough to realize that since I left the show, I have not gone and aired any dirty laundry."
Reality TV commentators have been quick to pick up the family's social media drama, a phenomenon Chrisley noted, saying, "Let's not forget what's been done to me in the media and what has literally wrecked my life for the past two and a half weeks."
While Todd Chrisley's claims caused Lindsie Chrisley some distress, she noted her husband was remaining by her side. "Unfortunately for them but fortunately for me, because I live an honest life we've been able to—I won't say seamlessly—but we have been able to move on and get past the f**kery," she said.