Lines of riot police guarded the home of former police officer Derek Chauvin's house in Oakdale, a Twin Cities suburb, Thursday night from protestors following the death of George Floyd.
Chauvin was identified as the cop who held his knee on Floyd's neck in the viral video of Floyd's arrest. Along with the three other police officers involved in Floyd's death, Chauvin was fired by Minneapolis Police Chief Medaria Arradondo on Tuesday.
However, there are currently no criminal charges against Chauvin. The FBI and Department of Justice are launching a federal investigation into his actions.
Both Floyd's family and Minneapolis Mayor Jacob Frey have called for criminal charges to be brought against Chauvin.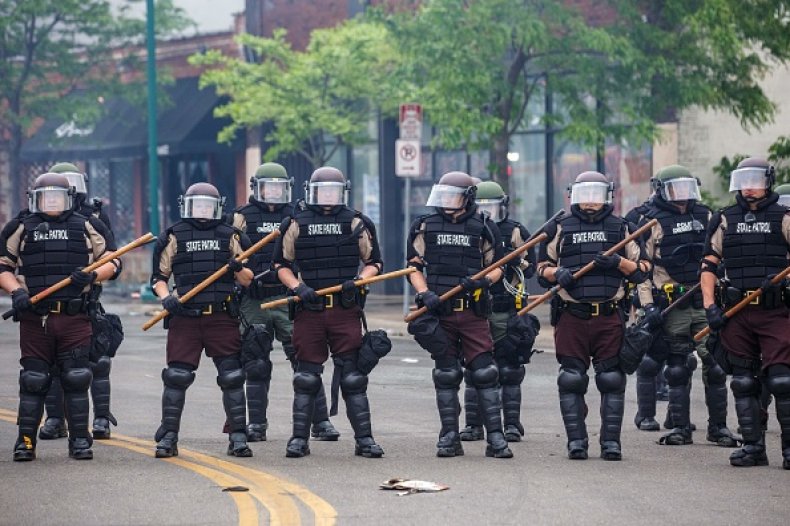 Chauvin has become the focus of protestors demanding justice for Floyd.
On the third night of protests, videos on social media showed five walls of riot police guarding Chauvin's property from the hundreds of protestors gathered chanting "justice."
Oakdale Chief of Police Bill Sullivan said Chauvin already vacated the house earlier this week. "Officers are stationed in the neighborhood only as needed, based on the activities of protesters," he said in a statement to Newsweek.
"We are not defending or condoning the behavior of the officer in the Minneapolis incident. What happened to Mr. Floyd is horrible and we extend our deepest condolences to his family and friends. Nonetheless, our job is to uphold the rule of law even in times of distress and sadness. We ask for the Twin Cities community to assist law enforcement by demonstrating passionately but peacefully," Sullivan added.
Crowds began gathering in front of his home on Tuesday afternoon. Several demonstrators left messages on the driveway in chalk and red paint, including one that read "A murderer lives here."
According to the Oakdale Police Department, mobile field force teams were deployed to the area "to protect the peace and safety of the neighborhood." Six people were arrested for unlawful assembly, five of them released on the scene.
Since the incident involving Floyd, city records have shown Chauvin has been the subject of 17 complaints over his two-decade career.
Minnesota Governor Tim Walz called in the National Guard on Thursday as Minneapolis prepared for more riots.
Downtown Minneapolis has faced four consecutive days of unrest as protests turned violent with riot police firing rubber bullets and tear gas, stores being looted and businesses set ablaze and vandalized.
Protestors have taken to the intersection where Floyd was arrested, as well as the Third Police Precinct, where a semi-permanent barrier was erected. People began looting a Target in the nearby city of St. Paul on Thursday.
"It is time to rebuild. Rebuild the city, rebuild our justice system, and rebuild the relationship between law enforcement and those they're charged to protect. George Floyd's death should lead to justice and systemic change, not more death and destruction," Walz said.
The National Guard confirmed on Twitter that more than 500 soldiers will respond to St. Paul, Minneapolis and the surrounding communities. They confirmed to Newsweek that there are currently no Guardsmen stationed at Chauvin's home.
The last time the Minnesota National Guard was activated was during the 2008 Republican National Convention in St. Paul.
05/29/20, 12:40 p.m. ET: This story has been updated with comments from the Oakdale Police Department.
05/29/20, 12:59 p.m. ET: This story has been updated with comments from the Minnesota National Guard.