Lion Air Crash Latest: Everything to Know About Sea Search for Boeing Passenger Jet in Indonesia
A passenger plane carrying 188 people crashed into the sea off the coast of Indonesia early on Monday with no survivors.
The wreckage of the Lion Air plane, which was traveling from Soekarno-Hatta airport in the capital Jakarta to the mining region of Pangkal Pinang in the Bangka Belitung Islands, quickly sank after falling into the sea just after takeoff.
It vanished from the radar 13 minutes after leaving Jakarta at around 6:20 a.m. local time. One of the pilots requested permission to return to Jakarta just moments before losing contact, officials said.
"The plane crashed into water about 30m [98 feet] to 40m [13 feet] deep," Yusuf Latif, the search and rescue agency spokesman, told the AFP news agency. "We're still searching for the remains of the plane."
There are conflicting reports about the exact number of people aboard the jet, but at a press conference, Sindu Rahayu, directorate general of civil aviation at the transport ministry, told reporters that the aircraft had been carrying 178 adults, one infant and two babies. There were two pilots and five cabin crew also aboard.
Lion Air is Indonesia's largest low-cost carrier, the BBC reported. The aircraft—a Boeing 737 MAX 8—is believed to have been brand-new, having only been in operation since August. The airline's CEO noted that the plane had experienced technical issues on a flight Sunday, but said they had been addressed by following normal procedures.
"This plane previously flew from Denpasar to Cengkareng [Jakarta]. There was a report of a technical issue which had been resolved according to procedure," Edward Sirait said, according to Retuers, but he refused to explain the exact nature of the problem. The executive also said Lion Air had 11 other aircraft of the same type and that there were no plans to ground the rest of the fleet.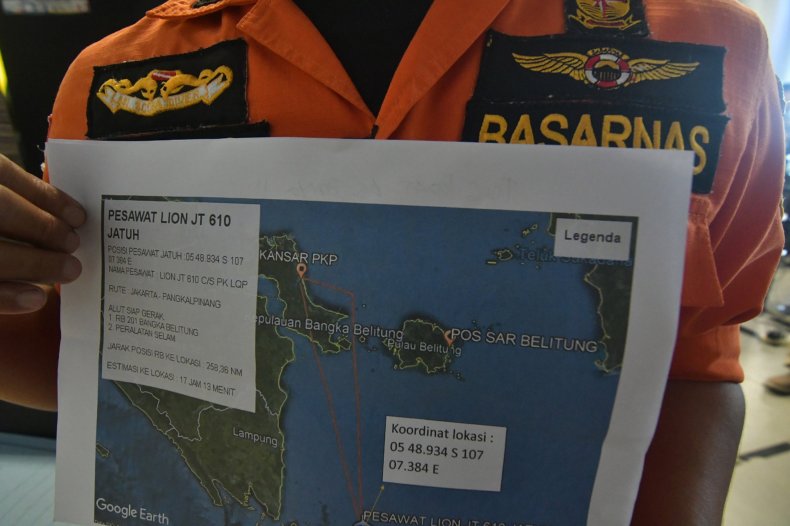 Government officials said they would not speculate on the cause of the crash until the plane's black box was found and analyzed. Meanwhile, Boeing released a statement saying it was "deeply saddened" by the incident and "ready to provide technical assistance to the accident investigation."
Indonesian search and rescue officials confirmed they had found no survivors from flight JT 610, which was also carrying 20 government officials. Rescuers dropped into the sea near the crash site found numerous personal belongings of the passengers, including handbags, cellphones and identification documents. Some could be seen in images tweeted out by rescue teams.
Lion Air planes had numerous accidents in recent years, AFP noted. Last year, one of its aircraft crashed into a Wings Air plane when landing at Kualanamu airport in Sumatra.
In May 2016, two Lion Air planes collided at the Soekarno-Hatta airport in Jakarta, just one month after a plane from Batik Air—part of the wider Lion Group—struck a TransNusa aircraft. And in 2013, a novice pilot crashed into the sea in Bali while trying to land a Lion Air jet, injuring several people with the plane left in two pieces. No one died in any of those incidents.
In response to Monday's crash, Australia instructed all government officials and contractors to avoid flying on Lion Air.
The airline released a statement confirming the staff members killed in the crash. The captain was Bhavye Suneja, a resident of Jakarta originally from New Delhi. Suneja had 6,000 hours of flight experience and had flown for Lion Air since 2011, according to his LinkedIn profile. His co-pilot, named as Harvino, had 5,000 hours of flight experience.
The cabin crew were named as Shintia Melina, Citra Noivita Anggelia, Alviani Hidayatul Solikha, Damayanti Simarmata, Mery Yulianda and Deny Maula. Lion Air's website and social media accounts were switched to a black-and-white color scheme in response to the tragedy.