Everything to Know About Beyoncé's 'Lion King' Soundtrack: Blue Ivy, WizKid, Tierra Whack and Musical More Appearances
"Hakuna Matata" won't be the only song The Lion King fans will be singing now that Disney's live-action remake finally hit theaters on Friday. In addition to the film's original motion picture soundtrack, Beyoncé, who stars as the voice of Nala, is also releasing a special soundtrack of her own titled, The Lion King: The Gift.
The Lion King's original soundtrack released on streaming platforms in early July. The album includes music composed by Hans Zimmer, who scored the 1994 animation, as well as character favorites like "I Just Can't Wait to be King," "Be Prepared," and Beyoncé, Seth Rogen, Donald Glover and Billy Eichner's rendition of "Can You Feel the Love Tonight." The album also includes a host of new songs featured in the live-action movie.
Meanwhile, Beyoncé's special edition The Gift became available for streaming and purchase on Friday.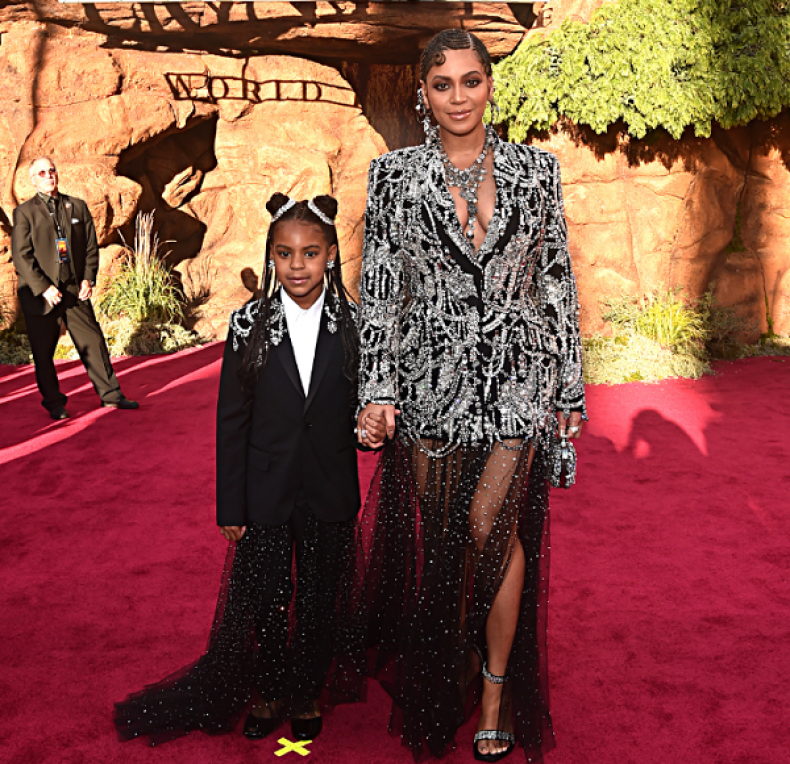 The project, which Beyoncé produced and curated, will feature a number of new songs written and performed by a variety of artists. Beyoncé's latest single "Spirit" is the only song included on both The Gift and the film's original soundtrack, and while it may be the standout, the remaining 13 tracks are definitely worth the listen.
Beyoncé appears on many songs on the special album, however, it's the features that shine in the spotlight. Artists like Beyoncé's husband Jay-Z and her Lion King castmate Glover, who voices Simba, appear alongside her for the song "Mood 4 Eva," while other guest features include songs by musicians like Tierra Whack, Kendrick Lamar, Pharrell, SAINt JHN, O70 Shake and Jessie Reyez shine on others.
The album also features a plethora of African artists including popular Nigerian performers WizKid, Burna Boy, Tekno, Yemi Alade, Tiwa Savage and Mr. Eazi, along with Salatiel, who reigns from Cameroon, Ghanaian musician Shatta Wale and South African singers Busiswa and Moonchild Sanelly.
Calling the project a "love letter to Africa," Beyoncé noted she wanted the sound of The Gift to not only represent The Lion King movie but the entire continent, of which the movie is set—albeit in the fictional area of Pride Lands.
"I wanted to make sure we found the best talent from Africa, and not just use some of the sounds and did my interpretation of it," Beyoncé said during an interview with Good Morning America co-host Robin Roberts on Tuesday. "I wanted it to be authentic to what is beautiful about the music in Africa."
The Lion King: The Gift Full Tracklist
1. "Bigger"—Beyoncé
2. "Find Your Way Back (Circle of Life)"—Beyoncé:
3. "Don't Jealous Me"—Tekno, Yemi Alade, Mr. Eazi:
4. "Ja Ara E"—Burna Boy
5. "The Nile"—Beyoncé, Kendrick Lamar
6. "Mood 4 Eva"—Beyoncé, JAY-Z, Childish Gambino
7. "Water"—Salatiel, Pharrell, Beyoncé
8. "Brown Skin Girl"—Blue Ivy Carter, SAINt JHN, WizKid, Beyoncé
9. "Keys to the Kingdom"—Tiwa Savage, Mr. Eazi
10. "Otherside"—Beyoncé
11. "Already"—Beyoncé, Shatta Wale:
12. "My Power"—Tierra Whack, Beyoncé, Busiswa, Yemi Alade, Moonchild Sanelly
13. "Scar"—070 Shake, Jessie Reyez
14. "Spirit"—Beyoncé