'The Lion King': What Did the Original 1994 Film Make at the Box Office?
The live-action version of The Lion King has some big paws to fill if it wants to live up to its predecessor, which reached number one at the box office in 1994.
Months after the first trailer hit, the highly-anticipated live action remake hit theaters on Thursday, giving viewers the chance to hear some familiar voices, and some new ones, for their favorite characters. The release of the film came almost exactly 25 years after the original Disney classic debuted.
According to Box Office Mojo, the original 1994 film was released for a wide-opening weekend on June 24 and grossed $40,888,194 ($69,280,060 in 2019 dollars). The film was ranked number one at the box office during both its opening weekend, June 24 to 26 and the following weekend of July 1 to July 4. Worldwide, it grossed $968,483,777 ($1,640,977,694 today) over the course of its lifetime, according to Box Office Mojo.
In 1995, The Lion King was nominated for four Academy Awards and won two. Sir Elton John and Tim Rice took home the Oscar for the best original song with "Can You Feel the Love Tonight," and Hans Zimmer won best original score. John, Rice and Zimmer also won in those categories at the Golden Globes, as well.
"This is an incredible honor for me. I'd like to dedicate this award to my grandmother, Ivy Sewell. She died last week and she was the one who sat me down at the piano when I was three and made me play so I'm accepting this in her honor," John said when accepting the 1995 Oscar.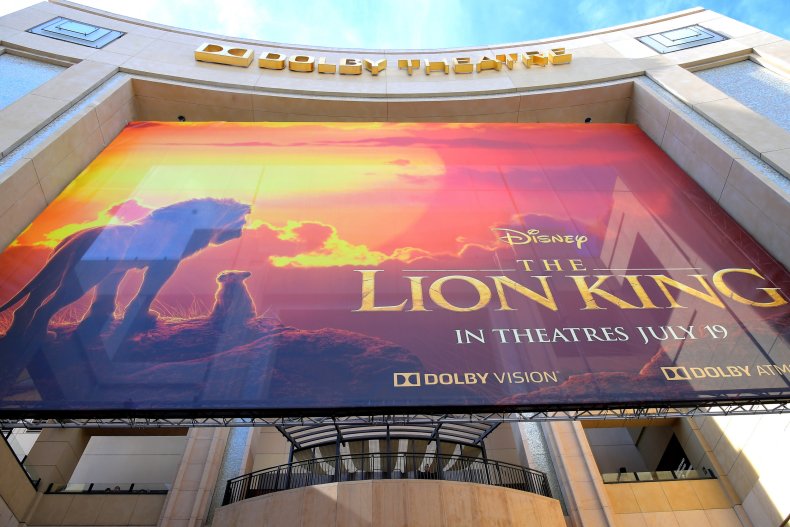 Actor Jeremy Irons, who voiced Simba's uncle Scar, won the award for best villain at the MTV Movie & TV Awards in 1995. This time around actor Chiwetel Ejiofor, who was nominated for an Oscar for his role in 12 Years a Slave, will portray Scar.
"My suspicion was that it would end up pretty different, just given that myself and Jeremy are so different in our personalities and our way of looking at stuff," Ejiofor told iO9. "So it wasn't a question of trying to avoid what he was doing or move towards what he was doing. It was just a question trying to interpret it as I would."
Scar may be different but many of the same songs will be included in the new film, as well as the iconic voice of James Earl Jones, who once again portrays Mufasa. Recently, fans noticed Jones' absence from several promotion events, which prompted concern for the 88-year-old.
Director Jon Favreau tried to alleviate some of the concerns and told USA Today that the actor was based on the East Coast and promotional work is something "that takes a lot out of you to do."
"Everybody was so concerned about 'What was this new Lion King going to be?' That one casting announcement helped," Favreau said of Jones.
Critics have already vocalized their impressions of the film with many praising the technical aspects and filming of the movie, but criticizing its lack of heart and soul. Some noted the difficulty in remaking the film when the original has stood the test of time. Rotten Tomatoes gave it a 61 percent, whereas the original received a 93 percent.