'The Lion King' Fans Spot Insane 'Hakuna Matata' Easter Egg—In Another Film
Film buffs have spotted an incredible Easter egg from Disney's The Lion King, in another movie featuring the same voice actor.
The animal-themed classic was released in 1994, and is now among one of the most famous children's movies of the era.
The unforgettable tale of Simba was brought to life by an all-star cast, including the voice of Mr. Bean, Rowan Atkinson, and the voice of Darth Vader, James Earl Jones.
Also voicing another integral character was Nathan Lane, one half of the adorable duo Timon and Pumbaa.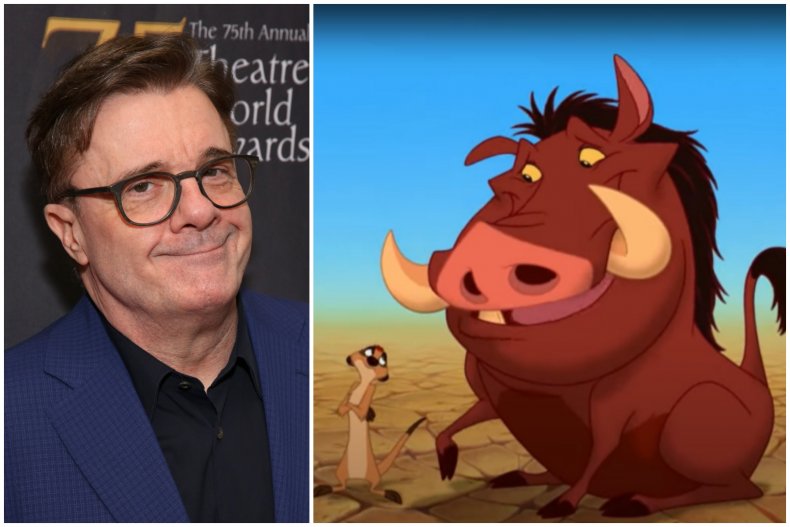 Lane went on to star in another family-friendly film, Mousehunt, released in 1997, alongside Christopher Walken.
The laugh-out-loud film sees Lane and Lee Evans play brothers who inherit a house, and go on to battle its resident rodent.
But one film fan re-watching the movie spotted Lane utters his iconic line from the animated movie, telling an extra who walks past "Hakuna Matata."
Redditor WeaponsGradeLager shared a clip of the flick to the site's Movie Details forum, saying: "In Mousehunt (1997) Nathan Lane says 'Hakuna Matata' to an Arab guest. Lane was the voice of Timon in The Lion King (1993)."
The comment appears to refer to the extra's outfit, with the man appearing to wear a version of a keffiyeh, otherwise known as a ghutrah or shemagh, which is a traditional Arabian headdress. He also sports an agal, which is the black band keeping the cloth in place on the head.
The post, which can be seen here, amassed nearly 25,000 upvotes since being posted on Sunday, with the tagline Easter egg.
Others also hadn't made the connection between the two movies before, as Miss__Information wrote: "Having watched both movies dozens of times, I feel so much shame right now. Thanks OP!"
Prsanker commented: "Imagine what it must be like to be an actor acting in a movie that is referencing a previous movie that said actor starred in as a cartoon character. Wild."
Tvnacho said: "Yo this movie is amazing. I watched it so many times as a child. Never put the two together but it's Timon's voice straight up haha."
MrJason300 admitted: "I saw this a couple months ago again with my friend and chuckled at this moment. It was a pleasant surprise since he clearly voiced Timon haha."
While Aresunbound added: "I love this movie. Thanks for the nostalgia homie."
WeaponsGradeLager raved about Lane as well in the comments, saying: "Nathan Lane is a treasure. His Max Byalistok is inimitable."
While another eagle-eyed viewer pointed out: "Ernie Sabella, who plays Pumbaa, is also in this film."
To which WeaponsGradeLager replied with "well spotted!" As the Redditor revealed, the voice actors for Timon and Pumbaa were reunited for this film, with Sabella playing Maury, the Cat Care Society Owner, in Mousehunt.
The Lion King spawned numerous films, TV shows and has even been turned into a glittering Broadway production.
The latest film in the franchise was released in 2019, and was a live-action take featuring CGI animals.
According to Forbes, the original accrued $40.9 million on opening weekend, going on to amass $858.6 million worldwide, while it remained number one at the Box Office during its second week in movie theaters.
Meanwhile the remake, which starred Beyoncé, Seth Rogen, and Jones reprising his role as Mufasa, pulled in $1,662,899,439 at movie theaters worldwide, according to IMDB.
Newsweek reached out to WeaponsGradeLager for comment.