Lion, Monkeys and Red Wolves Escape Kharkiv Zoo After Heavy Shelling
Wild animals including a lion, monkeys and red wolves have escaped a zoo in Kharkiv as the city endured another day of heavy shelling by Russian forces.
Animal enclosures at the Feldman Ecopark—in Lisne, an outer district of Ukraine's second-biggest city—were badly damaged, Kharkiv Today reported on Tuesday. The frightened animals then escaped from the zoo.
An escaped 7-month-old lion cub called Simba was found hiding in a stable not far from the zoo. A video posted to the Facebook page of Moldova's Society for the Protection and Humane Treatment of Animals, which can be seen here, reportedly shows the cub on a lead being brought back to the zoo.
"[The lion] was frightened by loud sounds and fought along with other animals. Fortunately, the lion cub is already safe—he was found and returned to the park," reads the caption alongside the video, which was posted on Wednesday.
Zoo officials told Kharkiv Today they also managed to collect escaped monkeys, porcupines and raccoons, but the red wolves had left the territory of the ecopark. "We tried to lure them to the bait, but the animals did not allow them to approach a distance sufficient to put them to sleep." they said. "These are animals of the size of the fox terrier, they stick together and do not pose any danger to humans … It is difficult to catch them, because they are frightened."
Mark Randell—a campaign manager at animal welfare charity the Naturewatch Foundation, which has been working to help Ukrainian zoos—told Newsweek on Wednesday that several red wolves that had escaped from the zoo were believed to be "still at large."
When the heavy shelling of Kharkiv began, Feldman Ecopark employees released their deer and elk into the forest part of the park so they had an opportunity to protect themselves from shots, according to Kharkiv Today.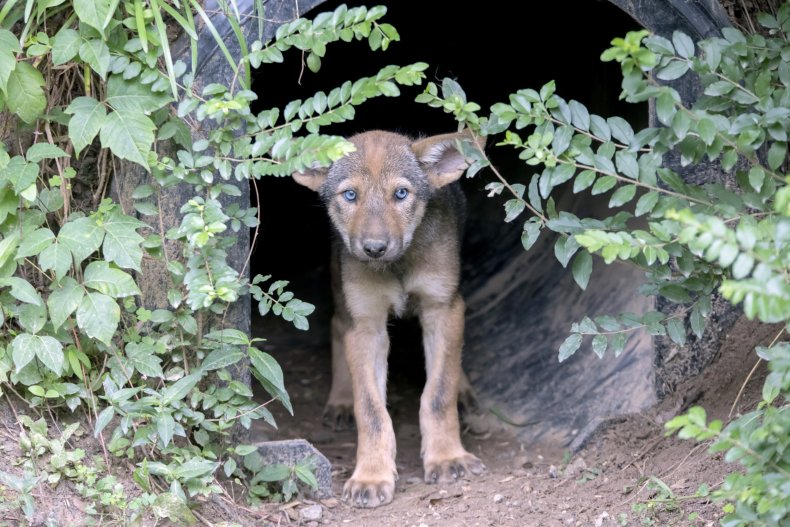 Zoos in Ukraine are suffering as the invasion rages on. Randell told Newsweek that the charity had not been in direct contact with workers at the Feldman Ecopark because Kharkiv remains largely "cut off" and the only information is coming from news reports.
The Naturewatch Foundation is working to evacuate animals and to get supplies to them. Animal food can currently be stored in Lviv, a city in western Ukraine near the border with Poland, but transportation from the Polish border remains an issue.
Randell explained that there were many exotic pets in the country. "There are loads of big cats across Ukraine, some are in private collections, some are in underground entertainment areas. It was a situation we were tackling before the war," he said.
He added that Ukrainians were living under curfew, making it difficult for them to get back and forth to take care of animals. Freezing temperatures are also of concern as some zoos have lost electricity, leaving them unable to heat enclosures for exotic animals.
Randell said the charity was also considering what it should do to help zoos if there is a ceasefire. In those circumstances, it will work with zoos to continue caring for the animals and rebuilding their enclosures, he added.