Journey is one of those overused words in Hollywood; actors, directors, writers and producers are forever talking about a film or a character's journey, to the point where, when a story is actually an incredible journey, they need to find a new trope.
Lion, the Oscar-nominated film based on Saroo Brierley's memoir, A Long Way Home, details the determined quest the author, adopted from India by an Australian couple in 1987, made to find his birth family. It also casts a light on the complicated nature of international adoption and our conflicted feelings about race and nationality at a time when migration is, for many, a trigger word.
Growing Up Australian
Brierley was born in a small village in western India. After his father abandoned the family, his mother, Kamla, struggled to feed her four children, carrying stones at construction sites for pennies a day while her kids begged for food. "I remember feeling hungry most of the time," he writes in A Long Way Home. "There was no choice in the matter; hunger was simply a fact of life, like the searing heat and the constantly buzzing flies."
RELATED: 2017 Oscar-nominated films, as reviewed by Newsweek
One night, when he was 5, Brierley went out with his older brother. After falling asleep at a nearby train station, he awoke to find himself alone. He climbed aboard a passing train and was whisked across the country on a 12-hour ride to Calcutta. Once there, the little boy could find no one who understood his dialect, and it probably wouldn't have mattered if they had. Little Saroo did not know the name of his hometown or even the train station he'd come from; he could not even tell them his family name. He quickly found himself one of the nearly 15 million children living on the street, fighting for scraps. ("Bits of fried food, like a samosa, were pretty safe once you scraped off the dirt, but they were highly prized," he writes.)
After several months and a few near-fatal encounters (abandoned children on the streets of Calcutta were sometimes sold into the sex trade or slavery, or even killed for their organs), he ended up in an orphanage run by the Indian Society for Sponsorship and Adoption (ISSA). Though he still dreamed of his family and lost home, he quickly accepted his new reality. "That initial disbelieving desperation to get home...had long faded," he writes. "The world was now what I saw around me."
His situation changed with the help of ISSA, which had begun coordinating international adoptions of India's countless lost children. It was through this agency that he was brought together with John and Sue Brierley, a generous-hearted couple in Hobart, Tasmania. Adoption was difficult in Australia then (and is only marginally easier now), and international adoption was almost unheard of. But Sue, played by Nicole Kidman, is a woman of great determination.
"I married John when I was 17," she tells me, calling from her home in Hobart. "I never really had trouble making decisions. I just trust my gut, and off you go."
Brierley learned English from his parents, and as he did, he told them very detailed stories about his life before he got lost. Sue kept diaries of the things her son told her, made him Indian food and put a giant map of his native country on his bedroom wall. But the best intentions of adoptive parents can take a child only so far. I speak from experience; my grown daughter was adopted from South America when she was a baby, and despite our attempts to speak Spanish to her and play native music, she wanted to be like us, strangely. (What kid doesn't want to listen to Paraguayan harp music?) Despite the white majority in Tasmania, as opposed to the more international cities like Sydney and Melbourne, little Saroo blended pretty well. "He was a very handsome, strong lad," says Sue. "He grew like lightning and became very strong and athletic.... He did well at school, was very successful academically, got a degree. He just made the most of his new life. His little phrase was, when I'd pick him up from school, 'I'm learning like magic!'"
Searching for Home
As an adult, attending a hospitality school in Canberra, he met Indian immigrants who encouraged him to get in touch with his native culture. The slow fuse that burns in the memoir is telegraphed none too convincingly in the film when the grown Saroo (played by Dev Patel) has a Proustian madeleine moment while eating an Indian sweet at a friend's party. Suddenly, he is filled with memories of his early life, and his Indian friends are urging him to search for his home using this new technology called Google Earth.
He describes his quest in a PowerPoint presentation. "So I thought to myself, I ended up in Kolkata at the Howrah train station, and also I know I was on the train for about 12 hours…and I also know that the trains are doing about 60 to 70 kilometers an hour…. Why not just times those together and get a kilometers per hour reading? I'll use the ruler tool on Google Earth, put a pin in Kolkata and stretch it out 980 kilometers."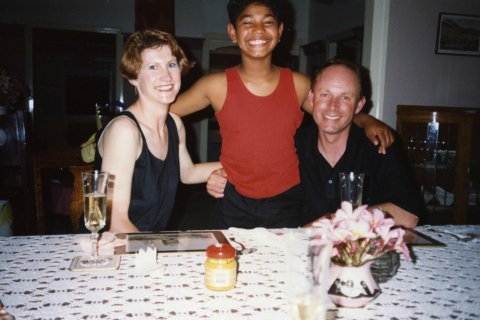 Using this radius, he spent years searching India via Google Earth, looking for landmarks he remembered from his childhood: a water tower near the train station where he and his brother were separated, a dam in the village where he and his siblings played. "He didn't tell us he was searching until he succeeded," says Sue, and when he did, he wanted to go to the town he had found, Ganesh Talai, and see if his birth family was still there.
"I went in February 2012 and then returned in May because 60 Minutes Australia wanted to do a documentary, and one of the things they wanted to do was unite my adoptive mother with my biological mother," Brierley tells me on the phone from India, where he's doing press for the movie. "My Australian mother was very happy about it, never been to India. And Kamla was over the moon; she wanted to meet the woman who has taken the child and nurtured him to become a man."
The scenes of him meeting Kamla are tear-jerking in the film, but the TV footage (shown in Lion's epilogue) is devastating—or at least for adoptive parents. Brierley 's mother says she never lost hope that he would return.
"She was so happy to know that I'm still alive," he says. "All she wanted to know was my whereabouts, and 'What's your mobile number so I can talk to you?'"
In a scene captured on 60 Minutes, the two mothers speak through a translator. "I got teary, and she was wiping the tears from my face," recalls Sue. "She was so touched that I was upset, and I think she might have interpreted that I was feeling that I had lost my son. Then she said through the interpreter, 'He's your son now. I give you my son.' And she's wiping away my tears. Of course, I just lost it then."
Lion lands at a time when borders and boundaries are much in the news. "We never spoke about a political context," says the film's director, Garth Davis, "but when we started editing the film, we realized we were going to have an impact in that way. I do think that simplifying an idea and getting back to the basics of what is meaningful in life does undo all the complicated ignorance and judgments we have in these situations at the moment."
"I say this a lot, so forgive me for quoting myself, but it's about love that transcends continents," says Patel. The British actor, who rose to fame in 2008's Slumdog Millionaire, had been obsessed with Brierley's story since seeing online videos of him detailing his journey. "It's all-encompassing, the love of a mother, and I mean that from both ends. You've got a family that did everything to provide a safe, nourishing environment for a child, and one day he turns to them to say, 'I love you and you'll always be my parents, but there is a journey I need to go on.' And Sue, the only thing she said to him is, 'I want her to see how beautiful you are. I can't wait for you to meet her.' That grace is so beautiful, and it's a great message to be putting out right now."